MUSIC
MUSIC VIDEO | The band kicks off their summer tour with arena-shaking new music and a triumphant video
"Dig Down" starts the summer with an explosive new video.
Fed up with the negativity in the atmosphere, Muse have launched themselves back into their ionospheric comfort zone with a brand new, gospel-influenced arena rock anthem called "Dig Down." The single is their first new music since 2015's Drones and channels the electronic leanings of "Madness" for a retro-futuristic rallying cry.
The song starts with a familiar synth to anyone who's sung along to Muse's 2012 hit, "Madness," off The 2nd Law. But "Dig Down" replaces a love story in the majestic style of Queen with a triumphant follow-up to the story of rebellion on Drones. Matt Bellamy pauses his guitar while a gospel-inspired choir backs his always soaring voice. Dominic Howard and Chris Wolstenholme hold back significantly from what fans might be expecting to emphasize the simplicity of the song and the urgency of the lyrics.
Bellamy said that he wanted this song to "counteract the current negativity in the world and give inspiration, optimism and hope to people to fight for the causes they believe in." In the usual Muse style, the song broadly but grandly takes on the crises of the current moment. Here, it's the creeping feeling of doom.
"When God decides to look the other way and a clown takes the throne," Bellamy sings in the song's most specific reference to current events, "We must find a way." When asked on Twitter if he'll write a song about Trump, he alluded to this line, replying, "Only a 2nd verse."
Only a 2nd verse https://t.co/OyH3WierF8

— Matt Bellamy (@Matt Bellamy)1495138927.0
The video explores the "Aftermath" world of Drones as Lauren Wasser, model and activist, escapes a reverse-Resident Evil–style skyscraper. After a few minutes of dragging herself through scorched debris and flickering lights, with Bellamy singing from glitching television screens, Wasser finds the elevator and prepares to escape.
It's when the elevator doors open at the ground floor that the video explodes into action. Over a full minute of single-take fighting follows. While the camera pans slowly left, Wasser battles her way through opponents, punching, kicking, flipping and rolling with the grace of a Hollywood action star.
The video captures the sci-fi fascination of Bellamy's songwriting, always aiming for the monumental in Muse's songs and albums. From "Knights of Cydonia" to "Citizen Erased," the scope of the music consistently matches the scope of his ambitions. "We're not giving up on the album at all," he told KROQ, indicating that "Dig Down" would have a place on the band's next album.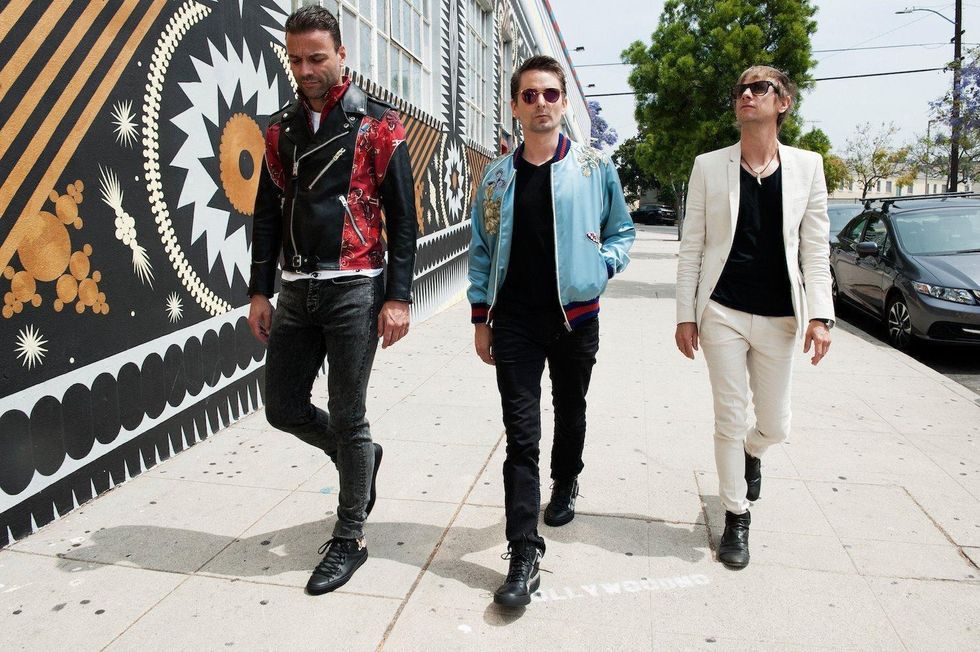 Muse. (Facebook)
Bellamy said that a new album is still in the early, conceptual stages, but that he has a theme in mind and that we'll hear four or five songs before it comes out. Drones had the most explicit plot of a Muse album yet, so we'll see if the band returns with another narrative LP or one that's more like their early albums. With no certainty about when new songs might be released (other than speculation that the album will drop next year), fans' best chance to hear new music is to buy tickets for their summer tour.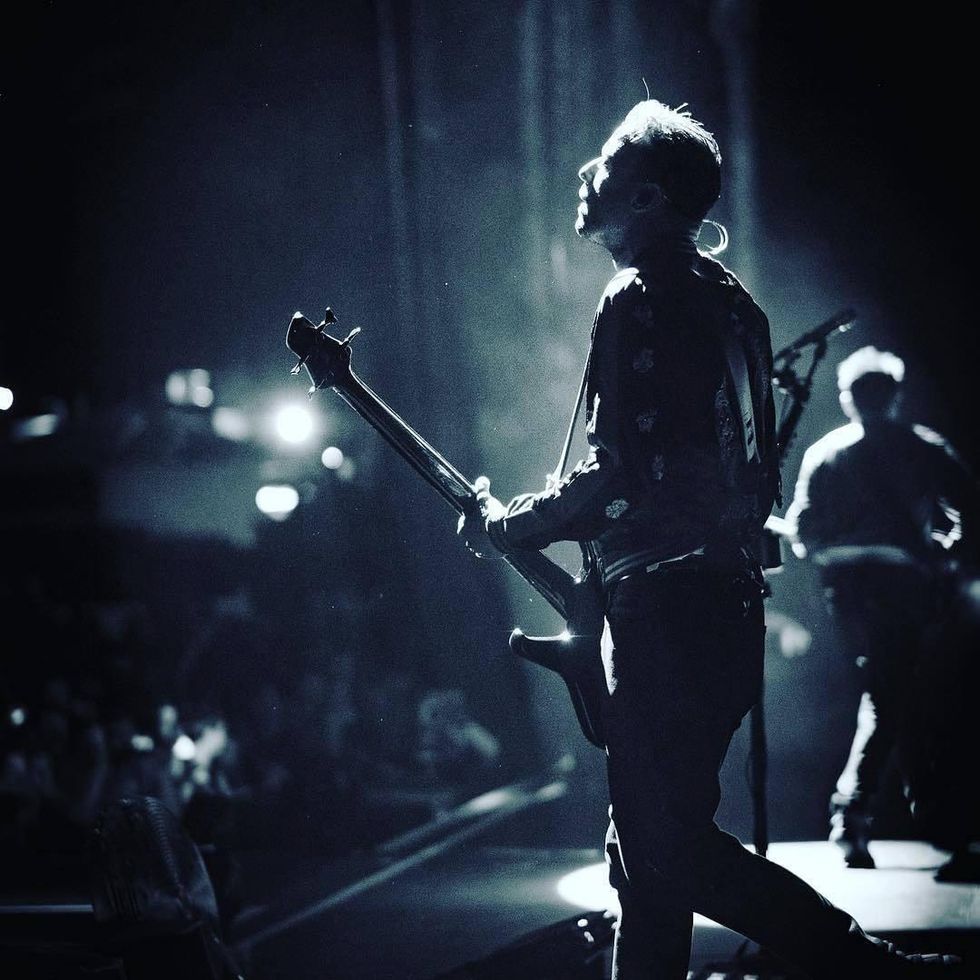 Wolstenholme on bass. (Facebook)
Muse opened the tour in Florida this weekend, beginning the show with "Dig Down" and plunging into a set that spanned most of their career. With guests 30 Seconds To Mars and opener PVRIS, Muse will play 25 more shows between now and September. See the full schedule below.
"Dig Down" represents a kind of step back into the band's electronic progression after Drones acted as a classic rock throwback and a reminder that, beneath all of the epic orchestration and bubbling synths, the band can rock. Muse are out to prove that, against all the odds, they'll dig down and find a way.
MUSE Summer 2017 TOUR:
6/3: Nashville, Ascend Amphitheater
6/4: Cincinnati, Bunbury Festival
6/6: Atlanta, Lakewood Amphitheater
6/8: New Orleans, Bold Sphere at Champions Square
6/10: Austin, austin360 Amphitheater
6/12: Kansas City, Starlight Theater
6/13: St. Louis, Hollywood Casino Amphitheatre
6/15: Charlotte, PNC Music Pavilion
6/18: Dover, Firefly Festival
7/15: Ottawa, Canada, RBC Bluesfest
7/16: Québec, Canada, Festival d'été de Québec
7/18: Toronto, Canada, Budweiser Stage
7/22: Wantagh, NY, Nikon at Jones Beach Theater
8/1: Burgettstown, PA, KeyBank Pavilion
8/3: Chicago, Lollapalooza
8/5: Montreal, Canada, Osheaga Festival Musique et Arts
8/23: Leeds, England, Leeds Festival
8/27: Reading, England, Reading Festival
9/15: San Francisco, Shoreline Amphitheatre
9/16: San Diego, KAABOO DEL MAR
9/18: Morrison, Red Rocks Amphitheatre
9/20: Salt Lake City, USANA Amphitheatre
9/23: Las Vegas, Life Is Beautiful Festival
---
READ MORE ABOUT MUSIC:
Preview | LIFE aims to dismantle modern society on debut album 'Popular Music'
RADIOHEAD announce special edition 'OK Computer' with unreleased songs
Mysterious band Superorganism returns with weirdly fun "It's All Good"
---