Music festivals haven't had a good year.
An industry whose polemic issues—sexism, racism and omnipresent classism—have become defining political poles of the current clime, it can be hard to remember a time when music festivals were the coolest events of the summer and defining the very idea of being hip for generations of children. When did buying expensive tickets to hear everyone from the cover of Rolling Stone all in one place become a one-way road trip to lamestan? Some suggestions for a nadir: last Fall's infamous "Oldchella," or this year's Fyre Festival, which instead of happening has become the subject of at least eight lawsuits. Uncool.
Chicago's Pitchfork Music Festival, already a going concern for longer than the length of your average indie band's standard three good albums-run, has enough of an association with its brand's cool authenticity to, more often than not, keep claims of money-grubbing at bay. Of late, the festival's programming has been known to catch trends before they became bored-by-ubiquity: both Chance and Kendrick have headlined the Union Park festivities at least a year before making the standard rounds through the AEG and Live Nation-run events.
If the implicitly classist critiques of music festival culture will never be combatted until music festivals are, I guess, free to the people (Chris Martin's Global Citizen Festival tries very hard), the least programming directors can do is build a lineup as reflective of the America we wish we lived in as opposed to the one who can actually afford tickets to attend. And, from Kiran Gandhi's punchy syth-rap assault on the patriarchy that got the party rolling Friday morning to Solange Knowles's space age explosion of pomp, meant to rival any pop performer who isn't her sister, Pitchfork captured the zeitgeist. Here's the highlights:
Madame Gandhi's Feminist Funk Party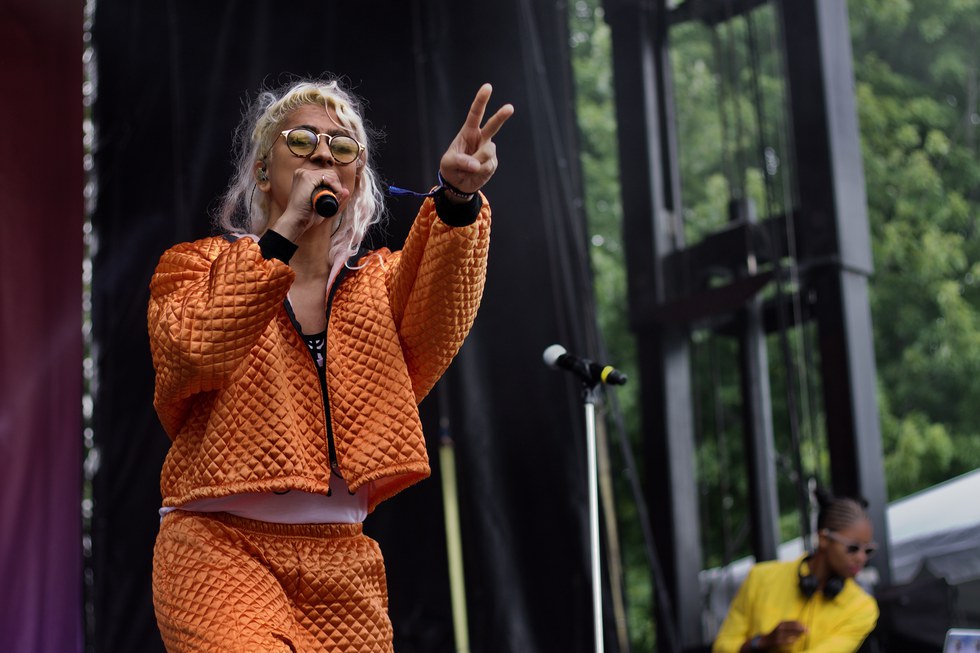 (Andrew Karpan)
After stints drumming with the Thievery Corporation and then M.I.A., Kiran Gandhi made headlines when she protested menstruation stigma by running the London Marathon on her period, sans tampon. The next year, she released an EP as Madame Gandhi called Voices which featured, among other things, a banger of a Hillary Clinton anthem ("Her") and the line "toxic masculinity has to end" ("The Future is Female"). She opened Pitchfork with performances of both, buoyed by a troupe of incredible backup dancers and a reading of Alexandra Brodsky and Rachel Kauder Nalebuff's The Feminist Utopia Project, a collection of writing from feminists around the world projecting just what an inclusive future just might look like.
Badass Bassists (pt. 1)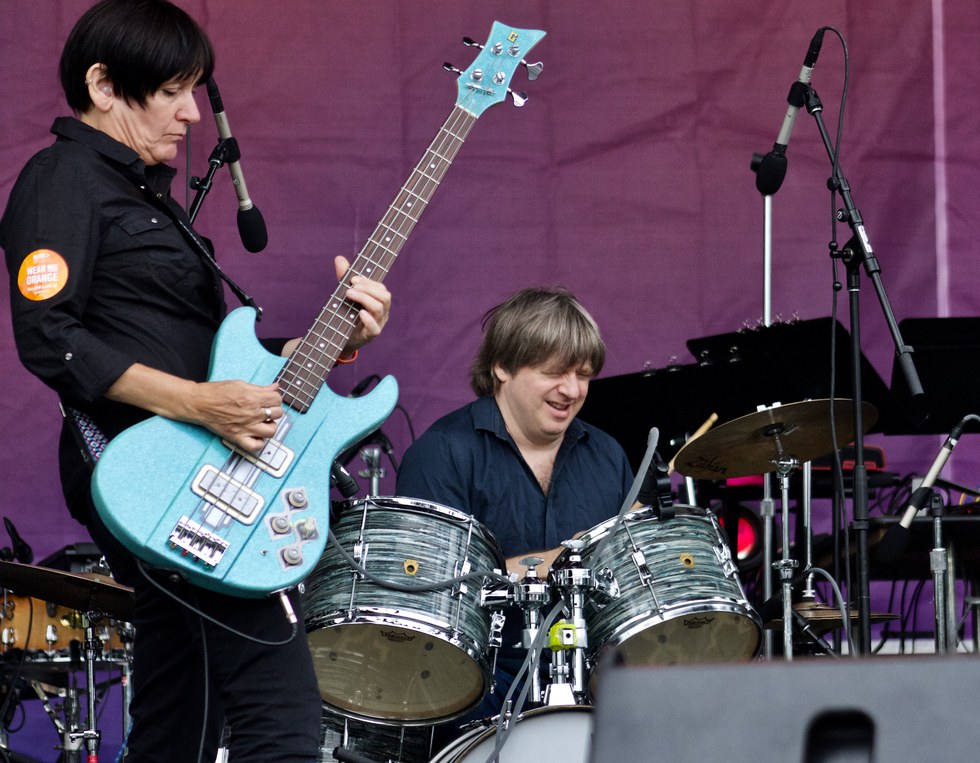 (Andrew Karpan)
When the lesser half of Sonic Youth drolled on stage, Thurston Moore seemed to barely notice anyone was behind him, beginning a five minute soliloquy on his ability to play the guitar in front of overexcited photographers. The real show, however, was happening behind him: shoegaze goddess Debbie Googe, who made the '90s blissful as fuck in My Bloody Valentine, was keeping time and shredding names while more was busy making his long-winded praise to Aphrodite. Get real.
PJ Harvey grabbing her '90s crown from the heavens.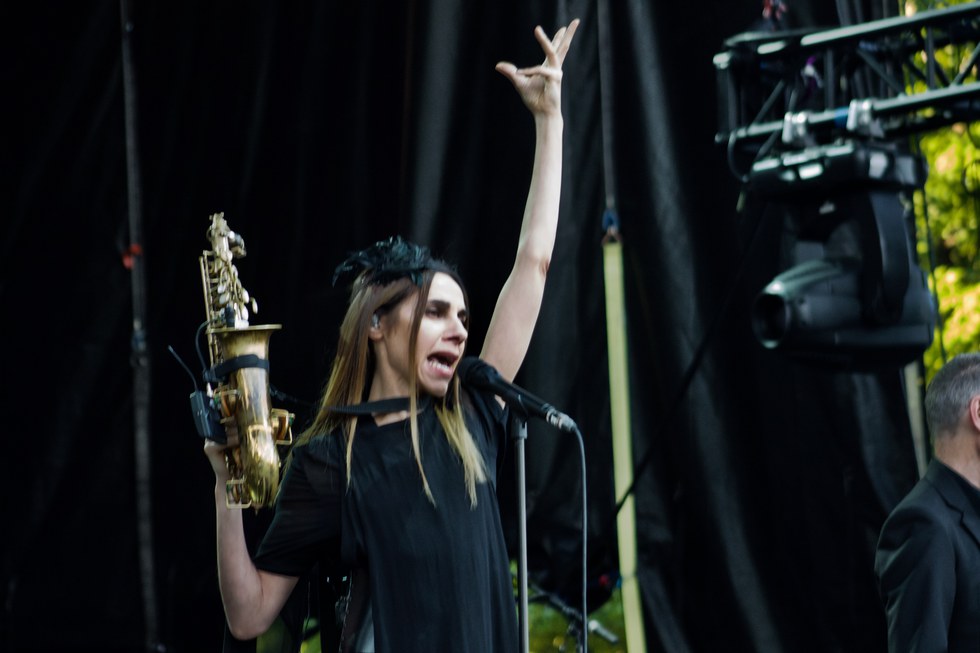 (Andrew Karpan)
Some parts of the '90s, like Pat Buchanan, Smash Mouth and Cameron Crowe, have aged horribly into leering parodies of their tepidly enjoyed selves. Polly Jean Harvey, on the other hand, has not aged one bit from the English countryside diva who stormed the barricades of cool when Rid of Me dropped back in '93. Her new stuff ain't half bad either: 2011's Let England Shake made Harvey the only musician to win the Mercury Prize twice (live, the Eddie Cohran-quoting "The Words That Maketh Murder" becomes half protest song, half runic chant).
Badass Bassists (pt. 2) Mitzke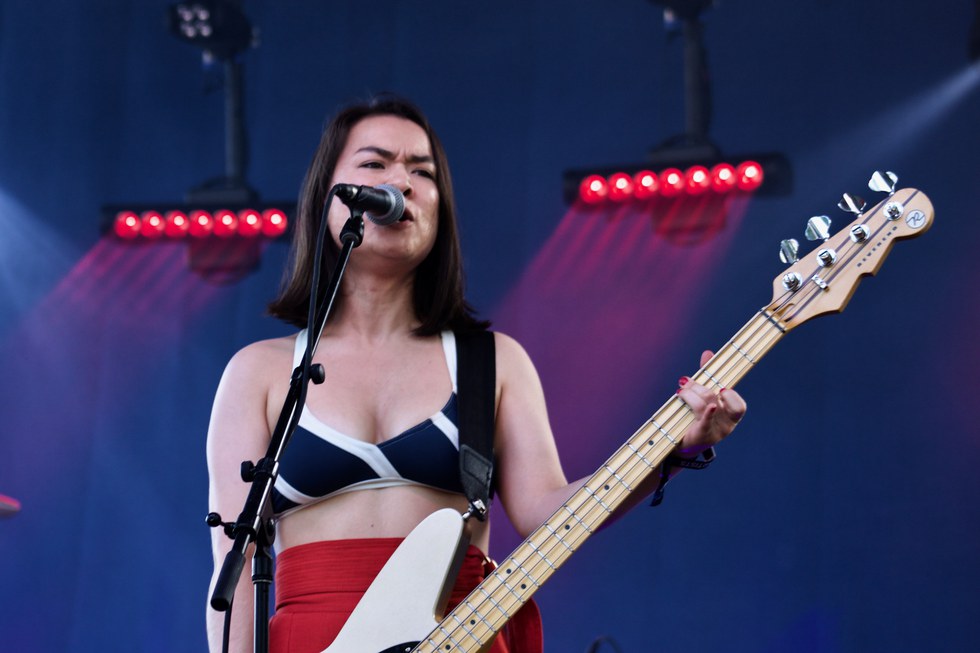 (Andrew Karpan)
The bass gods blessed us again this weekend when Mitski, who I had the luck to catch at Brooklyn Steel earlier this year, took to the stage to twist the afternoon sky into an all-consuming flame of righteous rage against bitterly-remembered fuckboys. In a festival where punk energy translated, most-often, into chanting singalong lead by the ilk of Jeff Rosenstock and newly beloved folks at Pinegrove, raging against their varying machines, Mitski's work couldn't help but feel more deliberate, punctuated by comparison. When her set finally exploded into sharp and tiny little pieces, you could feel her bass throb vibrating on your skin.
Angel Olsen's barely contained brawl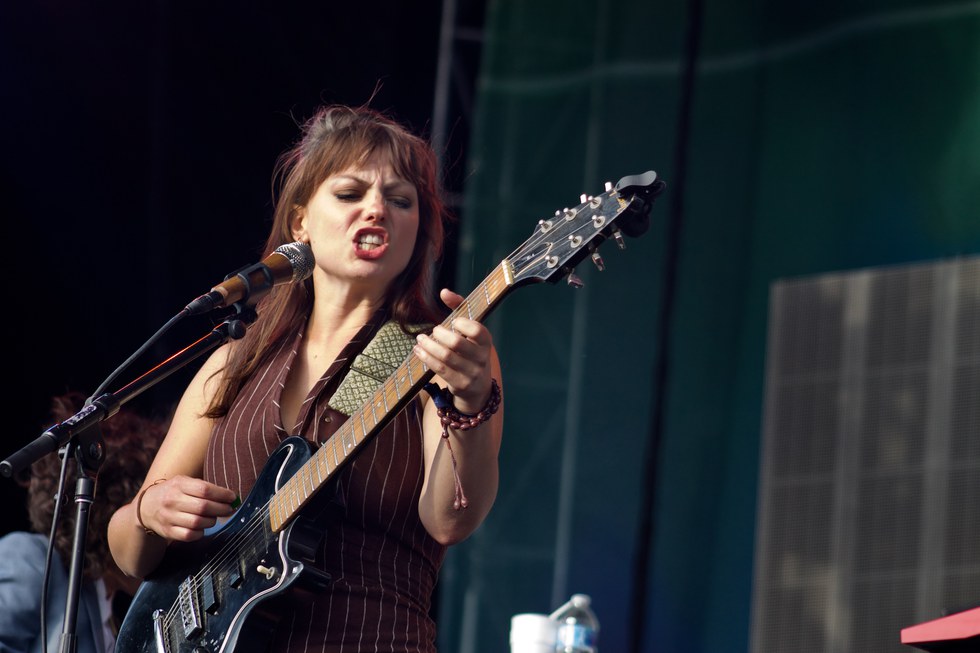 (Andrew Karpan)
There was a great or curious read of Angel Olson's "Shut Up Kiss Me" in the little pamphlets volunteers were handing out the morning of the festival. Something about the love song as a kind of valve for manic anxieties, etc. Flanked by a backing band dressed like an Arcade Fire cover band, Olson looked like a cross between indie folk star and our generation's answer to Roy Orbison. Maybe both.
Kilo Kish's nerve-racking pop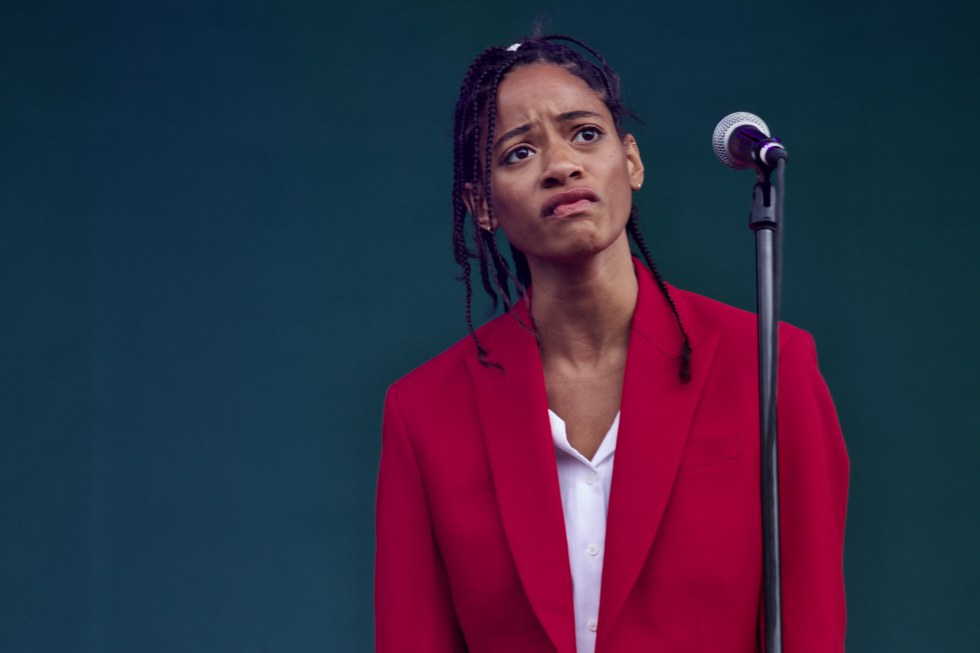 (Andrew Karpan)
Per her wikipedia page, Kilo Kish identifies as a vocalist, songwriter, visual artist, painter, and fashion/textile designer. Her show was carefully choreographed, outbursts orchestrated against nearby dial-up phones, briefcases and, for a solid moment, a nearby copy of the New Yorker. Working as diligently in the backend of rap as crafting her own story (she's collab'd prodigiously with Childish Gambino and Vince Staples), her debut full length was a no-features version of her own story, with songs like "Distractions II: The Dilemma of Cool." She had the energy of a sorely forgotten Jackson sibling and the sensibility of an art-pop Tove Lo.
Solange headlines everything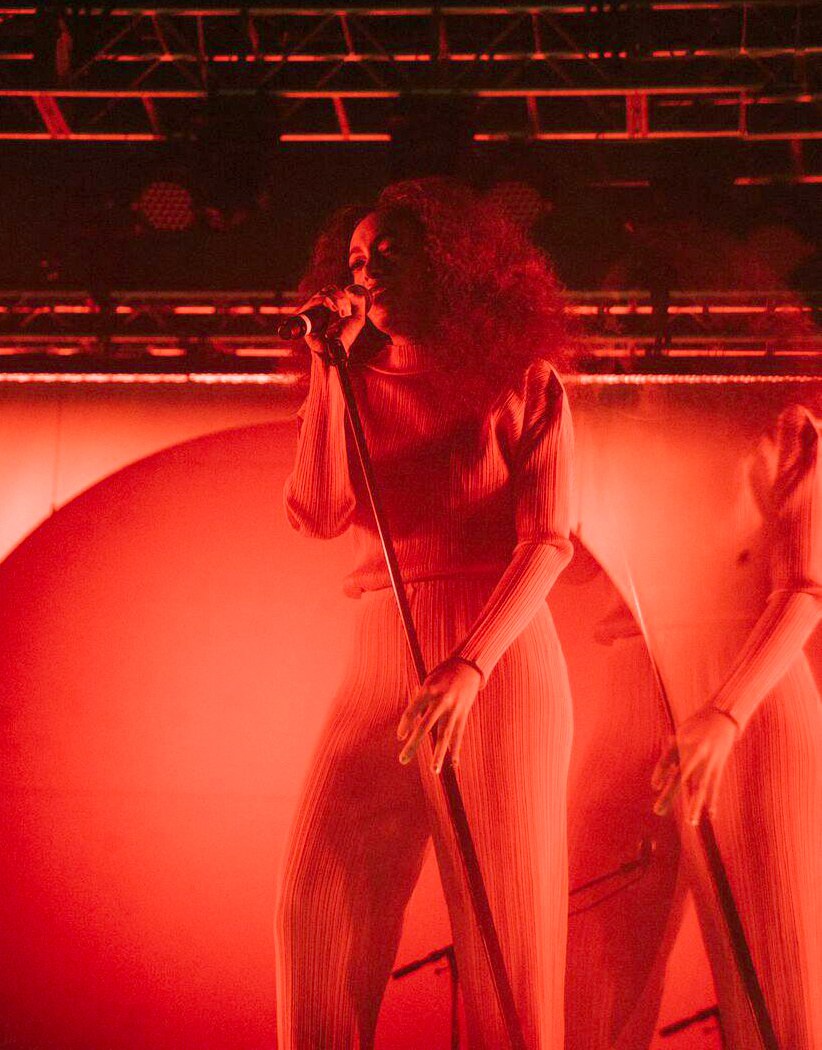 (Pedersen)
Who else but Solange Knowles could have released the only album last year with any legs to compete with that masterpiece of deceit and righteous fury that was Lemonade? Bringing A Seat at the Table alive with space-funk theatrics, Solange's set felt almost too-prefect to end the weekend's series of performances that self-consciously accented their own dramaturgy in order to emphasize the kind of tension inherent in taking over a musical space so long dominated by the bearded bands of yore.
---
Andrew Karpan has been to every music festival and will continue to do so. Follow him on Twitter.
MORE ABOUT MUSIC:
INTERVIEW | This is the Kit talks Rough Trade debut

REVIEW | Fe, Fi, Fo, Fum: who remembers The Drums?
LIVE | Praise the LORDE, 'Melodrama' is almost here