MUSIC
FEB 19 | The British Invade, but more on the chill side with "Wake Up Freya"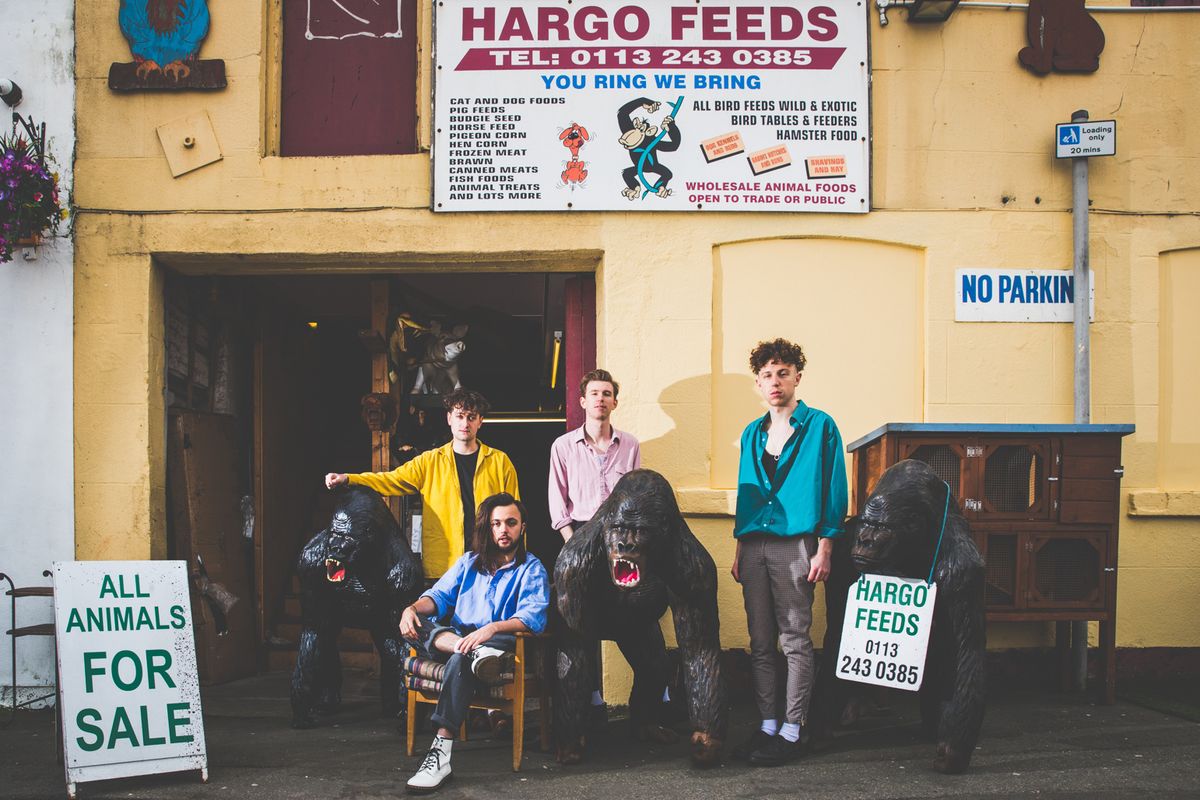 Leeds' indie quartet Marsicans released their new single "Wake Up Freya" out everywhere via LAB Records.

There is a tradition in this country. A tradition that likes to re-appropriate language and culture to lend authenticity to an imitation. Why does this resonate? Music has been doing it for centuries. Our music is our own because we get to choose it. A sound that is so expressive, in the way you want to be understood. When a new sound smacks you up-side the head and changes your life, it may be coming from the other side of the Atlantic. Because there was a time that ' The British are coming' was a good thing. That's right. The Brits have invaded again. When it comes to pop, rock and dance music, America has had a love affair with sounds from the U.K.
We obsessed over such influential artists like Radiohead, Joy Division, Amy Winehouse, Pulp, David Bowie, the Beatles, Blur and The Cure, just to name a few. Whether it is the underground music scene, the natural creative vortex or a really cool accent, one thing is apparent; Brit Rock is here to stay. Been pleased so far. You know what we like. Keep sending us groups like Marsicans.
WATCH OFFICIAL VIDEO:
Leeds' premier purveyors of infectious indie-pop, Marsicans, unveil their latest single Wake Up Freya, showcasing a more sensitive side to their harmony laden sound. The arena-sized hooks and trademark joyful warmth remain, aided and abetted by emotional reflection on the part of lead-vocalist James Newbigging. Whereas previous singles Friends and Throw Ourselves In were invigorating in their hyperactivity, Wake Up Freya revels in slowing the pace down, watching the world spin around it removed from its chaotic speed.

"I wrote the song for my niece before was born. My brother mentioned she might be called Freya so, after I wrote the song, they kind of had to name her that!" Newbigging says.
It's quite possibly Marsicans' most personal song thus far. Their next big tour is coming up in March. Newbigging, alongside bandmates Oli Jameson (guitar), Rob Brander (bass/keys) and Matthew 'Cale' McHale (drums).
---
THE MIX | Waking Up
by Marcians

02.19.18 | This week, our Popdust MUSIC MONDAY will feature hits that merge two incredible words 'BRIT' and 'POP'. That should insinuate so many things just by putting those words that close. Please partake in a Monday morning ritual that begins today. But the playlist, as always kicks off with Marsicans hand-picked playlist.

---
THE BREAKDOWN

"Nobody Else Will Be There"
Rob Brander (Bass/Vocals): I really love the way this track builds with subtle layers and how the guitars create some of the percussion.

Vistas "Retrospect"
Rob Brander: Vistas are touring with us next month and this is such a feel-good tune. The chorus is bigger than something really big, like an elephant perhaps.

James Blake "Vincent"
Rob Brander: There are only two songs in the world my dad can remember all the words to and this is one of them. (He's a big Don McLean fan). It's a lyrical masterpiece and James Blake's style of playing adds something really interesting.
"Secret Door"
James Newbigging (Guitar/Vocals): Alex Turner is a huge influence on me lyrically. The meter, wit and delivery in this song showcase all my favourite parts of his style in one delightful tune.

Little Comets "One Night In October"
James Newbigging: When I first heard this song something clicked. Everything was so carefree but had a real depth to it.
David Bowie "Heroes"
James Newbigging: I remember my dad playing Bowie loads when I was younger and this song, well, it's Heroes by David Bowie. It's beautiful from start to finish and when his vocal goes up the octave it gets me every time.

"Why Do You Feel So Down"
Matthew'Cale' McHale (Drummer/Vocals): Could have chosen a few songs off this album (What do you think about the car), but the chorus vocal line has me putting this on repeat.

Rage Against The Machine "Snakecharmer"
Matthew'Cale' McHale: Like Declan McKenna, so many good songs here, but the drums in Snakecharmer have a fast-paced groove and make me want to headbang with its heavy sections and major riffs. Classic RATM.

Tame Impala "Let It Happen" (Soulwax remix)
Matthew'Cale' McHale: Tame Impala are a big favourite, but when the B-sides EP came out and the bass line kicks off in this soulwax remix... if it's after midnight, I'll be furiously dancing in public.
"Coo Coo"
Oli Jameson's Choices (Guitar/Vocals)
Oli: Weaves are a band i've only just come across so there is plenty to explore but this tune sticks out. Really sweet groove and crazy guitar pedals tick all the boxes for me.
Lorde "The Love Club"
Oli: Love the vocal samples and the drums. To be honest, Lorde can do no wrong by me at the moment.
Mystery Jets "Luminescence"
Oli: My favourite album closer of any record. Apparently they recorded it live, first take on the porch of their studio in Austin, Texas.
---
Dan Victor is editor of Popdust and producer of Popdust Presents. He is also a music producer, bassist for Low Profile (live hip hop) & The Coldpress (indie rap) and front-man for Ductape Halo (indie rock). Follow on Youtube.
---
POP⚡DUST | Read More…

EXCLUSIVE | Listen "13" Rappers Spit Fire On Epic Posse Track
EXCLUSIVE | Jennifair & Paco Take Care Of You "After Work" this Valentine's Day!
Popdust Presents | TruthCity: Never Let Me Down
BIG BOI -- Exclusive Interview!!! He talks about Atlanta and latest video