MUSIC
MUSIC MONDAY | New Year, New You playlist
Good riddance 2017. Ring in the New Year with this popping playlist.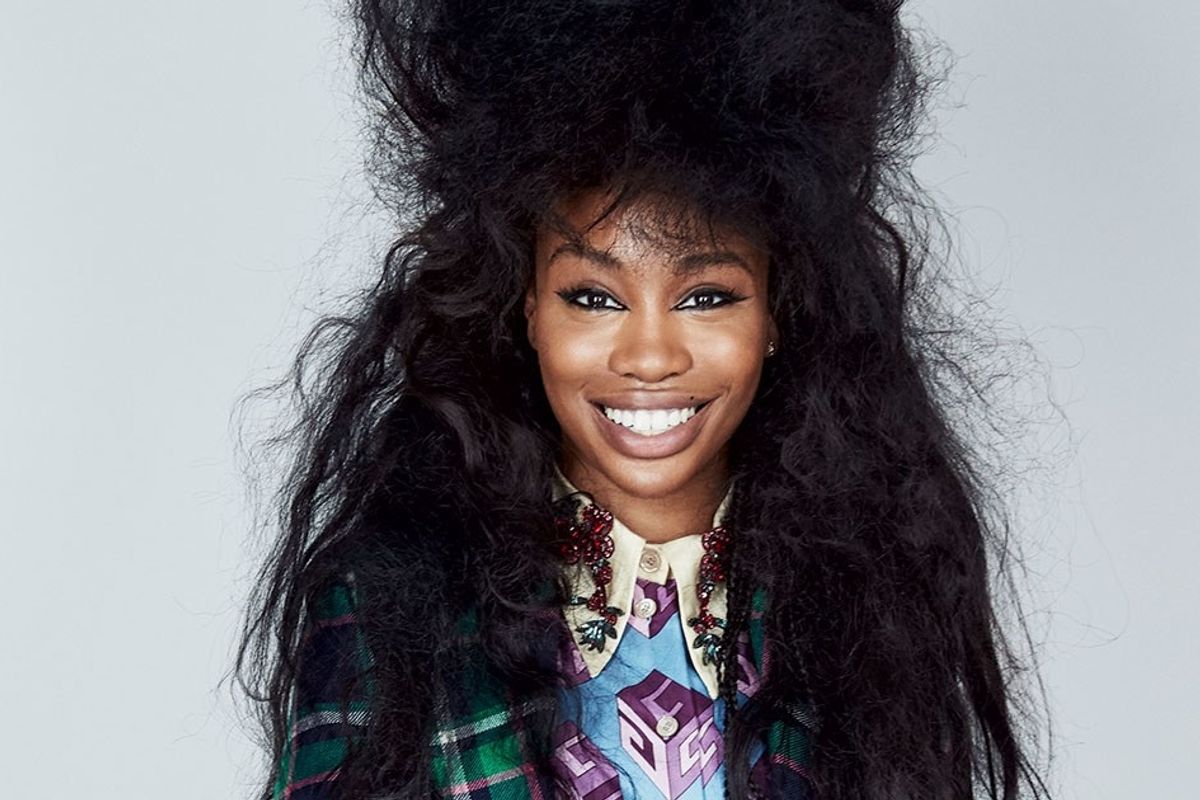 2017 was something.
January 1st is always a time of reflection for me. Maybe it's wanting to continue to live in 2017 to the last moments, maybe it's a habitual procrastination. Either way, like clockwork, every January 1st I sit down, blast my favorite songs from the previous year and think about what I learned in the year prior. This past year for me was about learning to be empowered by my independence and that's definitely reflected in my favorite songs of the year. So, whether you're reflecting, putting your resolutions into action, or hungover from last night's celebration, crank up your speakers and jam with me to some of 2017's greatest gems.
Dua Lipa | "New Rules" (Live Acoustic)
This is a song I lived by in 2017 and it's the perfect song for starting the new year right and sticking to your resolutions. I personally love the live acoustic version because you really hear every single word. The lyrics in this song are so powerful, you'll want to repeat them all year long as your mantra.

P!nk | "Barbies"
This is the perfect song for anyone who wants to indulge in nostalgia. Having trouble embracing "adulting?" You'll totally relate to this gorgeous ballad by P!nk. I'm obsessed with her.
Halsey + G-Easy | "Him + I" (BRNOUT Remix)
Starting your New Year off in a relationship. This song will make you think of your ride or die. I love that a lot of the love songs we're seeing these days are so empowering. Songs like "Him + I" and "...Ready for It?" celebrate a partner that you're best friends with and down to take over the world together with. Can you say #goals? If you've been listening to this song on repeat like I have, check out the BRNOUT remix.
Lorde | "Hard Feelings/Loveless"
In my opinion this is the most under-rated song on Lorde's new album Melodrama. It's hands down my favorite album of the year and this is my top pick from it. It's basically two songs in one, super relatable, and the beat is to die for.
Kesha | "Hymn
This is an anthem if I've ever heard one. I love Kesha's new album and this is one of my favorites from it. Celebrating the tradition of non-tradition, you'll want to roll your windows down and sing along. "Hymn" reminds us to wave our freak flag high in 2018.
SZA | "The Weekend"
This song is bold to say the least. SZA tells it like it is on this amazing R&B track and honestly? I'm striving to be more direct in 2018. This one gets me pumped for that, not to mention SZA is one of 2017's rising stars.
Miley Cyrus | "Younger Now"
This album was another one of my favorites this year and the title song is actually my top pick from it. It's the perfect song to embrace the new year and changing times with. After all the hook plays out, "No one stays the same. Change is a thing you can count on." 2018 is about to bring all of the good changes you've been needing, so why not embrace it?
Kendrick Lamar | "HUMBLE"
Our boy Kendrick reminded us to stay humble in 2017. One of my favorite artists my far, his entire album was on point but this song sent a really strong message. If you're humble and grateful for all of your blessings good things will continue to come. Remember that in looking back on the past year.
Bruno Mars | "Versace on The Floor"
This one is a total banger. Bruno Mars killed it and racked in the Grammy nods this year with 24K Magic. This is a great track from the album and is a super sexy one to carry through 2018.
Julia Michaels | "Issues"
Julia Michaels has had an amazing year. The popular songwriter got her start by writing hits for people like Justin Bieber, but this year, she's really busted out herself with "Uh Huh" and "Issues." "Issues" is super blunt and perfect for the New Year. The first step is admitting you have a problem. Am I right?
Ed Sheeran | "Galway Girl"
Don't get me wrong, I'm listening to "Perfect" on repeat, but "Galway Girl" is more my vibe 2017 going into 2018. If you haven't found the perfect love yet, then have fun reliving or fantasizing over a fun night connecting with someone new.
---
Anie Delgado is a contributor to Popdust and is an actress and musician based in NYC. Follow her on Instagram | Facebook | Twitter and check out her music on Spotify. Press inquiries here.
---
POP⚡ DUST | Read More About Music…

MUSIC MONDAY | SondorBlue takes over this week's playlist
MUSIC MONDAY | A healthy pre-winter mix of uplifting tunes
MUSIC MONDAY | Evan Klar Talks About What Music He Is Listening To. Check Out His Playlist...
---