MUSIC
Movers + shakers of the "new bohemian movement," Sonder Blue, has taken over #musicmonday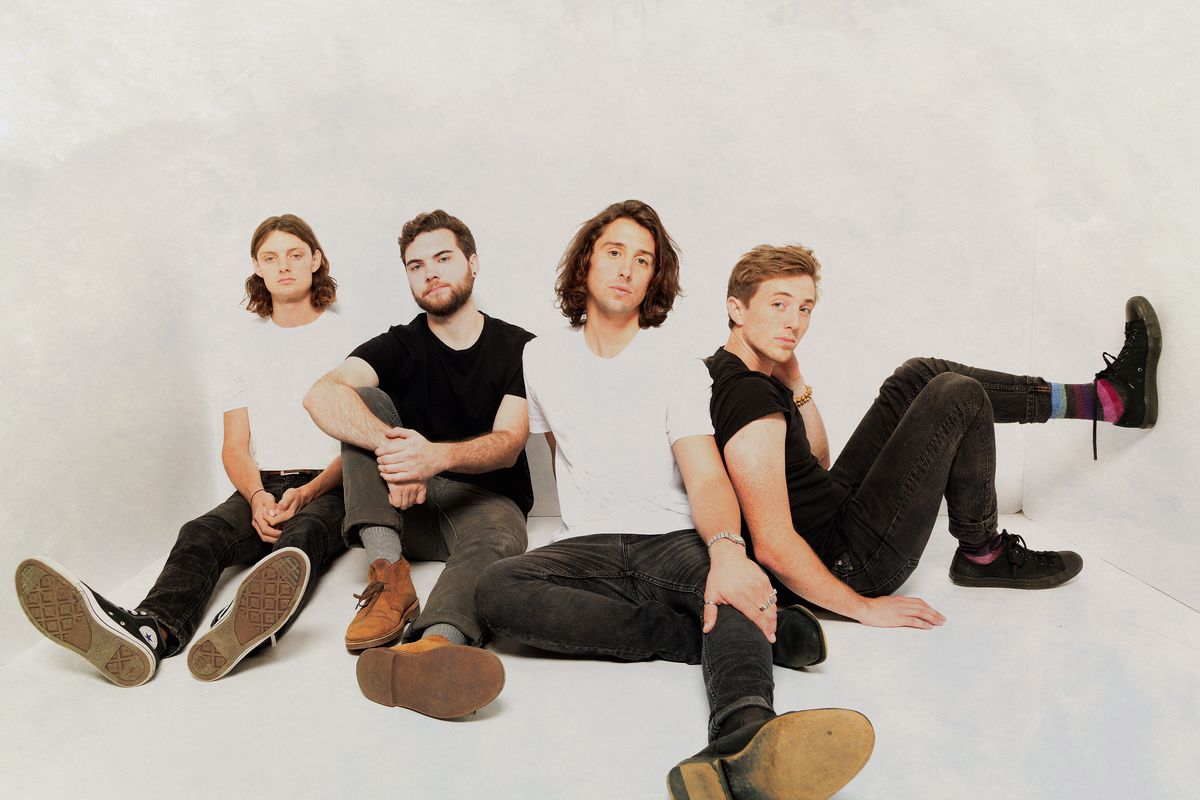 Beatles and Crosby, Stills, Nash & Young, oh my.
Despite being in their early twenties, SondorBlue is often compared with those legendary acts. They are a Charleston based alternative rock quartet featuring three part harmonies that harken back to the days before Pro-tools made real vocal talent optional. Originally hailing from Hilton Head, the band relocated to attended school at College of Charleston. SondorBlue have been touring the east coast extensively in 2017 and were recently tapped as a local opener for NPR's Tiny Desk tour. Check out some of their upcoming tour dates here:
December 20 – Charlotte, NC - The Evening Muse
December 31 – Columbia, SC- Famously Hot New Year w/Elle King, Nappy Roots, Fatrat Da Czar
January 12 – Charleston, SC- The Royal American
January 18 – Philadelphia, PA – Grape Room
January 19 – Lancaster, PA – Tellus 360
January 20 – Wildwood, NJ – Dog Tooth Bar & Grill
January 22 – New York, NY – Arlene's Grocery
In addition to an exciting east coast tour, the band recently released an EP entitled, You Will Found Love on Ashley Avenue. The bittersweet album features five songs that take you on a journey of growing pains, love, heartbreak, and more. The Beatles influence is definitely recognizable but is no where near the same; but, don't take my word for it. Listen to their EP here.
Escape! Is my personal favorite song, so you could imagine how excited I was to see there is a visual for it. Check the music video out here and keep reading to listen to the playlist they curated just for Popdust readers!
---
The Playlist
Play by Play Commentary for SondorBlue's Popdust Playlist Takeover, as Narrated by Lead Vocalist and Bassist, Andrew Hall
"I Wanna Prove to You" | The Lemon Twigs
Our producer, Omar Colon, played us one of their songs (I think it was either "Baby, Baby" or "As Long As We're Together") amidst a break from recording our second EP, "You Will Find Love on Ashley Avenue", and we were really digging their sound, especially since we were working on our song, "I Hate Living Like This", which definitely dabbles in that power pop / baroque pop realm of music—much like some of The Lemon Twigs's songs. But, we really started getting into their music about three or four months ago, after I found a live concert of their's from a festival in France called, "Cabaret Vert".
---
"Never Can Say Goodbye" | The Jackson 5
Recently, we've been listening to a lot of soul music and The Jackson 5 are kind of a staple on any playlist that is soul-oriented. What's actually pretty crazy is that we truly found this song on some sort of "Soul Hits" CD given to us by one of our fans and then, almost six months later, Connor, our lead guitarist, sends me a fan video from a Frank Ocean concert where he's covering it. We talk about being on "the wave" a lot in the band—thinking the same thing at, essentially, the same time and one person says what they're thinking and the other person freaks out because it's exactly what they were thinking, too. So, us listening to and developing a strong attachment to "Never Can Say Goodbye" and finding out that Frank Ocean covered it at a concert, out of all the songs he could have chosen, was definitely a "wave moment" with one of our favorite, genuine artists.
---
"Here and Everywhere" | The Beatles
I feel live every Beatles enthusiast's favorite album is always changing and we're definitely Beatle's enthusiasts. Right now, I'd say, collectively and by way of majority rule, our favorite album is Revolver. I think it helped set much of the framework for Sgt. Pepper's, as did their initial consumption of LSD, which occurred during the spring of 1965. There's a very fascinating article in Rolling Stone titled, "Beatles' Acid Test: How LSD Opened the Door to Revolver", that details how Revolver was We chose this song in particular because we feel like it's a beautiful depiction of The Beatles during this time in their lives, which was certainly one of the most pivotal points in their career.
---
"You've Got a Woman" | Whitney
This song is a great representation of a band-on-the-rise, Whitney, and their ability to capture an authentic Motown feel from the production to the songwriting, all the while staying true to their more folky / country roots. They're from Chicago, which isn't too far from the birthplace of Motown, so the soulful roots run deep in their music and I think that's why we like them so much.
"Loving Is Easy" | Rex Orange County
We found out about Rex Orange County after reading an article about Frank Ocean and his the members of his touring band or those who have been involved on stage in a musical capacity at Frank's recent shows. I believe he played guitar on a song or two live at a few shows and actually made some contribution(s) to a couple of songs on Blonde. We love how "Loving Is Easy" isn't a derivative-sounding soul ballad and I think that's because of the casual, millennial dialogue Rex incorporates into his music. He's got a very wide catalog in regards to how a lot of his songs toy with a lot of different genres and his new album, Apricot Princess, is a nostalgic voyage back (or forwards) to the strangeness and intense emotions from your late teens, like 19 going on 20, and is a must listen.
---
"Snowqueen of Texas" | The Mamas and The Papas
We were formally introduced to The Mamas and The Papas by a good friend and fellow musician, Leo Sawikin, of the band, The Chordaes, not too long ago and have been hooked ever since.
---
"Let's Go Away for Awhile" | The Beach Boys
I think pop culture has taken care of a lot of the musical intricacies surrounding The Beach Boy's magnum opus, Pet Sounds, so I'll spare you the details. Aside from Pet Sounds being an incredible concept album, we think "Let's Go Away For Awhile" makes for a perfect break or interlude in our playlist.
---
"Self Control" | Frank Ocean
This is one of my personal favorites on this playlist and the album that this song appears on, Blonde, is in my top five favorite albums of all time. I just love how generational Frank Ocean's music is both sonically and lyrically. He has really tapped into the collective conscious of this generation because he's saying what a lot of us are thinking.
---
"Japanese Denim" | Daniel Caesar
We were coming back from a trip to NYC, and I think Connor had this song on one of his playlists. I remember when it came on and immediately feeling connected to it because he's denouncing some of the societal norms implemented by his own generation—things that are supposed to convey status—at the very start of the song with lyrics like, "I don't stand in line / I don't pay for clubs" and "I don't like to drink, I don't like to think," and follows these denouncements with "but I'll wait for you" and "but I ponder you." Aside from the message, it's a beautiful song and the intro always strikes me as an homage to D'Angelo's "Untitled (How Does It Feel)".
---
"waves" | Miguel (Tame Impala Remix)
Miguel's songwriting mixed with Kevin Parker's production prowess makes for a wonderful combination. We're big fans of Tame Impala and, when we heard this remix for the first time, it found its way onto our individual playlists.
---
"Sun City Creeps" | Woods
Another great song from a band that is on-the-rise. The guitar tone during the solo is amazing and we really admire the percussion in this song, as it gives the song a very Latin feel at certain moments.
---
"The Mall & Misery" | Broken Bells
I feel like Broken Bells is one of those bands that people kind of sleep on (guilty) or know them for their song, "The High Road", which played on the radio for awhile and was synced a bunch. However, it's their electronic approach to reinvigorating 60s power pop and psychedelia that really got me into their music. This song, "The Mall & Misery", is the last song off of their self-titled album and puts their aforementioned approach to production and songwriting on display in a tasteful manner.
---
"Biking" | Frank Ocean (solo)
While I love the version with Jay-Z and Tyler, The Creator, there's something about the solo version that reminds me of the freedom associated with childhood and biking around with your friends, as the song begins with the chorus—vocals, an acoustic guitar, and some synth. When the verse comes in, it feels like Frank's older-self is venting about the difficulties that come with adulthood and, in his case, fame, as the chorus feels even more free and youthful after the first verse. Shoutout to Frank Ocean for helping us feel like kids again.
---
"Nellie" | Dr. Dog
This is the last song on the playlist and, not ironically, the last song on Dr. Dog's album, B-Room (the non-deluxe version). Dr. Dog has indefinitely played a huge roll in our development as a band and artists, so it feels right to close out this playlist with one of our recent favorites by them, and it just sounds like a last song. It's an introspective song, as the speaker questions the thoughts and actions of someone he loves or used to love. I don't think the speaker is making up his mind. Rather, he's just letting his anxiety unravel through song and does so in a very soulful, expressive way. And I think we're all pretty anxious people in this day and age and we want the art to match our level of anxiety so we feel okay, which this song does.
I hope you've enjoyed this playlist,
- Andrew of SondorBlue
---
Anie Delgado is a contributor to Popdust and is an actress and musician based in NYC. Follow her on Instagram | Facebook | Twitter and check out her music on Spotify. Press inquiries here.