MUSIC
His talent is unquestionable, but his antics have aged horribly.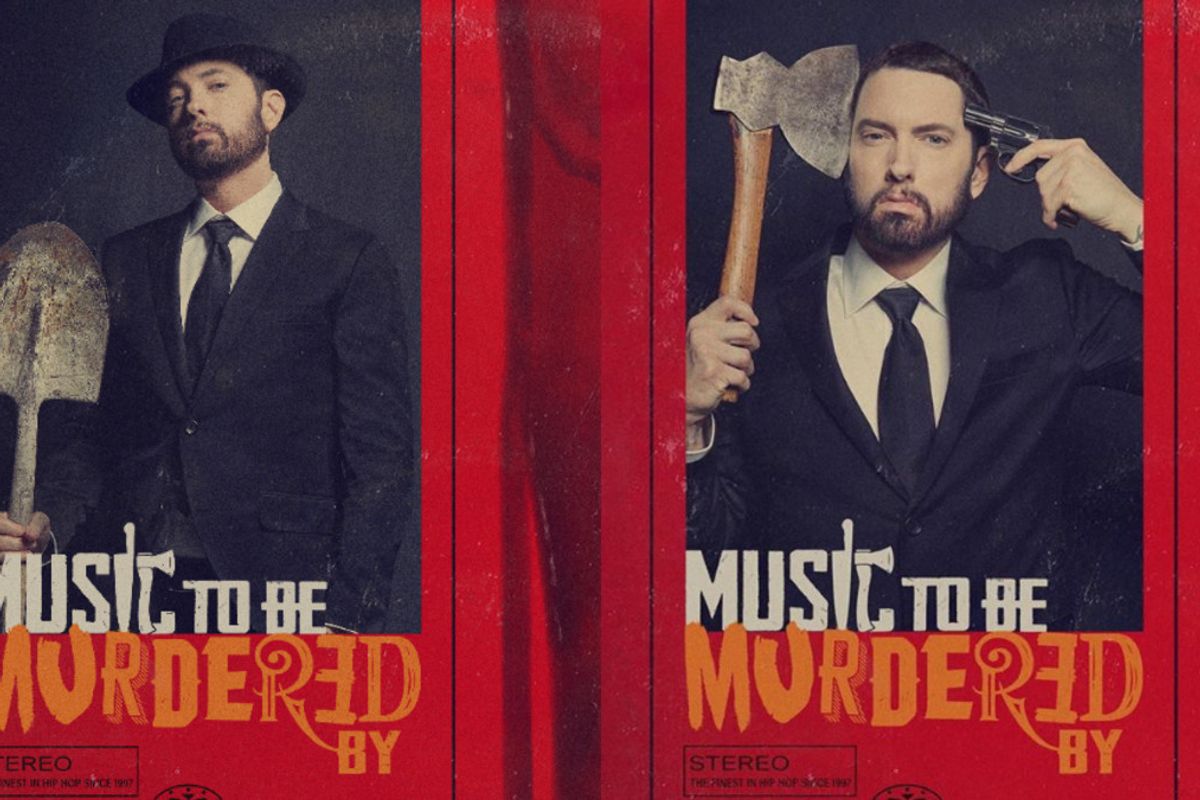 DJ Booth
Eminem has always prided himself on his ongoing feuds with, well, pretty much everyone.
On the rapper's tenth studio album, Kamikaze, no one was safe from condemnation. He dismissed Soundcloud rap as "mumbo jumbo," called Tyler, the Creator a gay slur, vaguely criticized the president and vice president, and poked fun at Joe Budden's domestic abuse allegations. Drake, Lil Yachty, and, more prominently, MGK, were also insulted. Eminem's calculated assault on modern-day hip-hop was brazen, unsolicited, and painted the emcee as a bitter old man.
On Music to Be Murdered By, Eminem has calmed down a little, but not completely. He still periodically pokes fun at MGK and litters the 20-track offering with numerous critiques for his critics. "Once I was played in rotation at every radio station," he says on the intro track, "Premonition." "But then when I put out Revival, and I had something to say/they said that they hated the awake me/I lose the rage, I'm too tame, I get it back, they say I'm too angry." He still sees himself as an underdog, even though he's remained within the upper echelon of rap for over a decade. "I won't topple, I'm giving it to anyone who wanna come and get it," he spits on "Unaccomadating," and I'm not gonna stop."

But the issue remains that Eminem's most recent high profile feuds, including his laughable exchange with Nick Cannon last month, was caused by his own doing. He is a battle rapper at heart, and undoubtedly performs best when faced with opposition, but his continuous antagonization of his peers and genre make for an exhausting listen when put into an album. "I leave you stymied, that's why they still vilify me like Bill O'Reilly," he raps on "Yah Yah." "I'ma show you what I mean when they call me the Harvey Weinstein of 2019."
Problematic rhymes are everywhere, and while fans of "old Eminem" will enjoy controversial metaphors like "I'm contemplating yelling 'bombs away' on the game / like I'm outside of an Ariana Grande concert waiting," it doesn't change the fact that comparing your talents to the crimes of serial sexual predators and terrorists remains in poor taste. On "Darkness," Eminem compares his own mental health struggle to that of Las Vegas shooter Stephen Paddock, who opened fire on concertgoers during the Route 91 Harvest Music Festival, killing 58 people, and wounding over 400. The music video features a Stephen Paddock look alike reenacting the traumatic ordeal and ultimately attempts to sympathize with the mass murderer. It's reminiscent of another established pop star, Madonna, who tastelessly attempted to draw attention to gun control by recreating the Pulse Nightclub Shooting in a music video last year. In both instances, mass shootings were glorified and victims are retraumatized.

Moments of vulnerability remain fleeting on Music to Be Murdered By, and when they do appear, they offer anecdotes that are more puzzling than they are reflective. "Get your shit stole, and your lip swole, I became bitter," he raps on "You Gon' Learn." "As I got a little bit older, my hate was making me get cold, and began to get a chip shoulder." Eminem appears to be a man well-aware of his toxic tendencies, which begs the question as to why he still remains on such a destructive path.
It's when Marshall Mathers leaves the antics at the door and focuses solely on rapping that Music to Be Murdered By opens up to breathe. On "Godzilla," which features a fantastic hook from the late Juice WRLD, Eminem reminds listeners of his quick-fire talent by way of sheer demonstration, rather than insensitive anecdotes. On "Those Kinda Nights," Eminem dips back into his uncanny knack for awkward humor: "Had her like, "Oh my God, my whole iPod's filled with your songs, I mow my lawn to 'em!" I said, "Oh my God, you know my songs? That's totally awesome, I'm Marshall, what's goin on?"
But lighthearted moments are sparse, and are immediately diluted by crude shock and awe tactics, which in 2020 just haven't aged well. Eminem additionally remains one of the most highly decorated misogynists in music, ("Stripper walk by, I'm like 'Goddamn,' she's like 'that's harassment,' I'm like, 'Yeah, and?'). He remains bitter, isolated, and dismissive; and as a result, continues to struggle to find a place within the culture he clearly loves so much.
Eminem's brevity is still his most indisputable talent. His lyrics remain well-oiled and concise and his wordplay unmatched, but as he continues to weaponize his craft at the expense of others, it's a schtick that's become tiresome. While veteran rappers embrace the budding young talent of the modern-day, Eminem remains a curmudgeon traditionalist. He reaffirms throughout Music to Be Murdered By that it's his way or the highway, despite having guest appearances from Juice, Young M.A., and Cactus Jack newcomer Don Toliver. "Rest of these youngins of mine, time to start throwing some shade, this time I'm shutting the blinds," he says on the album closer "I Will." "Cause when I'm looking at y'all, shit, it's no wonder it's why I need a visor, 'cause y'all are just suns in my eyes." His legacy is established, but if it's riddled with unending instances of beefs and controversy, what kind of legacy does it become?