Bad Eyebrows
Eyebrows are EXTREMELY important these days.
Ever since Cara Delevingne hit our consciousness with her bold arches, we are willing to afford our brows the same level of grooming as the rest of our hair.  There are tints, serums, permanent make-up and even hair transplants available out there and we spend a LOT of time and money tweezing, plucking, waxing and threading in the hope of perfecting our arches.
Try Not To Laugh Too Hard At These '80s Hairstyles…
The University of Lethbridge, Canada last summer concluded that our brows have a strong social significance for "emotional expression as well as facial recognition".
The study showed 25 people images of celebrities without eyebrows, followed by 25 images of celebrities without eyes. The surprising result was that the participants could correctly identify 56% of the celebrities without eyes but only 46% of the eyebrowless stars.  Meaning that brows are more important than eyes if you want to make a lasting impression.
Nice Face, Shame About The Toes—Celebrity Fugly Feet
A lasting impression is definitely what a British teenager named Tyne has created.
When Tyne was just 15 years old, she plucked out most of her eyebrows (just why is not clear), and was too impatient to wait for them to grow back. She decided instead to have permanent eyebrows tattooed on her face, even though it's illegal in the UK to get a tattoo under the age of 18.
Think Before You Ink! Ultimate Absolutely Horrendous Bad Face Tattoos Gallery
Unfortunately, the tattooist inked in her new brows in the wrong place (shocker). When her own brows grew back in, she was left with 'quad brows'.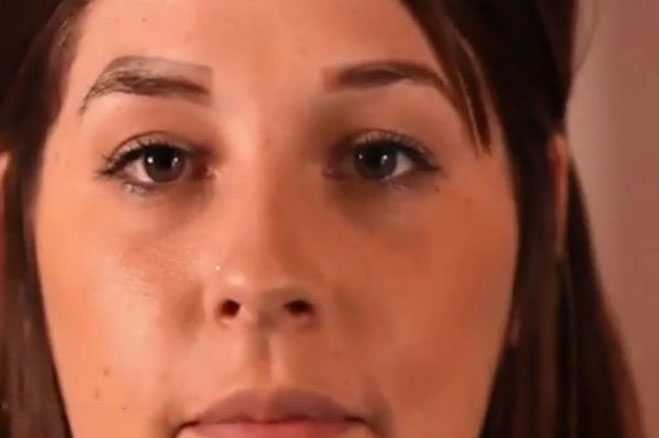 Tyne from England with her quad brows.
Bad Eyebrows
Now 20, Tyne says;
"My eyebrows are horrendous.  I have my natural set and then tattooed eyebrows above.  One is higher and thicker than the other, one is thicker, one is thinner.

I am stuck with four eyebrows."
As if that story wasn't enough of a lesson learned, check out our gallery below of eyebrow fails, and vow to leave the grooming of your arches to the professionals.
Bad Eyebrows
Bad Eyebrows