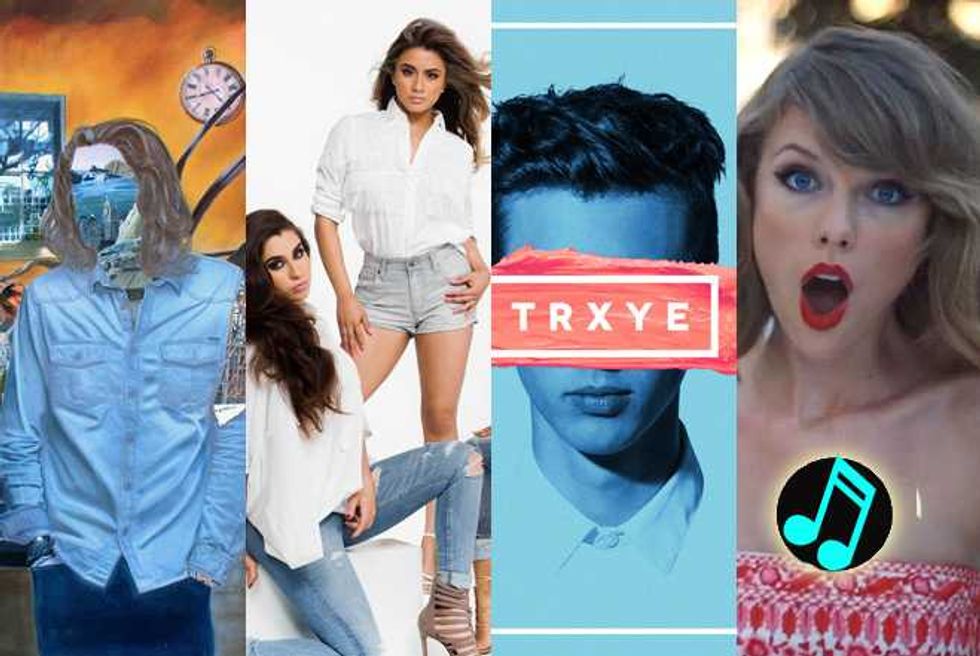 While this year's esteemed list of 8 Pop Albums That Changed My View Of The World was driven by a sheer need to recover, the best pop songs represented 2014's addiction to high-octane, blistering rhythms, beats and escapism. Unlike yesterday's collection of must-listen records, the following were born out of impact: what tracks (whether a rock-soaked pop-hummer or a more subtly-crafted ballad) warranted nearly constant repeats? Sometimes a delicious hook drew me in; other times it was showering emotion that created a vortex so powerful it was damn near impossible to break free. Or...it could have been a harrowing lyric so good it surpassed all else. Sales were simply not a factor here, although many (if not most) of them saw heavy rotations on the airwaves, subsequently pulling in some major pocket change.
Sit back, relax, and hit play on this perfect pop playlist:
20. Jessie J, "Masterpiece"
This British chanteuse is pop's most underrated creator. Sweet Talker is one helluva masterfully done body of work, with this mid-tempo anthem among her best yet. It stands as tall as her previous "Who You Are," the title track from her 2011 debut record.
19. Maroon 5, "Animals"
This pop-rock band went even more pop on V, if that were even possible. They lost a bit of edge with their 2012 disc Overexposed, but returned to form with this dizzying and infectious album. "Animals" is by far the set's most metaphorical cut.
18. Rixton, "Me & My Broken Heart"
As far as boy bands go, there's something quite different in Rixton's syrupy and melodic brand of pop. While this thumper didn't go to the summit of the Hot 100, it was one that should have.
17. Emily Kinney, "Rockstar"
Yes, this former zombie killer does pop. While her run on The Walking Dead is over, she's only getting started with her giddy, rock-tinged tunes that are a bit like Ingrid Michaelson meets Sara Bareilles. This is the lead-in to her 2015 album, and I just can't wait to see what she has up her sleeve next.
16. Alex & Sierra, "Scarecrow"
Folk-pop has never sounded so good. This lovebird duo hit the bulls eye with this delicious debut single, and their upward career trajectory is prime for a 2015 bonafide breakout.
15. Kesha & Pitbull, "Timber"
A Top 40 blockbuster that mixes the sensibility of pop with a spicy country flavor. It's like cool ranch Doritos. It sizzles on the tongue (or ear, in this case) and blasts straight to the end. It'll forever be stuck in your head until the end of time.
14. Sia, "Chandelier"
2014's most elusive singer. While she doesn't want to be famous, her music has made her famous. As one of the year's finest lyrics, "Chandelier" propelled the performer to the forefront of everyone's minds and every major TV show in the country.
13. Sam Smith, "I'm Not the Only One"
Many call him the male Adele. While you can make a case for that, he has his own soulful pop that is just as uniquely perfect. It's not possible to over-hype this singer. While "Stay with Me" is certainly a gem, it's this one (with a music video starring Glee's Dianna Agron) that is far more memorable.
12. 5 Seconds of Summer, "Amnesia"
The boys from the land down under splashed into the states with "She's So Perfect," but their more mature sound is marked profoundly on "Amnesia." It's a regretful, poignant piece with a stripped down, searing arrangement that banishes the fluffy pop textures in favor of a rock solid sound.
11. Hilary Duff, "All About You"
The biggest travesty of the year is the fact this song didn't smash. That was probably hindered by the lackluster "Chasing the Sun" (even though the video was super cute). "All About You" saw this former Disney star return to glorious form, but with a new-found sense of confidence.
10. GRL, "Ugly Heart"
Somehow, with the tragic death of band mate Simone Battle this summer, this track has a devastatingly new meaning. On the surface, this song is simply a power-pop anthem for all ages and identities. There's nothing ugly about their delivery, either.
9. Tove Lo, "Habits (Stay High)"
What's great about pop in 2014 is the diverse sounds that are embraced. This is so off-beat, so unconventional, so weirdly precise that it just fits at Top 40. The video is equally as bizarre; but it's too good to be ignored.
8. Ed Sheeran, "Don't"
The chart-topping British singer-songwriter went in a far more urban, R&B direction with x. Much like his pal Taylor Swift, he isn't afraid to pull from his personal life for great songs. As an Ellie Goulding kiss-off, this track sits in his well of emotion and groovy guitar-laden style.
7. Taylor Swift, "Blank Space"
While "Shake It Off" was fun, "Blank Space" is Swift's money-maker. As with many other 1989 cuts, she has taken the reigns back on her public image, addressing her long-standing tabloid rumors of dating and breaking. Plus, the video is absolutely nutty.
6. Big Little Lions, "Make It Up As We Go Along"
This indie duo are bubbling just underneath the surface. If you don't know them yet, don't worry; you soon will. As a track from their Paper Cage EP, this is fine-tuned, giddy folk-pop at its best and most dynamic.
5. Fifth Harmony, "Sledgehammer"
You didn't think 5H wouldn't make this list, did you? "Sledgehammer" is the summation of two years of blood, sweat and tears. They've put so much hard work finding their place among the pop titans, and this song just works on so many levels: vocal drive, soaring production, signature lyricism.
4. Cher Lloyd, "Sirens"
As one of the years most authentic pieces, Lloyd hit it out of the park here: another blistering performance that didn't quite get its due. Going forward, this singer should think about continuing on this personal path of self discovery. There's obviously an audience for it.
3. Coldplay, "A Sky Full of Stars"
Another emotional entry that gives Coldplay more credibility than ever before. The production is classic Coldplay, but it's the lyrics that make this song worth repeating over and over and over and over again. Also, you might cry a time or two.
2. Troye Sivan, "Gasoline" [EXPLICIT]
He's an electro-dance-pop hybrid that has something truly real to say. "Gasoline," off his new TRXYE EP, is biting and a remorseful bit of romanticism. There's also a sensuality that oozes from his voice that adds a complicated layer to the mix.
1. Hozier, "Take Me To Church"
The year's most beautiful, most sinister, most grounded lyric goes to Hozier's "Take Me to Church." It's the unrelenting darkness that connected to so many people; it's not afraid of the kind of harrowing imagery that strikes to the brain and the heart.
Stay tuned for updates. Feel free to follow @Popdust and JasonTheScott on Twitter!