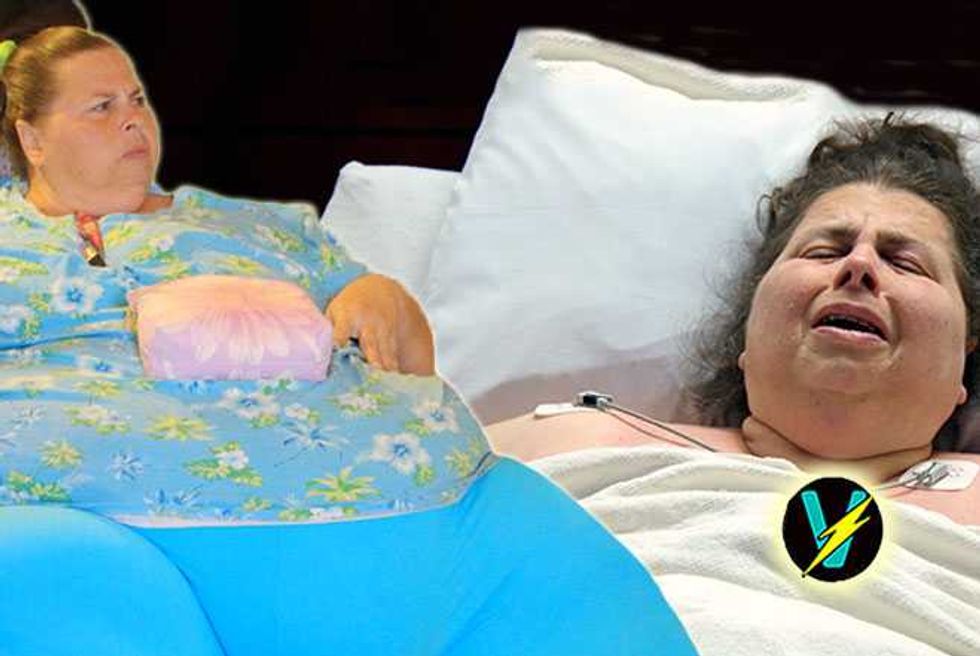 This week's new episode of My 600-LB Life is as emotional and heart-wrenching as usual.
Tonight's show features the story of Pauline—who is totally overcome with emotion after she is warned by her doctor that if she doesn't get out of bed and start walking, she could very likely die—Popdust has exclusive sneak peek video.
If anyone believes that being morbidly obese is a conscious life choice for people, they need look no further than to poor Pauline.
At 50-years old, Pauline weighs 700 pounds and, for obvious reasons, has severely limited mobility. Her story is a particularly sad one—Pauline's parents divorced when she was 8-years old and she didn't get enough to eat. She subsequently became fearful of hunger and overate. Pauline used to run an at-home daycare, but her weight kept her from maintaining the business and she is now divorced and pretty much bed-ridden.
As is often the case when it comes to morbid obesity, Pauline appears to be seriously depressed, and five days after undergoing weight loss surgery she remains wallowing in her hospital bed, throwing up excuses for why she is unable to move.
However, Pauline's surgeon, Dr. Nowzaradan, refuses to listen to his patient's weak excuses, and presents her with a stern warning that if she doesn't get up and start moving around then she could very likely die.
"If Pauline doesn't move around a blood clot can form, and that can be fatal," Dr. Nowzaradan tells the camera. "She has to get up and move."
"If you don't walk you're going to get a blood clot in the leg and we're going to have a problem with it," he tells Pauline.
"Well, I pulled a muscle in my stomach," she starts explaining, before the Dr. cuts her off. "No excuses!" He warns.
"I know, you always think it's an excuse…. but if it's hurting me then it's there," a visibly distressed Pauline insists.
"Look , if it's hurting you it doesn't mean you should stay in the bed," Dr. Nowzaradan counters.
"I'm only on day five of a really big surgery," Pauline says.
"Everybody goes home on day two, you are making excuses that are not acceptable," the Dr. replies. "I want to see you walk outside of this room, and walk back. OK?"
"I can't do it that fast….it's going to take a while. you can't expect it that fast out of me," poor Pauline says, tears rolling down her cheeks.
"You are going to be mobile and you're going to get up and move," Dr. Nowzaradan decrees, before telling the camera, "Her life and future are in her hands….she can choose to get up and do what she needs to do now, or she can give up and die."
Truly heartbreaking stuff.
Watch the sneak peek video and check out Popdust's gallery below—and tune into TLC Wednesdays at 9 P/ET to watch all new episodes of My 600-Lb Life.