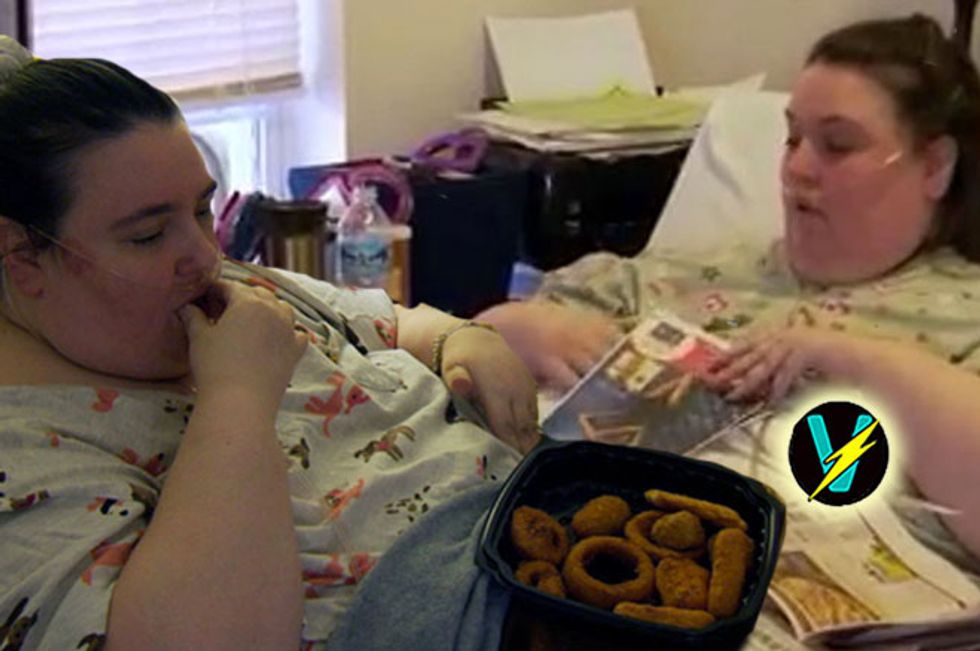 On tonight's new episode of My 600-LB Life we get to catch up with Penny, who featured in season two of the hit TLC show.
The 47-year-old underwent surgery last year, in a desperate bid to lose weight and regain control of her life—but, it is evident that the mom-of-one is struggling to make the right weight loss choices now she is out of the hospital and back home again—Popdust has exclusive sneak peek video.
As previously reported, Penny had been bedridden for four years pre-surgery, forcing her husband Edgar to have to quit working and become her full time carer, in addition to looking after the couple's young son, Liam.
Weighing in at over 400 Lbs, Penny was aware that if she didn't take drastic action then her out of control weight gain—which was caused by her food addiction and poor dietary choices—would likely kill her.
So, she relocated from Maryland to Texas to undergo gastric bypass surgery by esteemed weight loss expert, Dr. Nowzaradan.
Fast forward to now, and, despite successful surgery, Penny's life appears to have changed very little.
Unlike last week's season 2 update, which featured Zsalynn and Christina's lives post surgery, Penny still remains bedridden, unable to work, on disability, and reliant on Edgar for her every need.
Sadly, Penny seems to display a shocking lack of self-awareness, and appears to be almost delusional at times—totally unable to face the reality of her situation and take responsibility for the bad choices she continues to make.
In the sneak peek video, the mom-of-one is shown scouring a pile of newspapers, clipping out coupons, and compiling a long list of food items, from a number of different supermarkets, for Edgar to go and buy.
Penny explains that she figures if she saves the family $500 a week, then that's the same as her earning $500 a week—and, therefore she is contributing to their keep.
In her mind, she explains, this allows her to ensure the family get to eat better, healthier food—however, as Edgar confesses, this is far from the reality of the situation.
Edgar, who spends hours and hours driving from one supermarket to another, hunting down and buying the plethora of items on Penny's long lists, says that the majority of the purchases are, in actuality, just utter junk food.
Penny's mom backs this up, and goes on to lay a portion of the blame—when it comes to her daughter's inability to lose weight—on Edgar's continuing willingness to enable his wife.
Meanwhile, Dr. Nowzaradan also weighs in, explaining he believes Penny's obsession with couponing, and ongoing addiction to junk food, is all about her wanting to feel she has control over something in her life.
Watch the sneak peek video below—check out Popdust's gallery of Penny's before and after surgery photos—and tune into TLC Wednesdays at 9 P/ET to watch all new episodes of My 600-Lb Life.