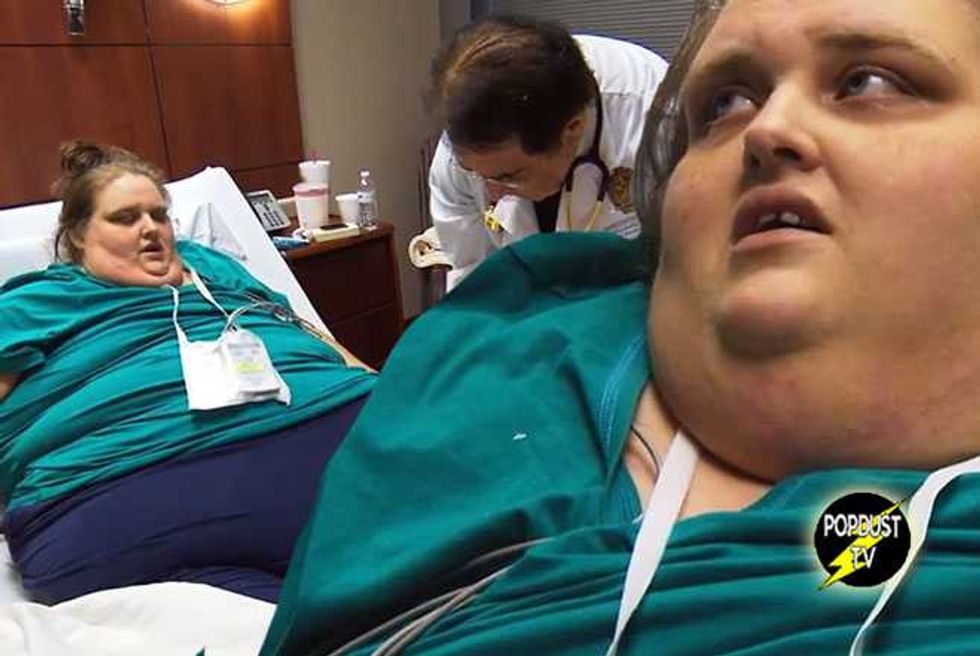 On last night's all new episode of My 600-Lb Life we met Susan, a 37-year-old woman from Eddy, Texas who lives with her mother.
Susan talked about the fact that she's had problems with her weight since she was a small child, but things took a turn for the worse when she was 17.
"Her dad was drunk and he started yelling and screaming at me," her mother explained. "He got his rifle and Susan and Stephanie got in the middle and told him, 'Dad if you shoot you're gonna have to shoot me.' So he put the gun down and he left."
"Everyday has gotten a little bit worse," sister Stephanie shared. "I feel like even now she's just waiting thinking maybe they'll get back together. Sometimes I look at her like she's living like a kid because she has not moved passed that. It's almost like she stopped living her life at that point."
At one point, Susan had a breakdown at the grocery store after finding out the electric scooter cart is out of order. Her mother tried to make her feel better by buying her a cake, chips, and coke. "I do feel guilty about how she was raised, so I try to give her what she wants," mom confessed.
Susan, her mother and her sister headed to Dallas to meet with gastric bypass surgeon Dr. Nowzaradan. Upon evaluation, he placed Susan on a very strict zero carb, zero fat diet and told her she had to lose 100 lbs. before he would be willing to operate.
His comments were a wake up call for sister Stephanie, who had some choice words for her mother.
"You're going to have to change your mindset too or this wont work for her," Stephanie ordered. "If she is going to live with you and you don't change your mindset she is going to die. Period."
A few months later, Susan returned to Dr. Nowzaradan having lost 159 lbs. He was very impressed with her progress and went ahead with the surgery.
However, a couple months later Susan had to be admitted into the hospital because she had lost all feeling in her lower body. The doctor ordered a barrage of tests and worried that she might end up paralyzed. Susan was diagnosed with neuropathy, which is basically nerve damage from being so obese for so long. She had to go to a rehab facility immediately for treatment before there was permanent damage.
Following a few months, Susan was released from the rehab facility. Her mom immediately suggested a chicken salad…from a drive through…plus chicken nuggets.
Not surprisingly, at her next weigh in Susan had gained six lbs. and admited that she's been off her diet. The doctor told her that it's unacceptable and that he wants to see her walk, but she is unable to get out of the chair.
Susan went to see a therapist to figure out what causes her to overeat. She told her mother that she needs her to give her more independence at home so that she feels more self sufficient.
That was the breakthrough she needed and soon after Susan moved in with her brother. For the first time in her life, she felt like an independent person, and at her last weigh in, she had lost a total of 267 lbs. and was finally well on her way to a new life.
What did you think of Susan's story on My 600-Lb. Life? Sound off in the comments below! And tune in to TLC Wednesdays at 9/8 central for all new episodes.