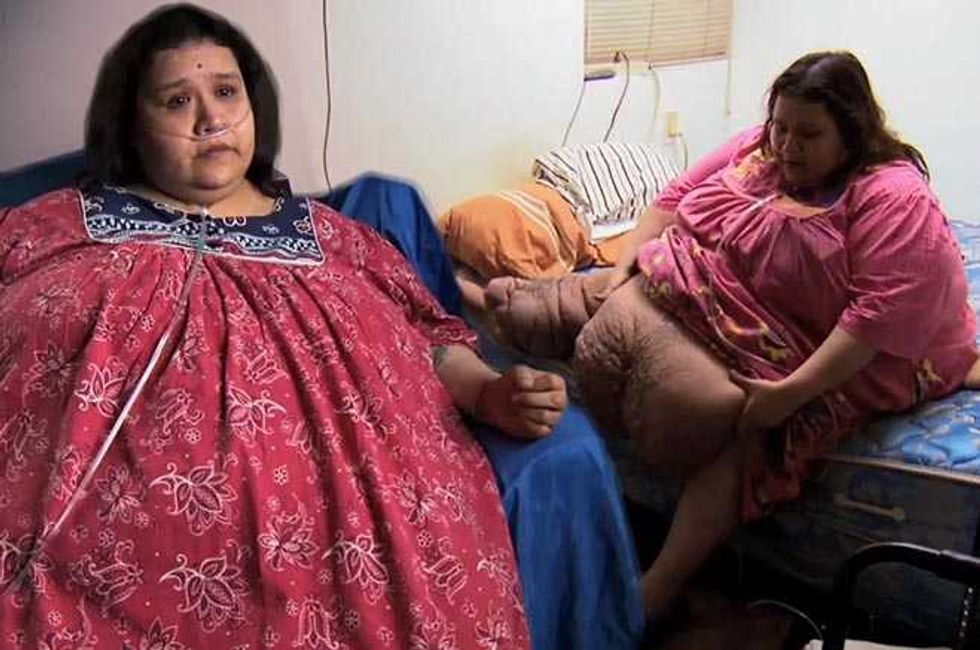 For Olivia her weight has truly become a matter of life and death.
The 46-year-old is the subject of Tuesday's episode of the TLC hit, My 600LB Life—Popdust has sneak peek video and photos.
My 600Lb Life—Meet Olivia
Olivia was badly bullied growing up, eventually dropping out of high school in her senior year as she could no longer stand the constant rudicule—and that's when she truly started on her path toward morbid obesity.
Olivia lives in the basement of her parents' home in Chicago and suffers from severe depression.
My 600Lb Life—Olivia suffers from extreme Lymphodema on her legs
Two years ago, after losing all her belongings in a flood, Olivia attempted suicide—she hasn't ventured outside her front door since.
However, that is soon to change as she prepares to move to Houston, leaving her folks and twin sister behind, in the hope she can undergo bariatric surgery.
My 600Lb Life—Meet Olivia
At present Olivia's weight dictates her every day life, holding her hostage in her own home and unable to carry out even the most basic tasks.
Adding to her woes, Olivia has extreme lymphedema on her legs, causing horrific, huge, boils and tremendous swelling along with acute pain.
My 600Lb Life—Meet Olivia
"Olivia wants a life free from her body – what she claims to be her prison," the TLC press release says.
"She is ready to be a member of society again and hopes that she can one day soon live on her own, free from her dependence on her family for her every need."
To watch Olivia's full story, tune in to My 600LB Life tonight on TLC at 9/8c
Follow @MaxinePage on Twitter for all the latest pop culture updates and news