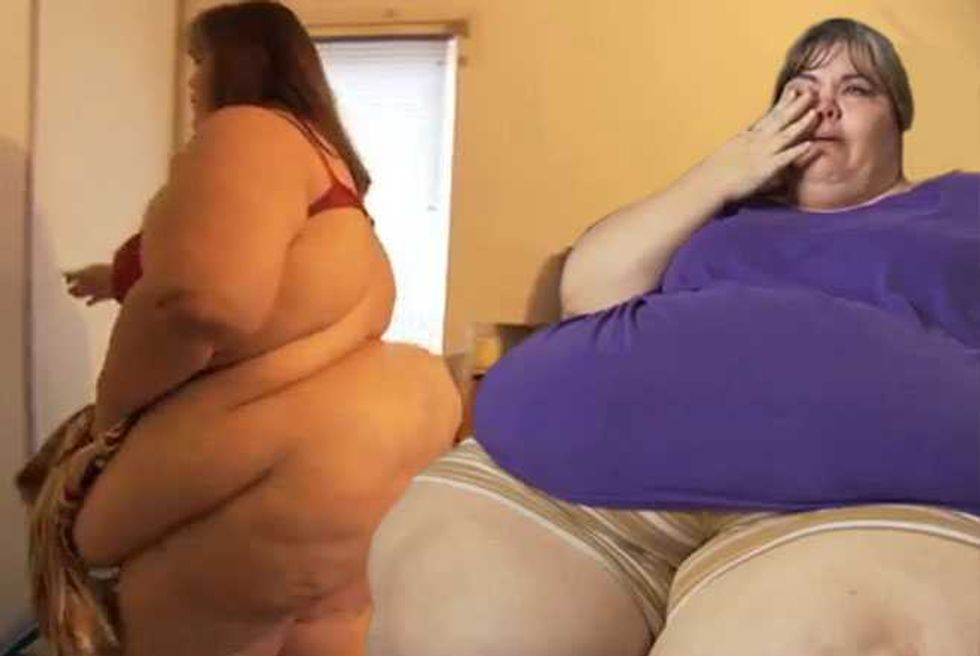 My 600lb Life is back on TV screens tonight for a second season, kicking off with the compelling story of Zsalynn—and Popdust has a sneak peek.
The hit TLC show follows the lives of eight different individuals—each weighing over 600 pounds—through their year long journey as they collectively try to lose thousands of pounds.
My 600lb Life star Zsalynn is willing to go to great lengths to drop weight
Zsalynn fears her battle of the bulge is a matter of life and death and is desperate to shed weight in order to become the mother she wants to be for daughter Hannah.
However, husband Gareth is completely unsupportive and seems intent on railroading his wife at every turn.
Husband Gareth is totally unsupportive of Zsalynn's weight battle
The TLC press release reads:
Zsalynn isn't the typical weight-loss story. As a senior in high school, dealing with a disapproving mother, she weighed close to 375-lbs. Rather than wallow in self-pity, Zsalynn created NAAFA, the National Association to Advanced Fat Acceptance.  As the self-proclaimed, "Fat Girl Rock Star," she was proud of her size and found a circle of friends and admirers who were more than accepting. Men paid her way to travel the world and this soon became the norm - decadent, lavish parties and jet-setting around the globe, having the time of her life.

After posting a photo of herself in nothing but her favorite bra and panty set, Zsalynn met her husband Gareth online. Gareth was unabashedly attracted to larger women and at the time, Zsalynn was the perfect bride.

Zsalynn's outlook changed when she found herself weighing 520-lbs - one quarter of a ton, at 29-years old. Now, still married to Gareth, with a 9-year old daughter, Zsalynn feels trapped in her own body. She watches 7-8 hours of television a day and relies on her best friend, Bonnie, to take care of her daughter. Gareth admits that she has become "too big" to do anything, and Zsalynn deals with her feelings of inadequacy by constantly giving in to her sugar addiction.

In an attempt to turn her life around, Zsalynn seeks the help of a Bariatric Surgeon. She desperately wants to be the mother that her daughter Hannah deserves, and genuinely fears dying prematurely because of her weight. Gareth is unsupportive of Zsalynn's efforts and refuses to change his eating habits. His opposition of the mental and physical changes that must occur, causes immense obstacles in their marriage.
Zsalynn is desperate to lose weight so she can be the best mom possible to daughter Hannah
Can Zsalynn stay the course, lose the weight, and fight to finally be the mother she wants to be for Hannah? Or will Gareth's disapproval hold her back and tempt Zsalynn into reverting to her old, destructive habits?
Hey Zsalynn, I've got a great tip hon… drop 200lbs immediately by kicking that asshole husband to the curb.
Watch the full episode of My 600lb Life tonight on TLC at 9PM (ET/PT)