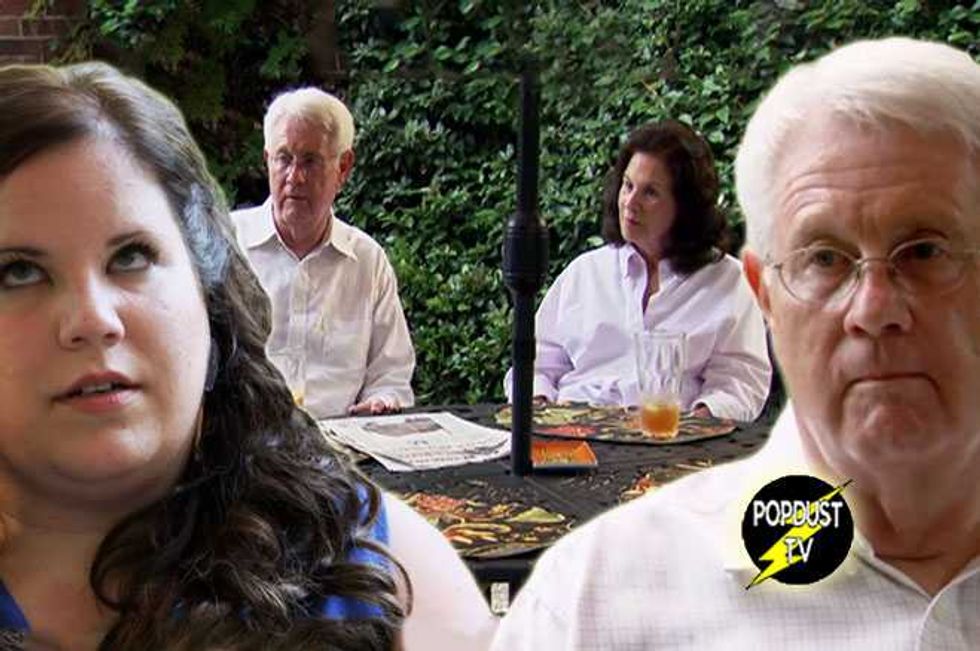 For some reason there are a lot of people out there who seem to feel it's perfectly OK to make rude remarks and disparaging comments to fat people.
It seems societal niceties are off the table when it comes to the subject of women and their weight—but one place you would hope to feel safe is at home, with your family.
Not so for poor Whitney Thore though—who is the subject of tonight's episode of TLC's new show, My Big Fat Fabulous Life—Popdust has sneak peek video.
Whitney comes face to face with the biggest fat shaming bully in her life, and sadly, it is her own dad, Glenn.
The meeting is really damn uncomfortable, to say the least, and pretty damn heartbreaking—offering up fascinating insight into what has very likely caused Whitney's weight issues in the very first place, as her father basically tells her she is not a beautiful, valid, woman (which she very clearly is) all the time she is "overweight."
It starts off with Whitney telling her parents about her recent doctor's appointment, which she says she's very excited about as she feels she's now on the right path to finally becoming the healthy person she wants to be, despite the fact she suffers from PCOS (Polycystic Ovary syndrome)—but, that just isn't enough for old dad.
"I saw Kathy and she was awesome, basically, she said, you don't have to be like a Barbie, whatever, you know, to improve on your health, and your PCOS," Whitney says. "So that was like, a huge relief.. and the way I want to get on that is by getting really hardcore back into dance."
"Well, did they weigh you?" Dad immediately asks. "What was the number?"
"I don't know why you care so much about a number, but….it was 380, so…" Whitney starts.. "Hmmm… so how much are you going to lose?" Dad interjects, going on to chastise his daughter. "That's a lot more than you were even six months ago."
"Well I know, but, PCOS makes it really easy to gain weight and hard to lose, but," Whitney tries to explain, before dad butts in once again.
"So how much are you planning on losing?" He asks.
"I mean, I hadn't planned it, but maybe a hundred?" Whitney replies.
"Why only a hundred?" He immediately demands to know.
UGH… just….UGH…..
But wait, it gets sooooo much worse…..
"I love Whitney to death, but it takes more than dancing to get Whitney into the kind of shape I think will make Whitney happy," dad tells the camera, before making HIS expectations when it comes to his daughter's body crystal clear.
"You'll get more out of life if you lose that weight.. you'll… I want you to be happy, I want you to get married, I want you to have some children, so we will have grandkids," he says.
Hey, dad! Stick this in your pipe and smoke it—This isn't about your daughter being some kind of, what you perceive to be, a perfect vessel to produce grandchildren in order to fulfill your needs and desires.
BUTT OUT DUDE!
"Dad! I've told you, I've been practicing for the grandkids, but, just nothing has happened yet," Whitney quips, in an attempt to lighten the mood….sadly, to no avail.
"Practice is not what I'm interested in," dad replies sternly.
"Oh, you want grandkids, within wedlock!" Whitney shoots back….
And….. BINGO!
"Yes, and I'm afraid if you don't get on a good weight loss program, that you will not be able to find the person you like…I mean, it just narrows your field…unfortunately," Dad says, delivering his fat shaming mea culpa.
But Whitney, being the beautiful, awesome, and shockingly confident person she is (given her obviously dysfunctional father /daughter relationship) refuses to take her dad's shit.
"I have news for you, because, newsflash… dudes like fat girls!" She tells him. "Do you know how many men have written me and told me, your body is perfect? To them, I'm like a swimsuit model is to you…. I've never had to settle to go out on a date with some dude I didn't want to go out with just because I'm fat."
"Well, that's fine, just as long as you know the challenges in front of you," dad says, refusing to give up the fat shaming ghost.
"But, why do you keep saying the challenge daddy?" A visibly upset Whitney pleads, before actually breaking down in tears. "Like, I need to lose some weight so I can just live the way I want to because I like to be physically active, but being happy in my skin, just as I am, that's the strongest thing I've ever done."
Then, she sums it up perfectly in a voice-over to camera.
"I have always needed my dad's approval and the worst feeling in the world for me is when my dad is disappointed in me," she says. "It's hard to satisfy both what I want and what he wants."
Hey Whitney, word of advice, you are NEVER going to satisfy what he wants… never, ever… so, just concentrate on what you want… because, at the end of the day, that's what's important here.
Oh, and you keep on being fabulous girlfriend!
Watch the sneak peek video below and tune into TLC tonight at 10/9c to watch the full episode of My Big Fat Fabulous Life.