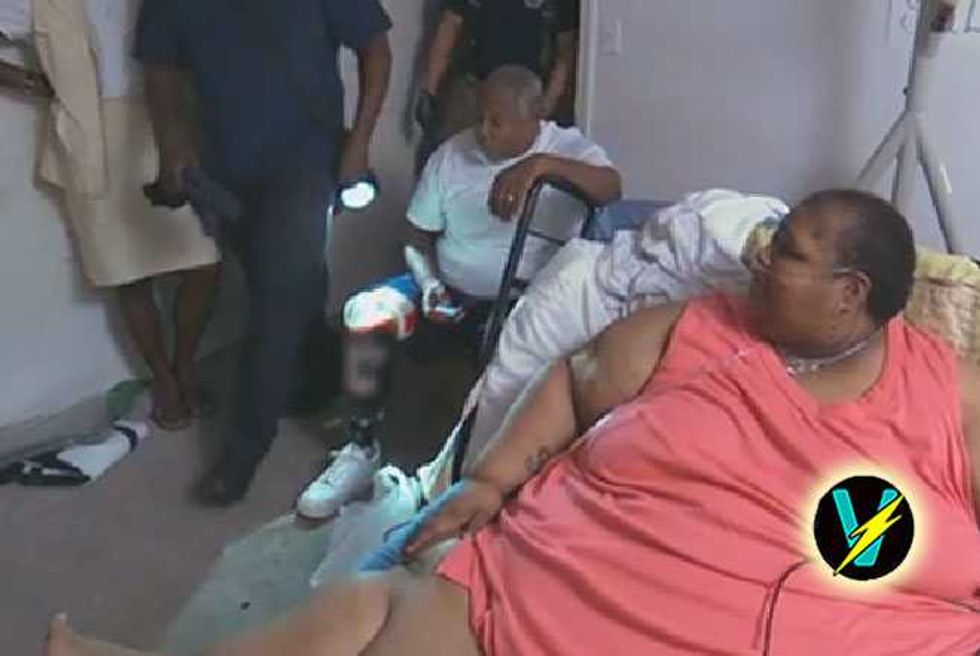 My600LbLife Teretha—Bed Bound, Depressed And Battling For Her Life
Tipping the scales at over 700Lbs, Teretha is bed bound, depressed, and battling for her life.
The Detroit mom is featured in tonight's new episode of TLC's hit show, My 600Lb Life—and you can watch sneak peek video right here on Popdust.
My600LbLife Milla—Bedridden 700Lb Mom's Five Kids Are Her Caretakers
Irony, tragedy and sadness
my600lblife teretha bed bound
Teretha's heartbreaking story has more than a hint of irony, along with the usual elements of tragedy and sadness.
She used to work for the Detroit healthy-eating program, advising people on good food choices and healthy living.
My 600-LB Life—Chay's Terrified He'll Die If He Doesn't Conquer His Food Addiction
However, after losing her job, Teretha spiraled into a deep depression, and soon turned to food for comfort.
Bedridden and dependent
my600lblife teretha bed bound
She has now become so obese that she is unable to move around on her own—Teretha is confined to her bed and dependent on her family for her every day care and needs.
My 600-LB Life—Laura Struggles To Conquer Her Demons, Turn Life Around
In a last ditch attempt to gain control of her compulsive eating and to reclaim her body once again, Teretha agrees to undergo bypass surgery in hopes of saving her life.
Risking it all
my600lblife teretha bed bound
Understandably, given her current health and weight, Teretha's terrified to go under the knife—and fearful she won't survive surgery—but, she's willing to risk everything rather than continue to wallow and eat herself to death.
My 600-LB Life—Angel Is Staring Death In The Face, Can She Turn Her Life Around?
However, Teretha first has to make it to the hospital—and that's no mean feat for a bedridden 700Lb woman.
It takes a whole team of hunky fireman to hoist her up off of the bed, haul her into the back of a waiting car and transport her to the hospital.
My 600-LB Life—Junk Food Junkie Marla Is Eating Herself To Death
But, that's just the start of Teretha's weight loss journey—will she be able to continue further, on her own steam?
To find out, tune into TLC tonight at 9/8c to watch My 600Lb Life—Teretha's story
My 600-LB Life- Bettie Jo's Biggest Obstacle Is Her Enabler Husband
For more entertainment, world, music and pop culture updates and news, follow Max Page on Twitter