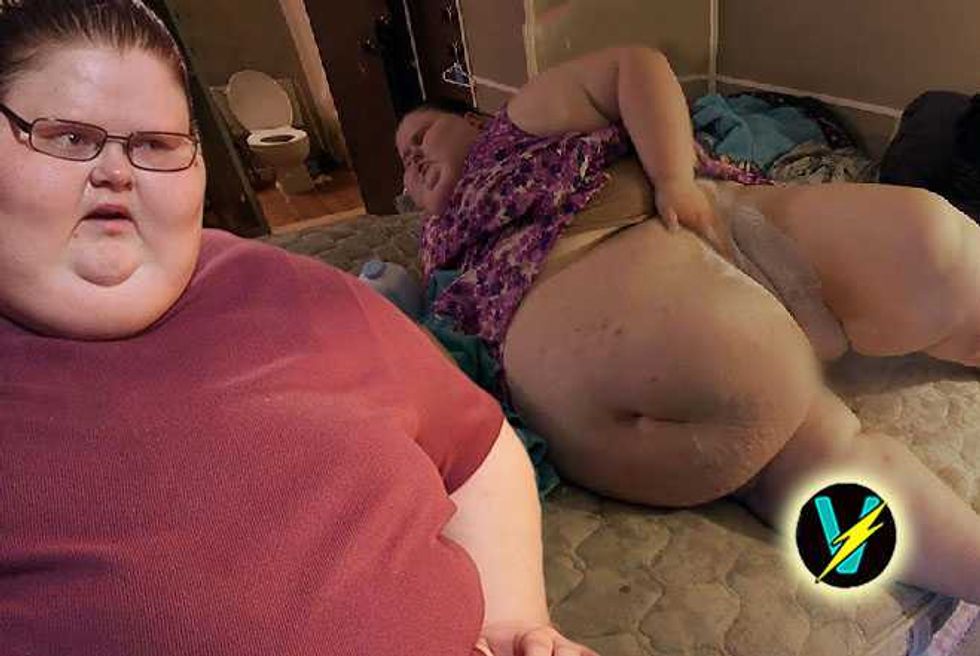 My600LbLife Ashley D My600LbLife—Ashamed And Terrified, The Clock Is Ticking For Ashley D
Tipping the scales at over 700Lbs, the clock is ticking on Ashley D's life.
The 26-year-old is the focus of tonight's new episode of TLC's hit show, My 600Lb Life—and you can watch sneak peek video right here on Popdust.
My600LbLife Milla—Bedridden 700Lb Mom's Five Kids Are Her Caretakers
Shame and self-loathing
My600LbLife Ashley D
Ashley is grotesquely overweight—so much so that she appears almost cartoonish—she is so ashamed of her body, and how she looks, that she rarely strays from home.
The mom-of-one's weight has gotten so out of control that it is seriously hampering her mobility, and she fears that soon she will be completely unable to look after herself—and the thought of being beholden to an outside stranger fills her with dread.
My600lbLife—Dottie Is Eating Herself To Death And Unable To Stop
And so the cycle continues
My600LbLife Ashley D
That dread inevitably fuels Ashley's self-loathing and shame, which in turn amplifies yet further her already serious emotional issues, causing her to turn to food for comfort and escape.
Given her size, it's no surprise that even the shortest walk causes immense strain on Ashley's already over-burdened spine and joints, resulting in pretty much constant pain.
My 600-LB Life—Junk Food Junkie Marla Is Eating Herself To Death
"There's not a day that goes by that I don't have pain," Ashley admits. "Just about any movement hurts and, just walking the twenty feet from my bed to my bathroom is extremely painful.
"My weight has made it almost unbearable to get around. The normal things that everybody does, are so hard to do when you're my size. And I'm terrified to get in my own bathtub, because I almost feel like I'm going to fall through the floor.
My 600-LB Life—Charity's Terrified Food Addiction Will Kill Her If She Doesn't Get Help
"I'm good to stand for maybe five minutes, so, it's a struggle for me to bathe. People don't understand how much it takes just to do anything."
Disgust and fear
My600LbLife Ashley D
In the sneak peek video, we see first hand the challenges Ashley encounters when it comes to mobility, as she hoists herself up off of her bed and lumbers to the bathroom in order to shower.
My 600-LB Life—Suicidal Joe Heads To Therapist In Desperate Bid To Save His Life
Ashley's disgust at what her body has become—and her deep level of self loathing—is only too apparent, as she tearfully talks about the huge hanging fold of flesh that used to be her midriff.
"I have this thing hanging off of me that's not supposed to be there," she says. "My stomach hangs so heavy on my back, sometimes when I am standing I'm scared of physically breaking my own back.
"And, it's gotten so bad now, that I'm afraid I'll be completely immobile soon and I'm going to have to have somebody take care of me and I don't want that embarrassment.
My 600-LB Life—Pauline Is Overwhelmed After She's Told, Get Up And Walk, Or Die!
"I can still take care of my body, washing and bathing, right now… but I need help with just about everything else."
Cared for by 5-year-old son
My600LbLife Ashley D
Adding yet further to the tragedy of the situation, Ashley's son has been saddled with providing pretty much full time care for his mom—running her errands, and carrying out the majority of the housework—something, no 5-year-old child should be subjected to.
My 600-LB Life—Desperate Amber Can't Stop Eating, Badly Needs Help
Ashley's guilt over her dependence on her young son, and what his life has become, clearly weighs heavily on her mind, but at the same time, she admits that without his constant care, she would be "lost."
"My son helps me with everything," she says. "He's my legs and a lot of things…. basically everything that involves standing and walking around a lot, Patrick does for me.
My 600-Lb Life—Paula Falls Back On Same Old Excuses For Weight Gain
"He has to help me with just about every household chore—without him, I'd be lost."
Bypass surgery post-op setbacks
My600LbLife Ashley D
Ashley eventually undergoes bypass surgery in the hope of gaining control of her body once again—however, post-op medical setbacks soon have her spiraling back to her old bad habits.
My 600-LB Life Zsalynn, Christina's Heartbreaking Struggles Continue Post Surgery
Can Ashley ever get past the trauma that ignited her eating disorder, and finally get her, and her young son's life back on track?
To find out, tune in to My 600Lb Life—Ashley D's story, tonight at 9/8c on TLC
My 600-LB Life- Bettie Jo's Biggest Obstacle Is Her Enabler Husband
For more entertainment, world, music and pop culture updates and news, follow Max Page on Twitter