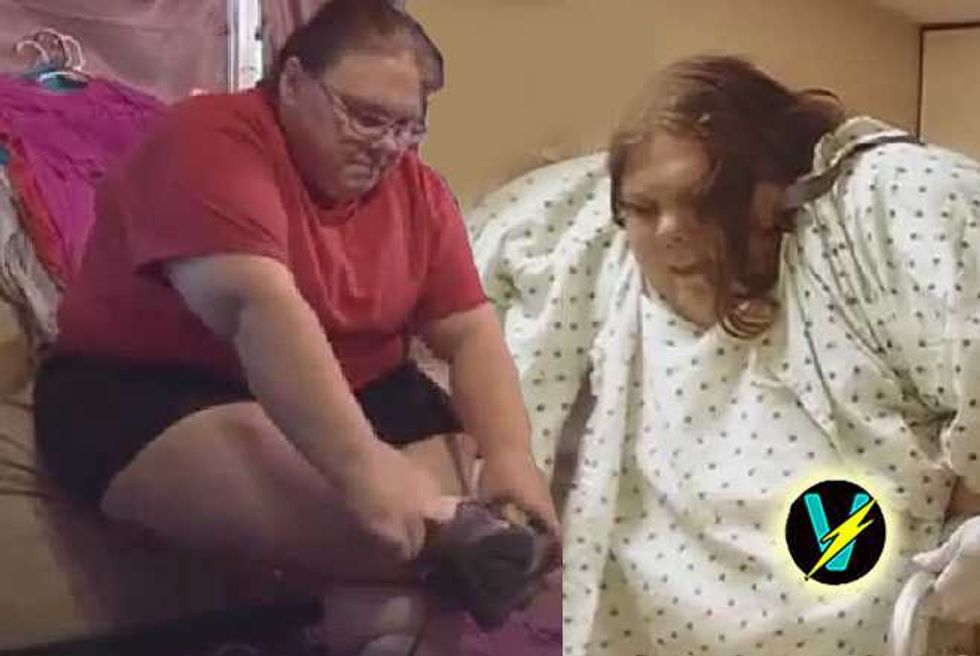 my600lblife ashley hits wall
On tonight's episode of TLC's My600LbLife—Where are they now? We catch up with Ashley.
As Popdust previously reported, Ashley's food addiction resulted in the 26-year-old tipping the scales at over 700Lb at her heaviest.
My600LbLife Milla—Bedridden 700Lb Mom's Five Kids Are Her Caretakers
Gain brings shame
my600lblife ashley hits wall
When she was featured earlier this season, the mom-of-one's extreme weight had seriously hampered her mobility, and she was so ashamed of how she looked, she rarely left the house.
Adding to her woes, Ashley feared that if she didn't manage to get a grip on her over-eating, she would soon be unable to look after herself in any way.
My600LbLife—Food Addiction Has Wrecked Randy's Marriage And Life
As it was, Ashley's son Patrick had been saddled with providing pretty much full time care for his mom.
Mom's keeper
my600lblife ashley hits wall
The young boy was running all of his mom's errands, and carrying out the majority of the housework—something, no 5-year-old child should be subjected to.
Ashley eventually underwent bypass surgery in the hope of gaining control of her body once again.
My600lbLife—Dottie Is Eating Herself To Death And Unable To Stop
However, post-op medical setbacks soon had her spiraling back to her old bad habits and reaching for the cookie jar.
Dropping the poundage
my600lblife ashley hits wall
She worked through her issues though, and thanks to exercise and smart food choices she managed to get her weight down to an impressive 260.
But, that's when she hit a wall—and in true addict style, Ashley buried her head in the sand and started slipping back to her bad old habits.
My 600LB Life—Meet Olivia, A Prisoner In Her Own Body, 'My Weight Is Killing Me!'
Burying her head
my600lblife ashley hits wall
In a sneak peek clip from tonight's episode, Ashley confesses to having no idea how much she weighs right now, and has been avoiding all and any Dr. visits and check-ups.
Oh Ashley, you poor poor thing.
Tune into My 600Lb Life—Where Are They Now, tonight at 9/8c on TLC to watch the whole episode, and to also get an update on Melissa.
For more entertainment, music and pop culture updates and news, follow Max Page on Twitter