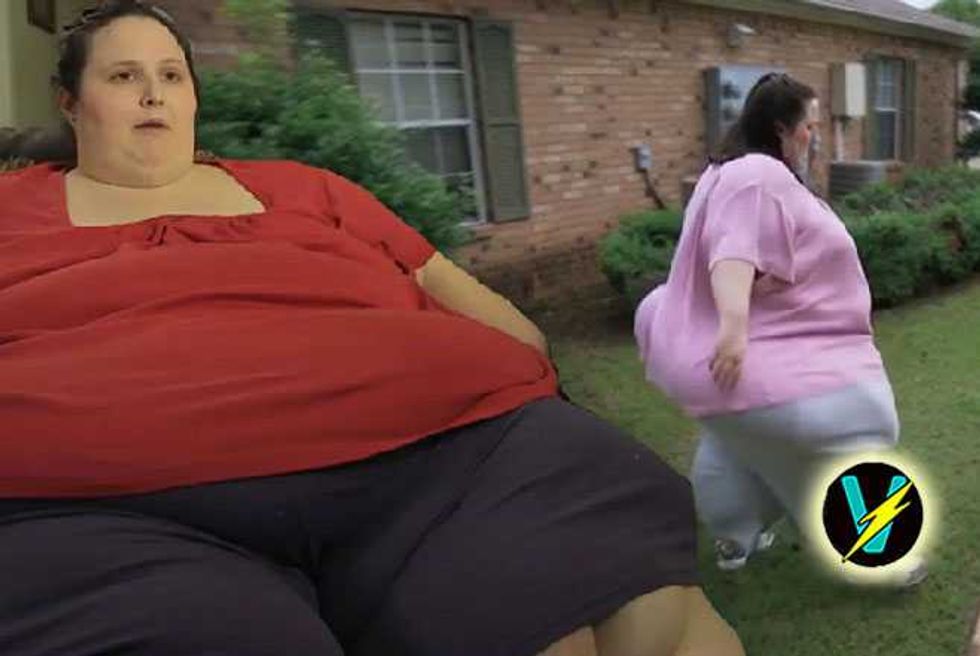 My600lbLife—Dottie
On tonight's episode of My600lbLife—Dottie is eating herself to death and is unable to stop.
Four episodes in, and season 4 of TLC's hit show is promising to be every bit as emotional and tragic as the three previous ones—as they document six new weight loss journeys and all the associated struggles, trials and tribulations that go along with them.
My 600-LB Life—Laura Struggles To Conquer Her Demons, Turn Life Around
My600lbLife—Dottie
Tonight's show follows Dottie, who, tipping the scales at over 600lbs, runs the very serious risk of death if she does not get her eating compulsion under control.
As is often the case with eating disorders, Dottie's food issues stem from her childhood.
My 600LB Life—Meet Olivia, A Prisoner In Her Own Body, 'My Weight Is Killing Me!'
A fractured relationship with her emotionally withholding mother led Dottie to seek comfort in food, and by her late teens she was already well on the road to being morbidly obese.
"It hurt a lot," Dottie explains. "And food is what comforted me. At one point I was putting on a couple of pounds every week, and by the time I was 18, I was well over 300lbs.
"And I remember just eating and eating so much, and I've just never been able to stop."
My 600Lb Life—Bedridden Penny Prepares For Surgery In Last Ditch Effort To Save Her Life
Dottie's weight has skyrocketed to the point that it is seriously affecting her day-to-day quality of life, and hampering her ability to move around.
Something as simple as a trip to the store, is an exhausting and mammoth task for Dottie, as she struggles to walk and to hoist herself in and out of her car.
Adding to the tragedy, Dottie has two children, and her family is terrified that if she doesn't get help soon, they will be left motherless.
My 600-LB Life—Suicidal Joe Heads To Therapist In Desperate Bid To Save His Life
With that in mind, Dottie agrees to embark on a drastic new diet, but it's not long before her old demons come back to haunt her and the self-sabotage kicks in.
Check out sneak peek video below, and watch My600lbLife—Dottie's Journey, tonight at 9/8c on TLC
For more entertainment, world, music and pop culture updates and news follow Max Page on Twitter