TV Reviews
The contestant picks a date based solely on potential dates' naked bodies.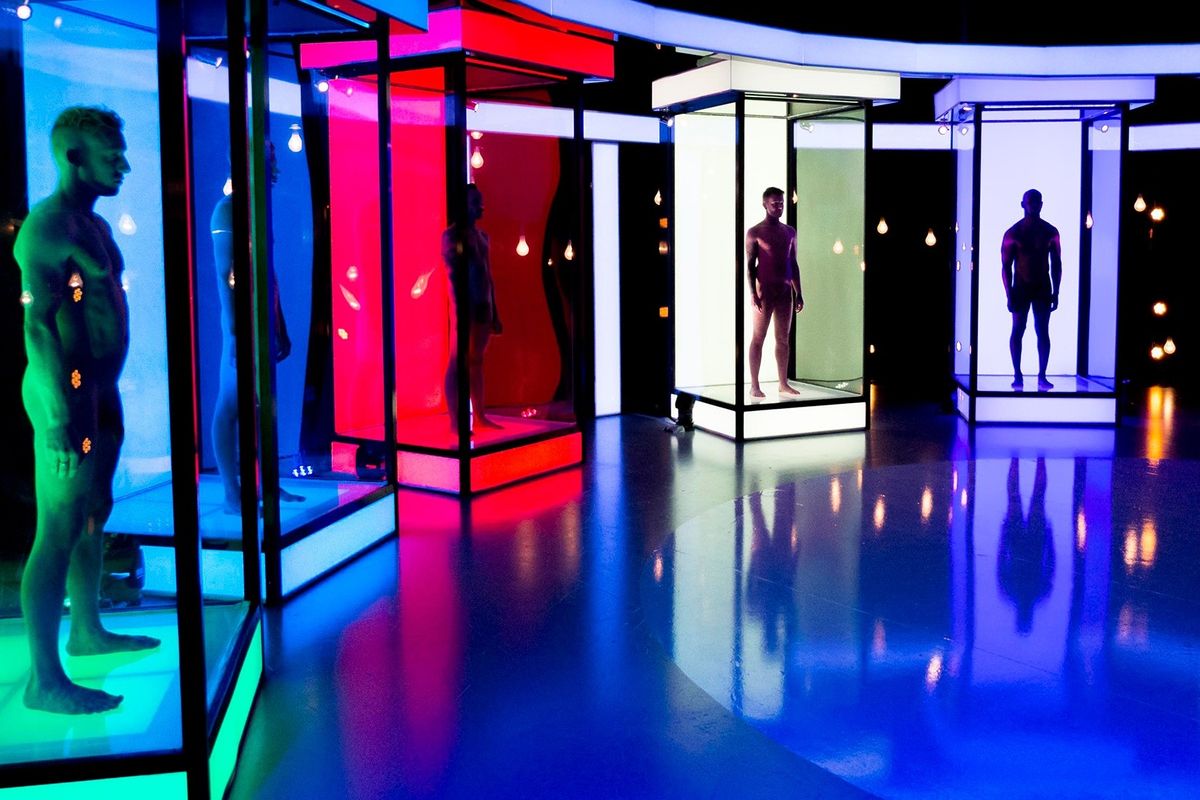 Despite what Game of Thrones might suggest, America is still pretty conservative when it comes to nudity on TV.
Ever since the infamous 2004 Super Bowl halftime show scandal when Justin Timberlake exposed Janet Jackson's breast on live TV, the Federal Communications Commission (FCC) has imposed strict rules about "indecency" on American television. The moral panic that ensued from the 2004 Super Bowl even led several major networks to edit nudity out of their previously aired shows.
Of course, cable television is not affected by FCC guidelines and can show whatever they decide is appropriate. Most of the nudity on American TV is shown on premium cable channels such as Showtime, HBO and Turner Classic Movies (TCM).
In contrast, the United Kingdom has quite a different outlook on nudity on TV. Basically, they abide by "watershed" rules. In broadcasting, the watershed is the time of day after which programming aimed towards adult audiences is allowed to air. In the United Kingdom, 18-rated content must not air until 10:00 PM, but after that, essentially, anything goes. And, according to Channel 4, that can even mean plenty of up close shots of real people's genitalia.
---
I first watched Naked Attraction while on vacation in England. The guide menu description made the show's simple premise pretty clear: "A clothed person is faced with six naked people who are initially hidden in booths. Their bodies and faces are gradually revealed through successive rounds, from the feet up. At each round, the chooser eliminates one naked person until only two are left, when the chooser also takes off their clothes to make the final choice."
Naked Attraction | Trailer www.youtube.com
Naturally, as an American, I was expecting some tasteful blurring and a lot of gross body shaming, but I was curious. So I watched. I was stunned to discover that not only does the program show the entirety of contestants' bodies, but it even offers lingering close ups of their genitals. Not only that, but the program features a staggering diversity of body types—including disabled and gender nonconforming bodies—and through the contestants' and hosts' commentary, often works to present them all as uniquely beautiful.
Naked Attraction's host, Anna Richardson, guides the contestant through the show, asking them questions about their preferences for a partner's body, often using phrases like "tidy vagina" and "tight bum." But there is never any body shaming or ridicule. In fact, the contestant tends to compliment every single body that's shown, and very few of them are the kind of thin, toned bodies that we're used to seeing partially or fully nude on TV. In fact, there is something extraordinarily refreshing about seeing normal bodies framed as innately desirable.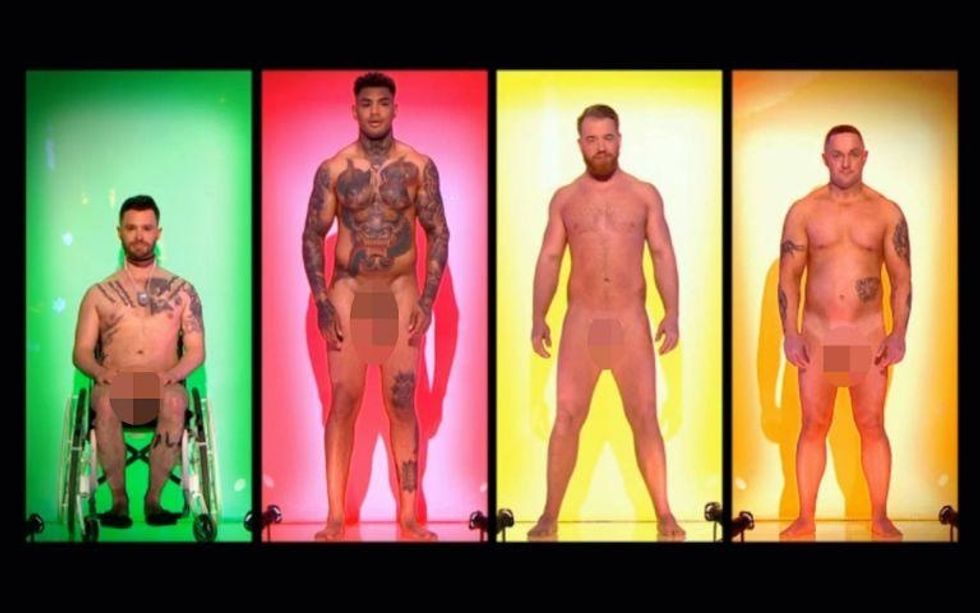 For one thing, Naked Attraction has had a variety of transgender and non-heterosexual contestants, and it works to normalize a wide spectrum of sexual preferences. In the second half of the first episode that I watched, the contestant is pansexual, meaning she is capable of feeling attraction to all genders. As a result, several of her potential dates were transgender in various stages of physical transition.
One potential date was a man who had been assigned female at birth and took testosterone to affirm his gender. As a result, his genitals were in a state of transition. When the program showed his genitals, they paused to give an instructional lesson on how gender is not defined by a person's physical sex characteristics and the effect that gender affirming hormones have on the body—and throughout it all, never once questioned the validity of this person's gender, instead giving helpful, factual information. It was a genuinely informative few minutes.

Even more than that, as the program progressed and the contestant narrowed down who she would take on a date, it struck me how refreshing it was to see trans and gender non-conforming bodies beside cisgender bodies and for those bodies to be treated as equally desirable as the cisgender bodies. Not only that, but in the post show interviews, nearly every transgender contestant spoke to how affirming it felt to proudly show off their bodies on television.
It's worth noting that this normalization of trans identities and bodies should not be revolutionary, that it should be a given; but unfortunately that is not yet the case, particularly in less progressive spaces like trashy late-night TV. Because of this, I was moved to think that some viewers of Naked Attraction who were previously unacquainted with transgender identity as anything other than a vague concept walked away with more information and perhaps open minds.
Granted, the premise of the show still sounds extremely shallow, right? After all, how many of the people you've deeply connected with in your life would you have chosen out of a lineup of faceless, naked bodies? Probably very few. And indeed, for the most part, Naked Attraction is about cringing at the awkwardness of strangers ogling naked bodies in multi-colored boxes.
But there's also, strangely, something revolutionary about the show's radical body positivity. Indeed, if you watch enough episodes of the show, you can't help but be struck by the variance in the respective contestants' preferences and the beautiful diversity of the human body.
Originally, I was quick to condemn the program as trashy TV of the lowest order, marveling at the fact that it had made it on TV at all. But as the show progressed I began to reconsider. Was seeing these normal bodies, differences and all, proudly flaunted on TV, helping me accept my own body? Is there something to be said for more nudity on TV actually normalizing the vast array of shapes the human body can take? Is it possible that Americans' prudishness towards nudity is actually making us less accepting?
From Your Site Articles
Related Articles Around the Web