Top Videos
Starvation, solitary confinement, nudity, and ill-fitting lingerie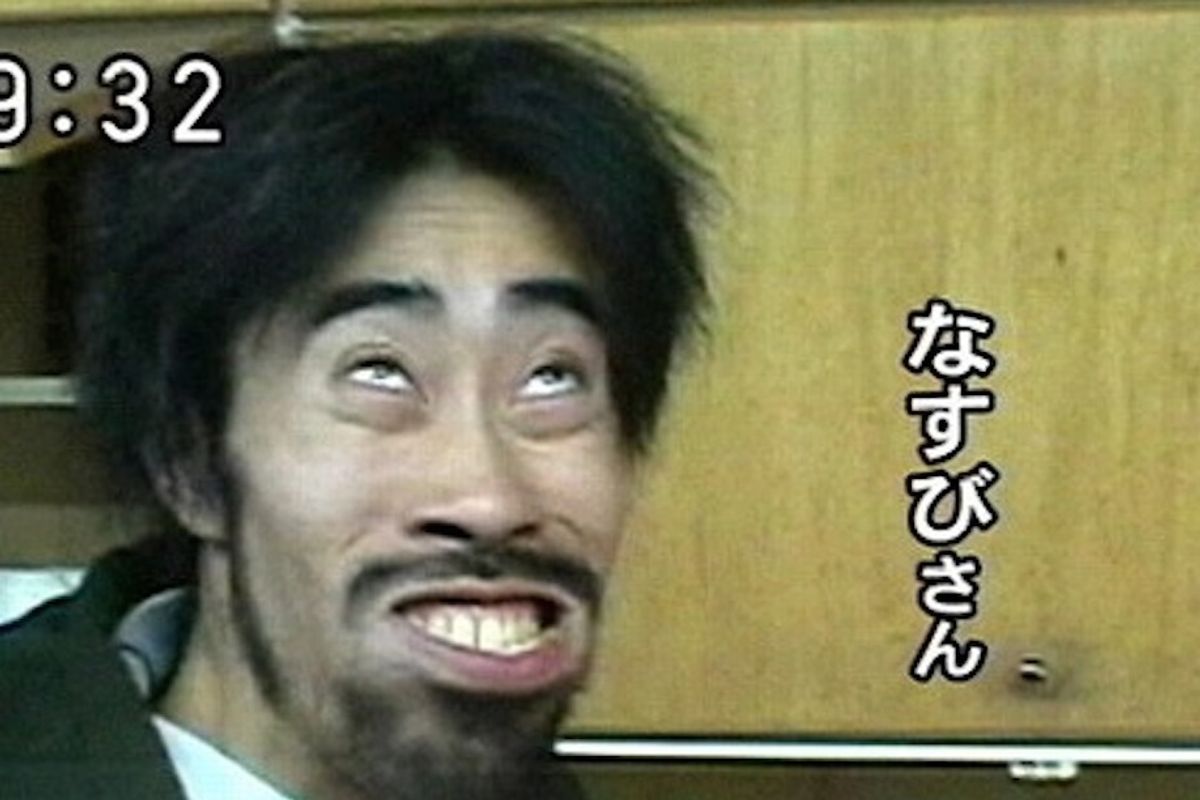 Nasubi entered the show from Japan which involves a LOT of being naked...

Imagine you're blindfolded, taken to a car and driven to a strange location.
You're lead to a room, told to strip naked, and then locked inside.
It's just you and a shower, a radio, a telephone, a gas burner, a sink, a large rack of magazines, a giant stack of postcards, a small table, and a single cushion.
A camera is strapped around your neck, and then you notice that many more are wired into the walls, designed to catch your every move.
Are you in Guantanamo Bay? No, you're a contestant on "Prize Contest Life," a Japanese game show. You wanted this. Well, you thought you wanted this when you auditioned, but you didn't really find out what "this" was until you were naked and locked in a room.
Then you're told you will not be released from the room until you win $10,000 worth of prizes from various sweepstakes—hence the telephone, the magazines, and the post cards.
The naked guy with the camera strapped around his neck is Nasubi, or "eggplant," nicknamed for his oddly shaped head. His experience would appear on Denpa Shonen for 8-10 minutes a week over the next 15 months, a twisted comedy segment which detailed a naked Nasubi doing little more than writing letters (about 1,400 a week) and answering the door.
Every episode opens with Nasubi waking up, telling the camera what day it is, and writing sweepstakes letters. He quickly gives up on trying to win radio contests, thinking magazine write-in sweepstakes are more likely to bear fruit. Or at least the occasional bag or dry rice. The episode finishes with him receiving a series of delivered prizes- which range from life-saving to useless.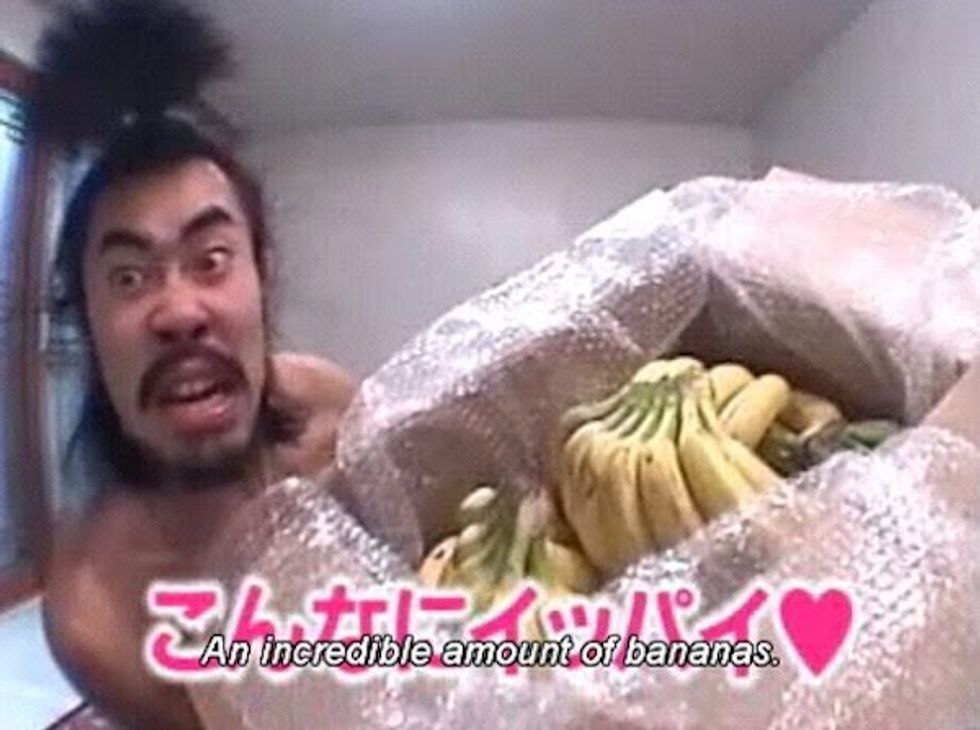 Nasubi
Who wants to be butt naked on TV?
At first, all Nasubi cares about is winning some clothes so he won't have to make his TV debut butt-naked. He applied to win an apron in the first episode, but did not succeed. Next, he wins a pair of lacy panties but they don't even fit, then eventually a pair of formal shoes which fit perfectly but don't really do much to hide his penis, which presumably is his main goal. He is moved from apartment to apartment by the production staff so fans can't figure out where he lives. By the time the first episode airs, Nasubi has been holed up for 2 weeks with no food. Finally, there's a knock at the door—it's a guy delivering ramen. Thank God!

But alas, the deliveryman was just at the wrong door, and Nasubi will remain hungry. Later, he wins a bag of rice, but he has no pot to cook it in and has to eat it raw. Eventually he finds a way to cook the rice over his gas burner in a packet of fiber jelly he had won the previous week.
The show's entertainment value and sadistic comedy comes mostly from the prizes Nasubi wins that do nothing to help him. One of his first prizes is a bicycle. At first he's thrilled until he realizes he's not even allowed to leave his apartment. Then he's just a naked, hungry, shut in with a useless bike.
Nasubi just keeps on winning useless crap...
Later, he is overjoyed when he wins a television, but when he plugs it in, he realizes the apartment has no antenna or cable connection, and every channel comes in as static.
Months and months later, he eventually wins a VCR, and two VHS tapes, then eventually even a PlayStation One and the train simulator Densha de Go! He plays for three days straight before realizing that it is taking too much time away from his letter writing, so he stashes it away with all the other useless crap.
Nasubi goes more than a year without wearing clothes, with a floating picture of an eggplant blocking his privates for the viewers at home. After Nasubi was finally given his clothes back on day 335, he tried them on, decided he felt weird in them, and stripped naked again. On day 335 Nasubi also won a small bag of rice which pushed him over the million yen he needed to win the challenge.
Yay! It's over. Finally…
Not quite...
Until the producers give him one last surprise: They're flying him to Korea and he has to win his airfare to come back to Tokyo. Four more months later, Nasubi was finally taken back home, where he was put into one last apartment room. He begins to get settled when the room's walls suddenly collapse outward, revealing him to a live audience who burst with applause. He had completed "Prize Contest Life." He happily waves with one hand while holding his cushion over his eggplant with the other.
It's impossible to tell how much of "Prize Contest Life" was faked, but Nasubi clearly gets thinner, paler, hairier, and weirder as the show goes on. He lives in virtual solitary confinement and never takes a step outside.
In subsequent interviews he revealed that he "thought of escaping several times," and "was on edge, especially toward the end." In an interview with video streaming site Hulu, the producer of Denpa Shonen said
"[Nasubi] plunged into despair, but because he was naked and had no clothes, he couldn't even run to the police for help. Aside from the five minutes that Nasubi was able to interact with a delivery person, his 24 hours were spent writing out postcards by himself in a dead-silent room. Imagine the elation that overcame him during those valuable few minutes when he would feel his only connection to the outside world through talking to the delivery person and checking the contents of the packages he would receive. It was at that moment when he would burst with jubilation and even start dancing to express his happiness. It's in thrilling moments like these when we're given a glimpse into the true nature of humans."
But what does it say about the producers who inflicted this physical and psychological torture an unsuspecting guy just trying to break into show biz?
Denpa Shonen's sadistic voyeurism dates back to 1998, when they premiered Susunu show that frequently jeopardized their contestants' lives. One contestant was beaten up while handing out condoms in a gay bar, and one nearly died of dehydration while hitchhiking across Africa. Cameramen continued to film instead of intervening. Susunu! Denpa Shonen was actually so bad that the government shut it down in 2002.
Would you put yourself through all that for the equivalent of $10,000?
---
READ MORE ABOUT JAPAN...
This Japanese Blackface Live Aid Karaoke Video Is Some Real Crazy Sh*t
Japanese Show Has Women Jerking Off Men While They Sing Karaoke
---