CULTURE
Rose McGowan had harsh words for Natalie Portman this week, but Portman channeled the drama into a message of solidarity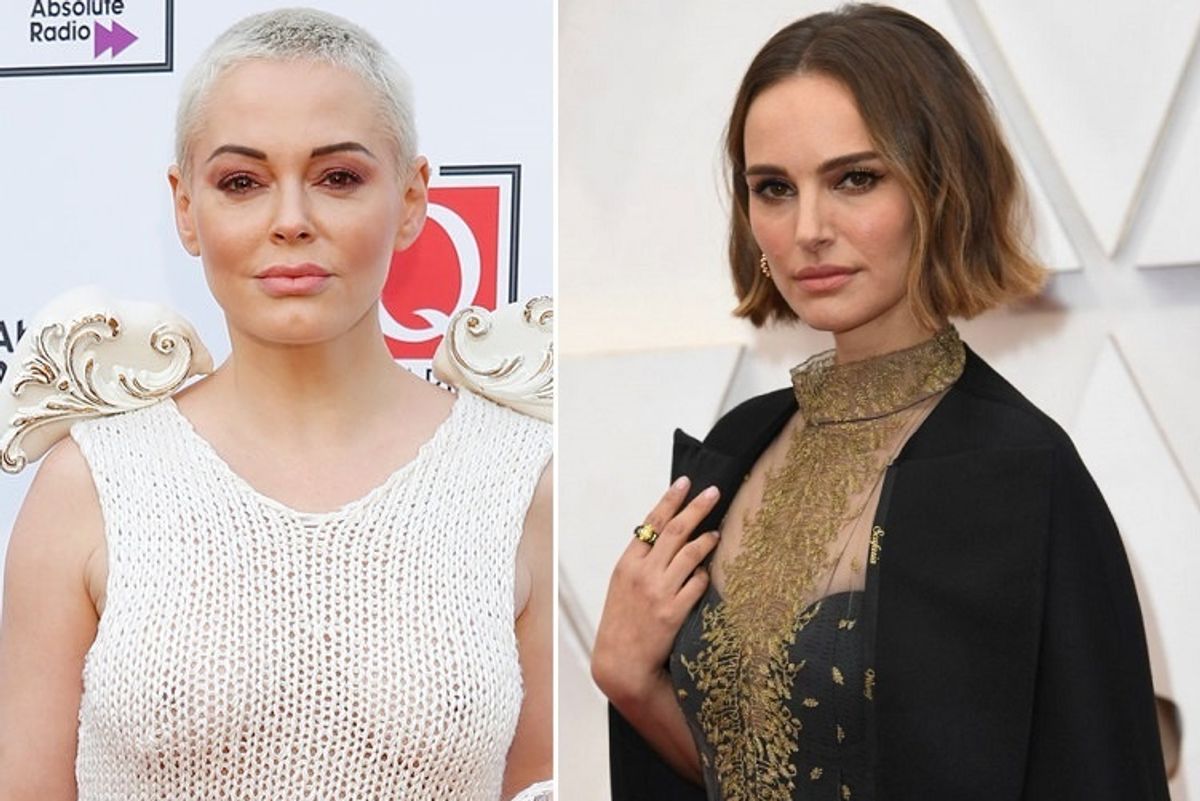 Rose McGowan came at Natalie Portman hard on Wednesday, saying that her Oscar's dress was "deeply offensive."
The dress in question featured a Dior cape that had been specially embroidered with the names of prominent female directors who didn't receive nominations that many people feel they deserve. The names included Lorene Scafaria (Hustlers), Céline Sciamma (Portrait of a Lady on Fire), Greta Gerwig (Little Women), Marielle Heller (A Beautiful Day in the Neighborhood), Melina Matsoukas (Queen & Slim), and Lulu Wang (The Farewell).
Calling out the Academy for overlooking female talent has been a popular theme this year, from Issa Rae's "Congratulations to those men," while announcing the nominations, to Chris Rock and Steve Martin's onstage joke that there's something missing—va*inas. All of which could be seen as callbacks to Natalie Portman's 2018 comments at the Golden Globes, when she introduced the directing category by saying, "here are the all-male nominees."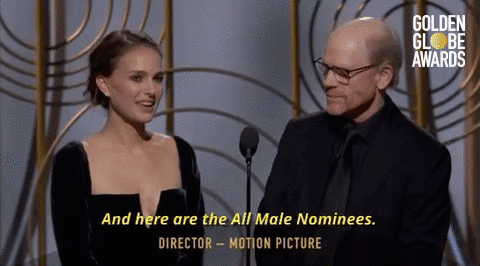 But apparently this sort of "activism" does not exactly impress Rose McGowan—at least not on its own. It's understandable that McGowan—whose 2018 memoir Brave detailed her experiences of sexual assault at the hands of Harvey Weinstein and others—would have some strong opinions on how to fight back. She attributes the decline of her acting career to her efforts to resist Weinstein's attacks—after he (allegedly) raped her in a hotel room in 1997.

She also names several other women whom she claims were similarly punished and is working on a follow-up memoir, Trust, about learning to move forward. She has championed the #MeToo movement and made it her mission to change the toxic misogyny within Hollywood—that uses and abuses and discards talented young women. In that light, her problem with Portman's fashion choice was not so much with the cape itself, but with Portman failing to back up the sentiment in her professional life.
In a post on Facebook, McGowan made her point clear, accusing Portman of being "an actress acting the part of someone who cares." She decried the idea that members of the media would refer to such a superficial expression of solidarity as "bravery" and addressed Natalie directly, saying, "Natalie, you have worked with two female directors in your very long career-one of them was you. You have a production company that has hired exactly one female director- you… You are the problem. Lip service is the problem. Fake support of other women is the problem."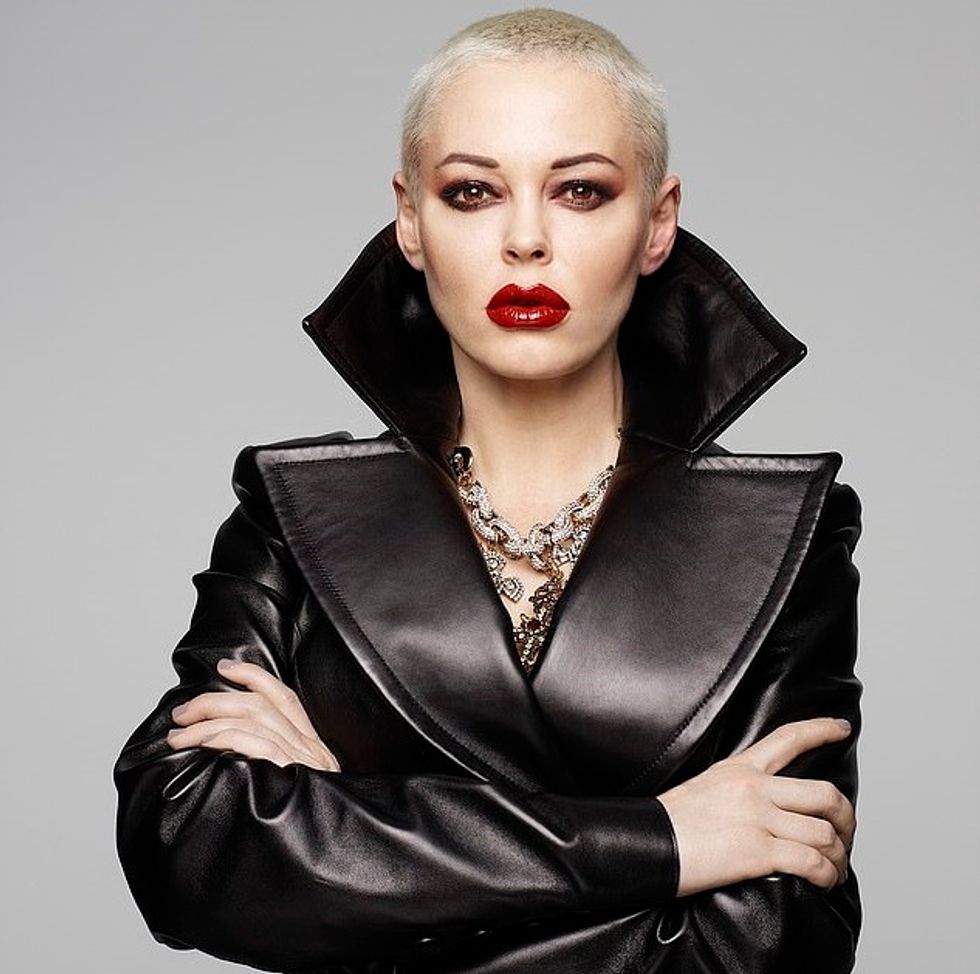 Rankin
While McGowan's claim overlooked some shorts and anthology movies, others have noted that of the seven feature-length films that Portman's production company, Handsomecharlie, has been involved in, only Portman's own directorial debut, 2015's A Tale of Love and Darkness, was directed solely by a woman. That paints a pretty clear picture of a problem, and it would obviously be hard for Portman to deny it. Fortunately, she didn't. She didn't go on the attack or get defensive. She came out with a statement on Thursday striking a tone of hope and solidarity.

She started out by agreeing with much of McGowan's criticism, saying, "I agree with Ms. McGowan that it is inaccurate to call me 'brave' for wearing a garment with women's names on it. Brave is a term I more strongly associate with actions like those of the women who have been testifying against Harvey Weinstein the last few weeks, under incredible pressure." She then went on to acknowledge that she hasn't worked with as many female directors as she would like, while also calling out systemic issues that prevent female-helmed projects from getting made and taking the opportunity to name check a host of talented female directors who deserve more work:
"In my long career, I've only gotten the chance to work with female directors a few times—I've made shorts, commercials, music videos and features with Marya Cohen, Mira Nair, Rebecca Zlotowski, Anna Rose Holmer, Sofia Coppola, Shirin Neshat and myself. Unfortunately, the unmade films I have tried to make are a ghost history… I have had the experience a few times of helping get female directors hired on projects which they were then forced out of because of the conditions they faced at work… So I want to say, I have tried, and I will keep trying. While I have not yet been successful, I am hopeful that we are stepping into a new day."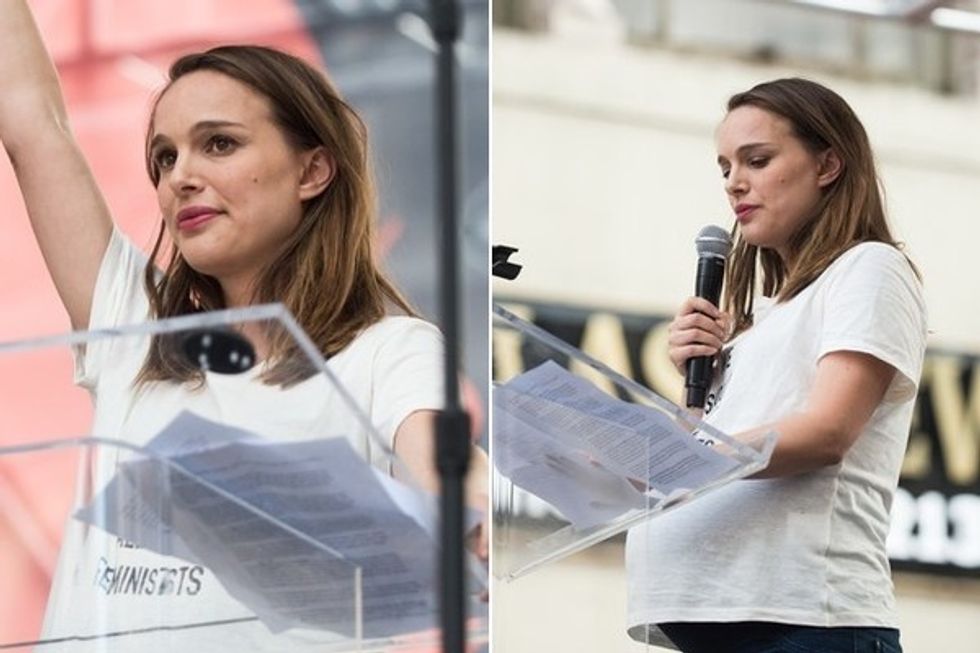 A pregnant Natalie Portman speaking at the Women's March 2017
While McGowan's anger is understandable, Portman handled the situation perfectly. She took the energy of that discontent and the criticism and channeled it toward opening the conversation to the larger issues that prevent female directors from getting work—issues that one small production company can only do so much to address. With luck maybe this conversation will begin to push Hollywood institutions to rethink the sexist calculus that robs so many talented women of work.