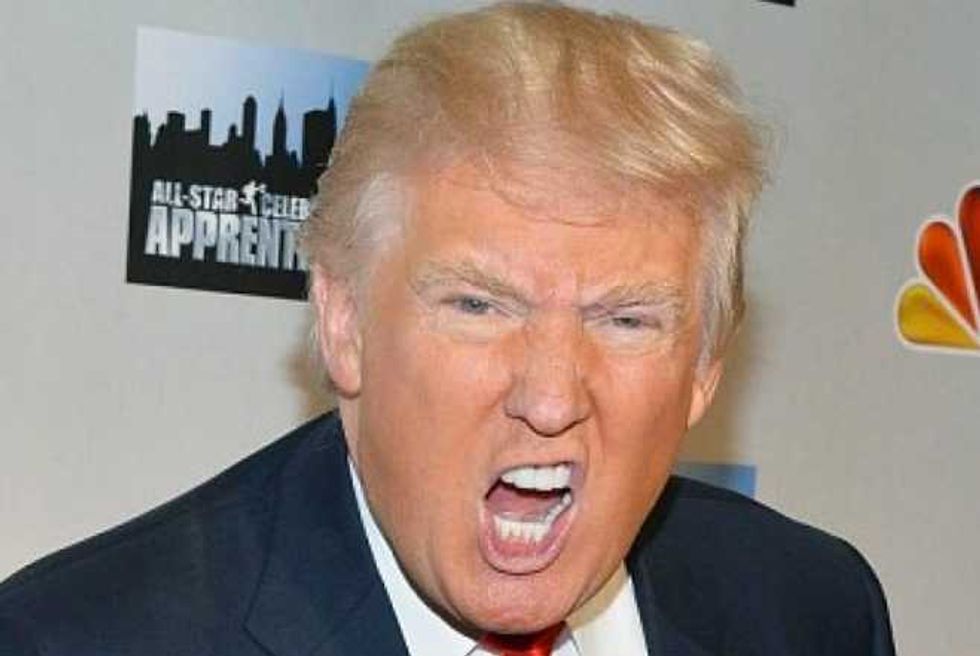 NBC has kicked the ever odious Donald Trump's orange leathery ass to the curb.
The network announced Monday that they would be cutting ties with the hate speech spewing racist blowhard, following his ignorant and inflammatory remarks about Mexicans.
As Popdust previously reported, the follicly and factually challenged 69-year-old went on a bizarre and disgusting anti-Mexican rant during a press conference announcing his run for President on June 16.
Apparently having formed his belief system after watching a few episodes of Breaking Bad, the Donald charged:
"[Mexico is] sending people that have lots of problems, and they are bringing those problems to us. They are bringing drugs, and bringing crime, and their rapists."
Following a public outcry, Trump went on to clarify his stance, taking the good old fashioned, well trodden, right wing God-bothered ethos of love the sinner, hate the sin.
"I like Mexico, I love the Mexican people, I do business with Mexico," Trump said. "But you have people coming through the border who are from all over and they're bad, they're really bad … We have people coming in and I'm not just talking Mexicans, who are killers, they're rapists, they are people we don't want in this country."
"Mexico has not treated us well," the professional troll alleged, going on to throw shade at China too just for good measure. "Mexico treats us as though we are stupid people, which of course our leaders are. I don't blame them. China's even worse."
The Republican then went on to tantalize us all with a glimpse at his immigration policy should he be elected to the White House—detailing how he would force Mexico to pay for the anti-immigration wall that he would erect in order to keep all those rapists and murderous banditos out of our fair land.
"I would force them because we give them a fortune. Mexico makes a fortune because of us," Trump alleged, perhaps pulling his "facts" from Bill O'Reilly's Mexico 101 manifesto. "A wall is a tiny little peanut compared to that. I would do something very severe unless they contributed or gave us the money to build the wall. I would build it. I'm very good at building things."
Yeah, the Donald is GREAT at building things…. so great that the business visionary has declared corporate bankruptcy a whopping FOUR times, something he is steadfastly unapologetic for.
Not surprisingly, he's also been unapologetic when it comes to his anti-Mexican hate speech.
"I told NBC I could not change my stance," Trump said following the news he'd been canned. "The fact is that my stance on immigration is correct."
Sure Donald, and I heard that you have a great bridge and a ton of hair styling products to sell us too.