Top Stories
MUSIC | Synth-pop and EDM craftsmen sharpen their teeth on a dazzling new remix.
Ditto Music
"We felt it needed a refresh with new musical inspiration since then," says producer Corey LeRue about the new reinvention.
Peering into the eye of the storm, synth-pop four-piece Neon Dreams, out of Halifax, assembled together a colossal carton of seven stunners on their 2015 debut EP, To You. Not knowing exactly what to expect, especially in the cluttered EDM/DJ landscape, the collection secured millions of streams--"Marching Bands" stands at nearly five million, while songs like "Machu Picchu" and "Survive" have gathered several hundred thousand apiece. Not a small feat, even in the day and age of streaming proliferation. As they look forward to their long-awaited follow-up, they chose to revisit one of the EP's original tracks, the guitar-driven "Find a Way," reworking the song with a thumping new remix featuring Sarah Mark.
The tropical and breezy revamp premieres exclusively today, and you might be motivated to hop aboard a plane to Barbados or the Virgin Islands. The lyric video, containing a sparkling blue animated pool and swaying palm trees, is that undeniable. Songwriter and producer Corey LeRue details how the collaboration came about to Popdust, saying, "The original version for 'Find a Way' was made almost a year ago before our last EP 'To You' was released. We all loved the original version, but we felt it needed a refresh with new musical inspiration since then."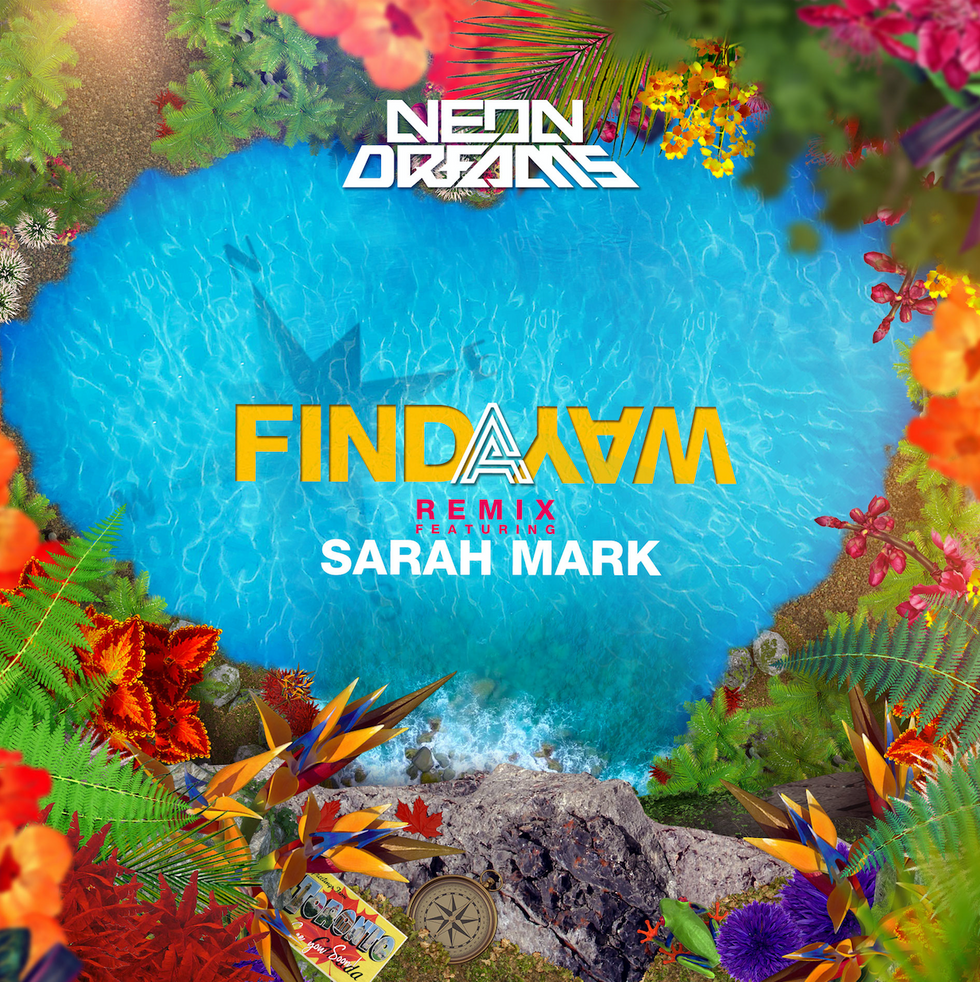 Ditto Music
"We have known Sarah Mark from her past few singles having radio success here in Canada. We were both nominated in the same category for the Canadian Radio Music awards this year, so we reached out about the idea of having her feature on our new remix," he continues. "She loved the vibe, and recorded her vocals right away. We think it adds a whole new dynamic to the back and forth love story of the song, and feel it took the track to a new level."

Mark's caramel smooth vocal wraps around the lyrics like a half dozen bags of Werther's Originals melting in the summer sun. Her tone is sticky and lingers on the eardrums, matched with the precise but liberating production style. "You pull all my strings You push all my buttons You get me in trouble, baby," she proposes, taking up the second verse. "I love it, usually closed off--so lets take our clothes off. Higher then rooftops, avoiding the roadblocks, babe." Then, the pre-chorus heats up even more: "Upside down, inside out. It's written all over your face. Is this enough to call it love? Are you in it for the thrill or the chase? I've got every intention of making this work..."
Neon Dreams' debut EP went on to win five awards, including three at the Music Express Awards for Top Canadian R&B/Rap Group, Top Emerging Canadian Artist/Group and Top Canadian R&B/Rap Album for To You. Previous award winners include Shawn Mendes and David Bowie. To say they're inching into total global domination is an understatement.
The quartet are set to open for The Chainsmokers at Calgary Stampede on July 9.
Listen below:
Check out their upcoming tour dates:
June 8 - Crescent Grand Prix - Montreal
June 16 - Glow Fair Festival - Ottawa
June 17 - The Mansion - Kingston
June 21 - Aboriginal Day Live - Winnipeg
Jun 30: Royal Ontario Museum - Toronto
July 1 - Celebration Square - Mississauga
July 2 - The Ranch Roadhouse - Edmonton
July 7 - The Capital Music Club - Saskatoon
July 9 - Cowboys Stampede Tent - Calgary
July 14 - The Mule On Martin - Penticton
July 15 - Status Nightclub - Vernon
August 19 - Smooth Truck Festival - Smooth Rock Falls
August 20 - Riverfest Elora - Elora
---
READ MORE ABOUT MUSIC...
Premiere | EPOCH FAILURE raise hell on 'Warrior's Hymn' EP
Listen | FINN MATTHEWS calls out the devilish "Julia" in new song
Premiere | Passafire scavenge the jungle for "Longshot" music video
---