FILM & TV
The new miniseries travels through time and treats trauma with high-tech therapy.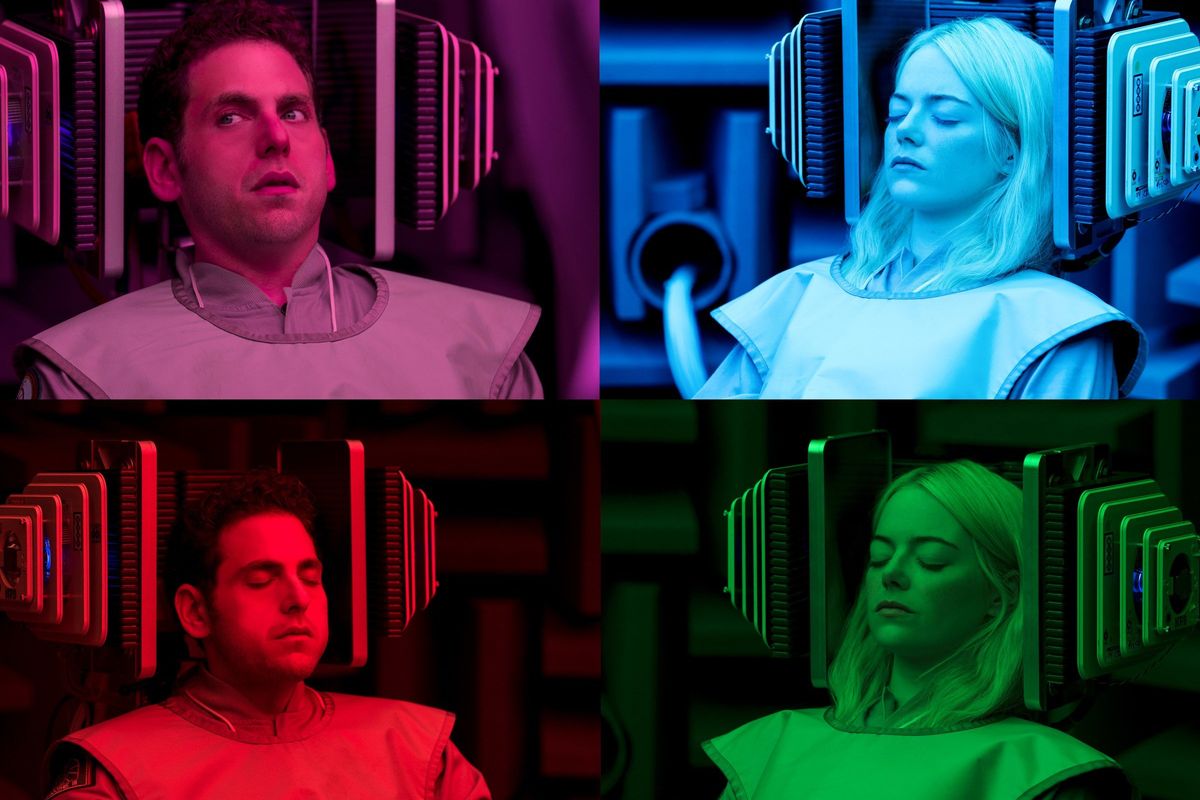 Wired
Drugs and lucid dreams probably won't cure the protagonists of Netflix's Maniac, but they've enrolled in a pharmaceutical trial that promises it's possible.
Owen (Jonah Hill) and Annie (Emma Stone) submit their troubled minds to Dr. James K. Mantleray (Justin Theroux), who tests a new drug treatment that purportedly cures psychic pain.
The creative forces behind Maniac, a loose adaptation of a Norwegian TV show of the same name, include writer Patrick Somerville (The Leftovers) and director Cary Joki Fukunaga (True Detective, Beasts of No Nation). They frame Owen and Annie as disaffected adults paralyzed in moments of existential crisis, a hallmark of postmodern life in an alienating world that's rife with ads and facsimiles replacing human connection. The cause of detachment is also the putative cure, as services like AdBuddy allow you to earn supplemental income in exchange for a human representative trailing after your daily movements and reading you ad after ad aloud. Friend Proxy allows you to schedule hangouts with hired strangers pretending to be your oldest friends. A dubious service called Dox Stop offers to "scrub" or "unscrub" citizens' most private records for a fee.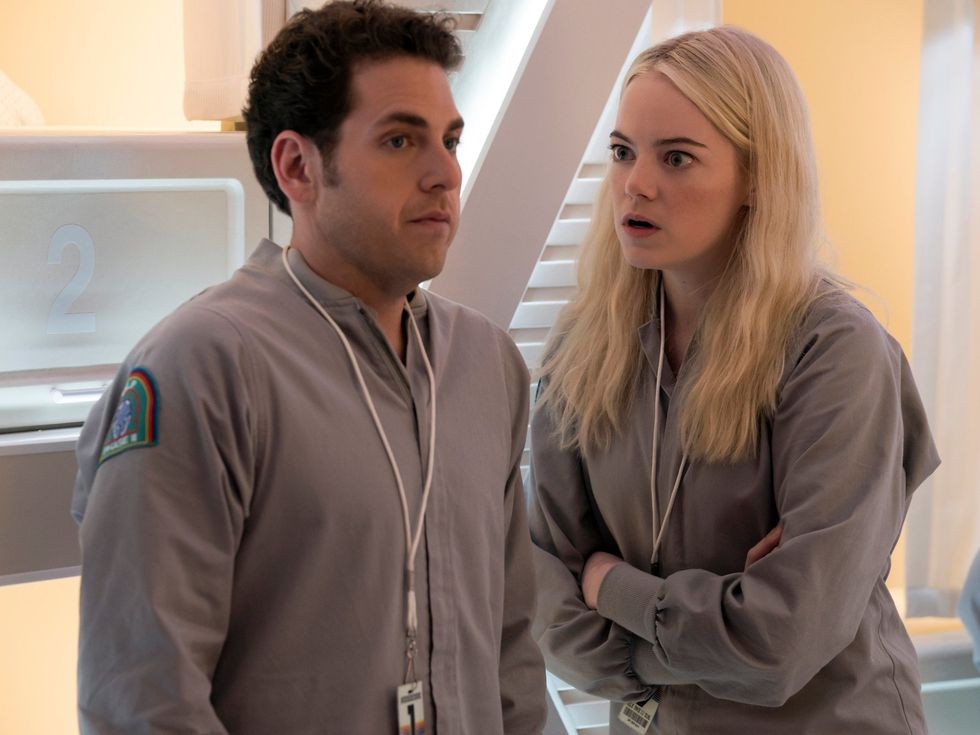 Business Insider
Yet, the technological landscape of Maniac is a re-imagining of today's media-laden culture with a retro-futuristic twist. Blocky computer monitors and grainy dial televisions dot the background as the co-creators' '80s throwbacks from the IBM boom. In an interview with Vulture, Somerville teases, "Something happened in the '90s." He adds, "There's a break, but at the same time, it's our world now in terms of the ideas that lay behind AdBuddy and Friend Proxy and Dox Stop. It's all just dressed up in a different way. Hopefully, it's relatable to now."

Relatability is at the heart of Maniac's conflict. Both characters live in the bubbles of their past traumas, barely engaging in the moment and often getting it wrong when they do. When Dr. Mantleray sits impassively at his desk across from Owen, he asks, "What do you think is wrong with you?" Owen's answer is flat and characteristically monotone: "I'm sick. And I don't matter."
In that regard, Owen and Annie are two misfits at opposite ends of the emotional spectrum. A diagnosed schizophrenic, Owen struggles to break through his somnambulant affect to connect with others. He decides to become a test subject after being pressured by his affluent family to cure his neurodivergent mind by any means necessary. Annie, on the other hand, is a loner who refuses to engage with reality and undermines every emotional connection that threatens to link her happiness to another's. For instance, Episode 3 begins to mine Annie's motivations behind joining the drug trial, which she barely accomplishes using manipulation, deceit, and threats of bodily harm. "Every time I take that pill," she shares in a spasm of emotional intimacy, "I have to live through the worst day of my life. I have to listen to myself say the worst, ugliest things I have ever said to anyone. And it ends with the worst thing that ever happened. I fucking love it."

For facing trauma is the first step in the test subjects' treatment. Pill A forces individuals to confront the traumatic event at the source of their dysfunctional defense mechanisms, allowing us to witness firsthand the cause and effect of Owen and Annie's genuinely off-putting social quirks. Step two in the trial is behavioral modification via directing the subjects' subconsciouses to embody their alter egos. This leads to a stint of modular stories told in the middle of the series, and it opens the door for Somerville and Fukunaga to upturn their grab-bag of genre-bending visuals and occasionally gory violence (Maniac is rated TV-MA, after all). The series' world-building becomes fractal with storylines that include a lemur lost on Long Island, a mafia son played by a plaited-haired Hill, and a fantasy quest led by an elvin-eared Stone.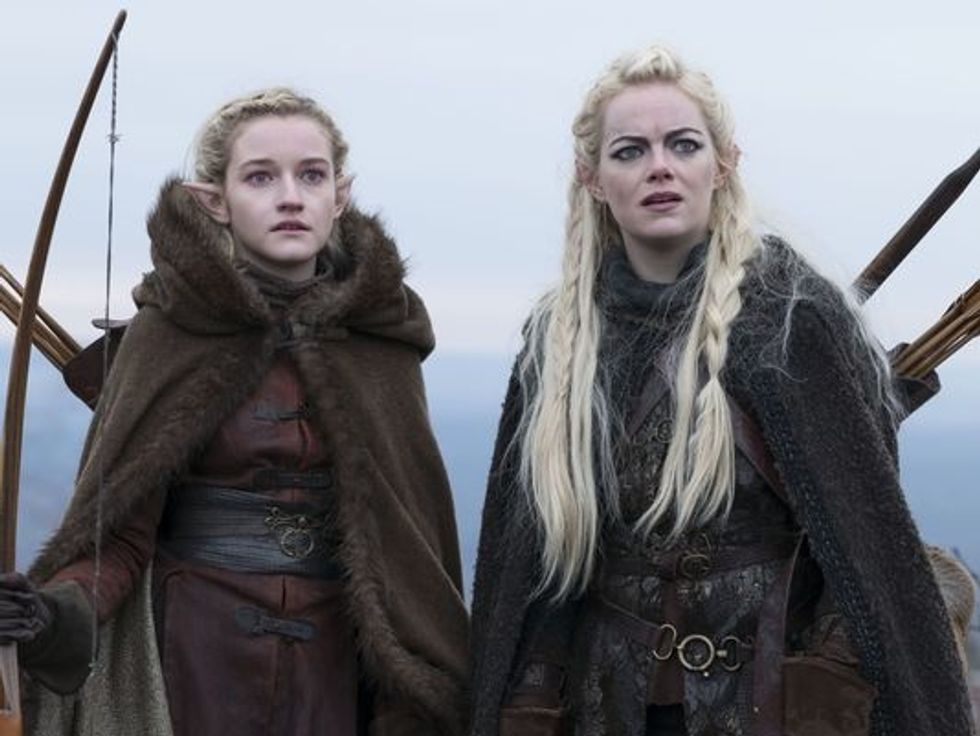 USA Today
Somerville purposefully embraced the capricious whims of storytelling in the creation of Maniac, telling Deadline, "Everyone knew the tone of what the show was. All the major actors had read everything. They knew the show was absolutely bonkers. What we were asking them to do was to play emotional realism against that, to ground it." Indeed, Maniac avoids weaknesses in structure and develops would-be inchoate themes with the stalwart presence of Dr. Mantleray's lab. Owen and Annie's dual (and curiously overlapping) streams of consciousness, carefully monitored within the increasingly out-of-control drug trial, drive the series' explorations of identity, trauma, and emotional connection.
The title "Maniac" encapsulates the irreverent tone, episodic structure, and meandering themes explored in the miniseries' first season (if Netflix orders a second season, it won't have Fukugana reclaiming the mantle of director). "Are the characters maniacs?" and "Is the world maniacal?" are not the core questions driving the narrative; but, they voice the anxieties of a chaotic world that questions unilateral existence and delves into dreamscapes of alternate realities, multiple personalities, and divergent thinking as the norm.
---
Meg Hanson is a Brooklyn-based writer, teacher, and jaywalker. Find Meg at her website and on Twitter @megsoyung.
---
POP⚡DUST | Read More...
When Kanye Weighs in on the Constitution
SNL's Pete Davidson Jokes About Relationship with Ariana Grande on Season Premiere