FILM & TV
Spike Lee's 'She's Gotta Have It' on Netflix has a lot going on.
Netflix
Brooklyn is where artists get to be normal, where families build and grow together, and Brooklyn is the reason a 27-year-old woman works three jobs and sales paintings on the subway.
---
On The Surface
It's ironic that dialogues pertaining to women's sexuality are still taboo in 2017. Spike Lee's She's Gotta Have It on Netflix is still controversial stuff—even more compelling now compared to its original 1986 film counterpart—and it's because of Nola Darling's relationship with her art and Brooklyn. Think the #MeToo movement paired with the #BlackLivesMatter movement and you've got the ingredients of Netflix's newest release. Yes, She's Gotta Have It is about a woman who really, really, really likes sex with not just one, but multiple men and…wait for it…women. But it's also a show about how artists interact with and reflect their communities in their work, and how social and political dialogues frame romantic and platonic relationships. She's Gotta Have It is just as much about preserving and respecting the parts of Brooklyn erased by a newly moved-in hipster generation as it is a celebration of sex, art, and Black identity.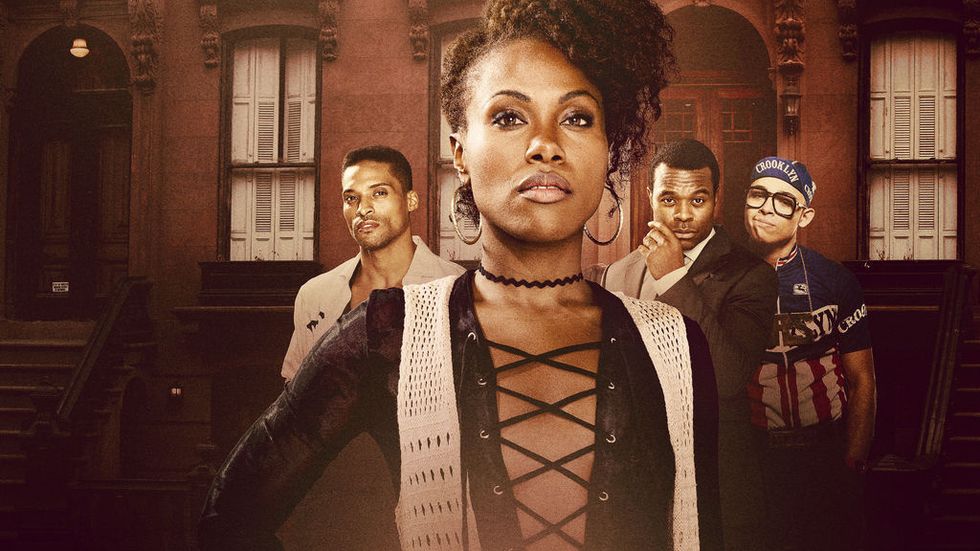 'She's Gotta Have It' (Netflix)
Deeper Meanings
She's Gotta Have It is about the creation of art and the stories and communities that help build creative narratives. Nola Darling (played by the beautiful DeWanda Wise) is insatiable, but her need for satisfaction runs deep in all aspects of her life outside of her "loving bed." The intricacies of Nola's sexual rotation show the different facets of intimacy and companionship Nola embraces as a woman: laughter, security, sensuality, intellectual stimulation, and above all, emotional transparency. Nola loves to love—scratch that—needs to love to cultivate and express her artistic sensibilities; but love, alone, is not all that Nola Darling wants. Nola isn't worried about locking one man down because she's a cinephile, an intellectual, a friend, and an artist whose creative process triumphs her emotional bonds to the men in her life. Outside of all the hot sex she has, she's a creator whose art reflects her emotional and intellectual truths as a Black woman working in a male-dominated industry under the male gaze. Her art is her muse, and as a result, her one true love isn't a man, but her relationship with her self.
Now, of course the men in Nola's life all have multiple partners themselves (none of whom are given screen time and none of whom are named), but the same luxury isn't given to Nola whose polyamorous love life is scrutinized by all participating parties: Greer (Cleo Anthony), a biracial photographer whose pretty boy looks speak to his metrosexuality and narcissism; Mars (Anthony Ramos), a Brooklyn native who's hip-to-the-jive, making Nola laugh with his boyish charm and uncouth mannerisms; and Jamie (Lryiq Bent), a married, wealthy businessman who's square, stable, and boringly adult. All three men want Nola in a romantic sense, but also in a sense of control and possession—they want to be the center of Nola's life (but it ain't love if it's in service of one's ego). Nola loves sex and she loves the intimacy she shares with these men, but she is focused on her art career and metabolizing a recent incident of street harassment that has misplaced her trust in men and inspired a creative declaration of self-ownership. It's through Nola's art that she establishes her sexual agency and independence outside of male approval, and it's Nola's art that expresses her desire best: the freedom to desire whomever, whatever, and whenever she pleases.
So now on to Nola's lady friend, Opal (Ilfenesh Hadera), a mother and a lesbian. You may be wondering if Nola is bisexual or just bi-curious when it's most convenient. And She's Gotta Have It fails to clarify these distinctions and even insinuates that women sleep with other women when nothing else is working (an unfortunate misconception about polysexual, bisexual, and pansexual men and women). When the men in her life slip-up, Nola turns to her longtime female partner Opal. When Nola runs into trouble with the law, it's Opal whom she calls, and when Nola needs a respite from the dominating agendas of her male lovers, again, she turns to Opal. The problem is being bisexual doesn't mean you occasionally sleep with women when men are annoying, and it certainly doesn't mean women are your secret sweet spot when you're going on a man cleanse early November. Nola wants to explore monogamy with Opal because she is the only lover of Nola's who loves outside of romantic possession and ego-driven affection, but Nola has to learn how to love Opal outside of her own narcissism.

And finally on to Brooklyn, the true love of Spike Lee's She's Gotta Have It. When Lee isn't spelling out gentrification in the script, he's gesturing toward it with shots of baby carriages, rising rent prices, and the public mistreatment of struggling neighborhood artists. Lee expresses his irrevocable love for the borough, its beautiful parks, brownstones, and families who have grown in age with the neighborhood; and Nola, with her natural afro and feminist ideals, stands as a creative entity indebted to Brooklyn. Only Brooklyn can let free spirits like Nola, Greer, and Mars run wild. Spike Lee has always spoken against gentrification and its damage to generational neighborhoods, communities, and establishments that once thrived in the diverse streets of Brooklyn. Nola is in love with men, women and—like Spike Lee—Brooklyn: everything about it down to its hot trash, bodegas, art communities, music, and Black culture. Brooklyn is where artists get to be normal, where families build together and grow together, and Brooklyn is the reason a 27-year-old woman works three jobs and sales paintings on the subway. Brooklyn is art and Spike Lee, through music and identity politics, beautifully paints its face.
Classroom Takeaways
Sometimes four is better than one.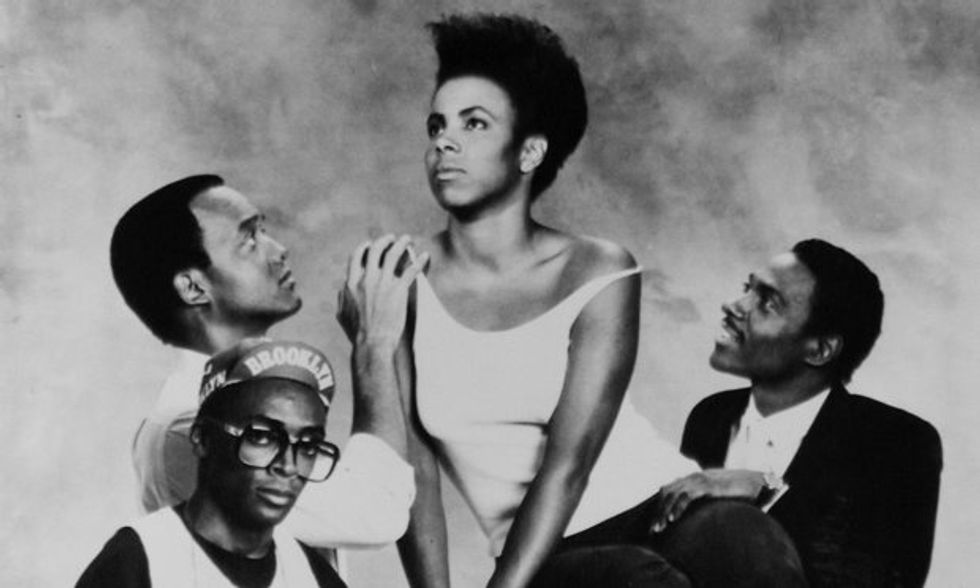 'She's Gotta Have It' (1986)Spike Lee
POP⚡ DUST Score: ⚡⚡⚡⚡⚡
---
Shaun Harris is a poet, freelance writer, and editor published in avant-garde, feminist journals. Lover of warm-toned makeup palettes, psych-rock, and Hilton Als. Her work has allowed her to copyedit and curate content for various poetry organizations in the NYC area.
---
POP⚡ DUST | Read More About Film/TV...
WTWD? | What The Walking Dead: Episode 6
BOX OFFICE BREAKDOWN | What's coming to theaters this weekend?
Why are so many adults watching Cartoon Network these days?
"The Disaster Artist" is James Franco's newest lovechild with himself
---