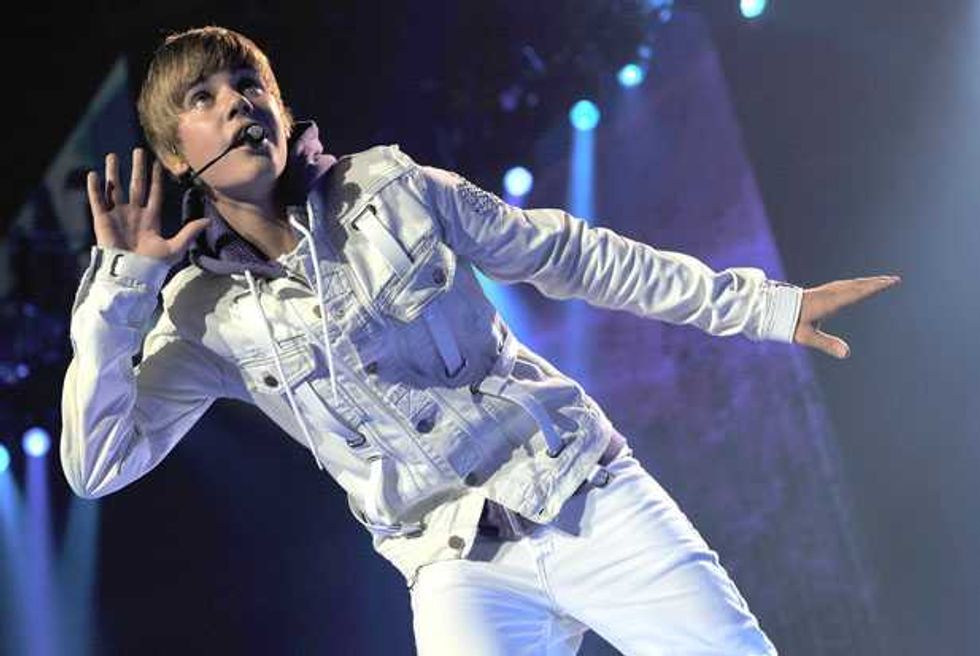 Never Say Never, the film about Justin Bieber's rise to stardom from grainy streaming-video obscurity, has a somewhat flimsy narrative conceit; at the film's outset, the mop-topped Canadian has 10 days before to his sold-out show at New York's Madison Square Garden, and he's struck down by a throat ailment with just a few days to go. Of course, given that the flick was shot in August 2010 and the reviews and pictures and tweets and YouTube clips and other forms of new-media documentation have been online almost since that show's last bit of confetti fluttered to the ground, the outcome is somewhat predetermined. But it works as a neat hanger for Bieber's relatively brief biography, not to mention his constant reassurances to his legions of besotted fans that he hasn't come from a place very far from where they are right now.
Bieber is heralded as a sort of social-media creation by the flick, which makes prodigious use of screenshots from Twitter accounts and e-mail inboxes to make this particular point—although of course, his uncanny charm, undeniable musical talent (anyone who wants to dispute this point can feel free to show me their drumming skills), and adorable looks are just as key to his success as his well-documented addiction to Twitter. The film explicitly acknowledges the final point in particular (there's a scene involving Bieber, his now-somewhat-tamed hairdo, and the film's 3-D capabilities that made me giggle like a schoolgirl and that might even win over a few people who loathe his brand of bubblegum-soul with the heat of a thousand blowdryers), but Never Say Never is more concerned, overall, with "I'm just like you" moments. There's the bit where he dances out his nerves before going on stage. The horsing around and trash-talking with his hometown pals. The command that he clean his room before he go out from his grandmother. The vocal practice in the bathroom, because, hey, we all know that vocals sound better when they echo. And then there's this scene, in which he spots a young girl busking on the same steps where he performed spirituals as a (relative) youngster.
"Don't give up on your dreams" is, of course, the implicit message behind the film's title, and the plot, flimsy as it is, follows that party line with some added emphasis on hard work and maturity; even though Justin wants to be a normal kid and have fun—thus avoiding the grim fate of the icon he's often compared to, Michael Jackson—he has to act mature and rest his voice in order to be able to play his Big Night In New York. What the plotline also illuminates is the relationships he has with his extended family, from his mom to his manager Scooter Braun to the skeptical-at-first Usher to his vocal coach, "Mama" Jan Smith. ("It takes a village to raise a pop star" could have very easily been this film's tagline.) Bieber showers his family members with love and affection and credit for where he is today, but it's Smith who plays the key adult role here, serving as the wise old angel on Bieber's shoulder who's guiding him toward keeping his voice healthy for his whole career, instead of just for this flush period of superstardom.
Never Say Never is fun, if a bit lengthy; it could have probably shaved about 15 minutes off its running time without too much damage to the overall narrative. The concert scenes are full of high-energy performances that shows the Bieb exploiting the 3-D cameras' sweet spots to the hilt, though, and the sweetness with which he interacts with his fans bubbles off the screen and makes the film as charming as his most effervescent songs.
POPDUST SAYS:
3.5 BOLTS