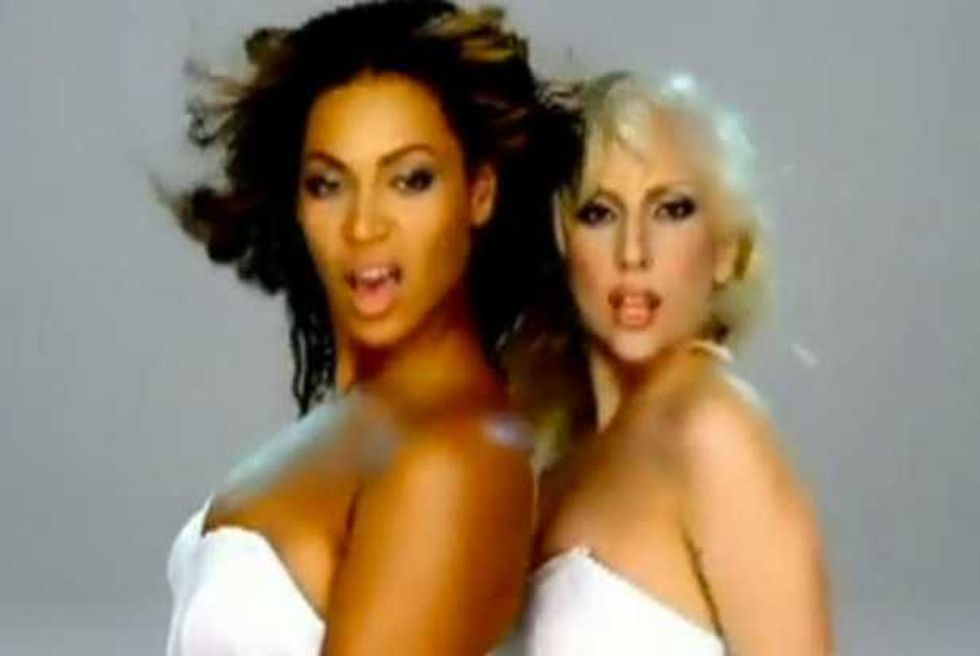 Sometimes, pop stars can reach a peak of popularity so high and so seemingly unassailable that you forget that, like any other artist out there, they're still subject to the whims and opinions of the general public. When Lady Gaga and Beyoncé announced new singles to be released this month, many pop prognosticators predicted each to soar to the top of the charts on iTunes sales alone in their debut week—as Gaga had done recently with her "Born This Way" single, and Beyoncé certainly seemed capable of doing with her first single in two years. Results, however, did not come close to meeting expectations.
"Judas" ended up debuting at #10 on the charts last week—a disappointing showing, but one excusable by not having a complete week's worth of sales (the song was officially released on a Friday) to work with. However, rather than improving this week with a full seven days' worth of sales at its disposal, it has slipped back down to #12. It doesn't look to get much better from here, as "Judas" has now fallen to #19 on the iTunes chart—three lower even than "Born This Way," which has already been out for nearly the entire calendar year. Performances on Ellen and Idol may help the song regain some traction, as could an expected bounce in airplay, but topping the Hot 100 seems highly unlikely at this point.
Still, the outlook is positively rosy for "Judas" when compared to the performance of the new Beyoncé single. After drawing mixed reviews from fans and critics, "Run the World (Girls)" failed to reach anywhere near its projected sales, debuting at a supremely disappointing #33 on the charts this week, with nearly a full week of sales behind it. "Run the World" has already plummeted to #39 on the iTunes chart, lower than songs by such noted chart luminaries as Mike Posner and Jana Kramer (??). According to The Prophet Blog, Queen B moved just 77,000 units with her comeback single in its first week, sales comparable to those of Christina Aguilera's 2010 flop "Not Myself Tonight." Yikes.
So what lesson can be learned here? Well, the quality unifying the two highly-anticipated releases here was that they both were, for lack of a better descriptor, pretty weird. "Judas" talked of feet-washing and ear condoms in strange accents over a barnstorming Euro-techno beat, while "Run the World" was built around a skittering sample from a duo of hipster dancehall-enthusiast DJs and assigned its verses and choruses seemingly at random. If you heard either song without knowing (or being able to guess) who the artists behind them were and were then asked to predict whether or not they would become mainstream hits, chances are pretty damn good you'd answer in the negative.
However, we expected their respective fans to understand their intentions and embrace their songs unreservedly, because...well, because they're Beyoncé and Lady Gaga, two of the biggest pop stars of recent memory, and ones who have displayed a knack over their careers for making the strange seem quickly normal. But maybe you can only push the envelope so far before meeting some kind of resistance, or maybe some Gaga and Beyonce fans just didn't care for the quirks of these two particular songs. Either way, it's a good reminder that regardless of stature, all pop artists are only living from hit to hit, and that previously banked credit will only get you so far when your new song just isn't doing it for the American public.