FILM & TV
MOVIE TRAILER | The past will always find you
www.youtube.com
Be careful what you look for, you might just find it.
A new trailer for " Blade Runner 2049" has dropped over 2 months after the first preview was released. "Good Morning America" debuted the extended look at the long-awaited sequel Monday morning. While the first trailer introduced us to Ryan Gosling's character, Officer K, this new clip reveals more about Harrison Ford's character, Rick Deckard. He says that he and his fellow Blade Runners were being hunted. Or did he mean that he and Rachel were being hunted? Maybe it is the Replicants that were hunting the Blade Runners. Previews haven't focused on Deckard thus far because it's rumored Ford doesn't appear until the last third of the movie.
From executive producer Ridley Scott and director Denis Villeneuve, Blade Runner 2049 stars Ryan Gosling, Harrison Ford, Ana De Armas, MacKenzie Davis, Sylvia Hoeks, Lennie James, Carla Juri, Robin Wright, Dave Bautista and Jared Leto as Neander Wallace, a replicant manufacturer.
[rebelmouse-proxy-image https://media.rbl.ms/image?u=/2017/03/blade-runner-2049.jpg&ho=https://pmcdeadline2.files.wordpress.com&s=499&h=ddfa06c60adeeaf78d7100ce6a0946911f9067e3e0d2b7a4dcb6aa7d515de569&size=980x&c=897290755 photo_credit="" caption="Deadline" pin_description="" image-library="0" crop_info="%7B%22image%22%3A%20%22https%3A//media.rbl.ms/image%3Fu%3D/2017/03/blade-runner-2049.jpg%26ho%3Dhttps%3A//pmcdeadline2.files.wordpress.com%26s%3D499%26h%3Dddfa06c60adeeaf78d7100ce6a0946911f9067e3e0d2b7a4dcb6aa7d515de569%26size%3D980x%26c%3D897290755%22%7D" expand=1]Deadline
Thirty years after the events of the first film, a young Blade Runner, Officer K (Ryan Gosling), unearths a long-buried secret that has the potential to plunge what's left of society into chaos. K's discovery leads him on a quest to find Rick Deckard (Harrison Ford), a former Los Angeles Police Department Blade Runner who had disappeared 30 years before. As the trailer unfolds, it turns out that K may be the key to the future of humanity. It's not perfectly clear whether or not replicants will succeed in replacing humans, but exposing the truth could start a war.
"You're a cop?" Decker asks his successor, adding, "I had your job once." "What happened?" responds Gosling, before being told, "We were being hunted!"
Hampton Fancher and Michael Green wrote the screenplay, which follows the initial story by Fancher and David Peoples, based on Philip K. Dick's novella "Do Androids Dream of Electric Sheep?" Ridley Scott's original movie was set in Los Angeles in 2019. It chronicles Harrison Ford's Deckard, who hunted down replicants that had violently escaped an off-world colony to make their way to Earth. Replicants were not allowed inhabit the planet, with a life-span of 5 years, after which they would 'die' or begin to shut down. They came back to their maker to discover how to reverse the process.
The cinematography in this next sneak peek is just as visually exotic as past previews, but featured more of Johann Johannsson's synthesizer-induced score that pays homage to Vangelis' original score for 1982's Blade Runner. The first film was characterized so much by its soundscape as well as every frame treated as if a photograph on a gallery wall. Johannsson has said his work on the movie was "an enormous challenge of mythical proportion."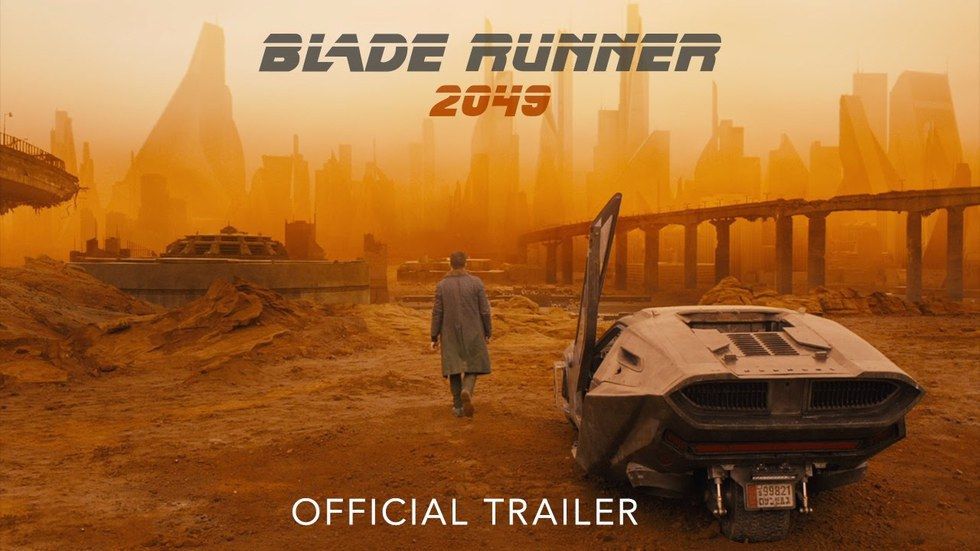 An Oculus-powered VR experience for Blade Runner 2049 will be premiered at San Diego's Comic-Con. The experience is said to put visitors immersed within the futuristic world of Blade Runner. Visitors will be able to walk around the neon-lit streets, will be tested to see if they're replicants or humans. The Spinner, the flying car from the movie, will also be on display.
Popdust eagerly awaits the release of this soon to be classic that seems to be doing a good job of a continuation to a highly regarded classic. Blade Runner 2049 will officially be released on October 6th, 2017.
---
BLADE RUNNER 2049
[purchase tickets]
RELEASE DATE: October 6th, 2017 | GENRE: SCI FI, THRILLER | NOT YET RATED
CAST: Ryan Gosling, Harrison Ford, Ana de Armas, Sylvia Hoeks, Robin Wright, Mackenzie Davis, Carla Juri, Lennie James
DIRECTOR: Denis Villeneuve
---
Watch "Time to Live" Featurette below:
---
Dan Victor is editor in chief of Popdust and producer of Popdust Presents. He is also a music producer, bassist for Low Profile (live hip hop) & The Coldpress (indie rap) and front-man for Ductape Halo (indie rock). Follow on Youtube.
---
READ MORE ABOUT MOVIES...
WATCH | Could "WISH UPON" be the scariest movie coming out? Opens Tomorrow!

LISTS | What's the best "American" Movie?
FILM | Summer Movie previews you won't want to miss
---
Sources: Variety, The Verge, MovieWeb
[rebelmouse-proxy-image https://media.rbl.ms/image?u=/vi/2Wroofd1bB0/maxresdefault.jpg&ho=https://i.ytimg.com&s=813&h=01d1b559bfb4e90ac5375d58b83e6ad0c3f852f6ece32b6721d7b088ba9ef947&size=980x&c=1616300525 photo_credit="" caption="YouTube" pin_description="" image-library="0" crop_info="%7B%22image%22%3A%20%22https%3A//media.rbl.ms/image%3Fu%3D/vi/2Wroofd1bB0/maxresdefault.jpg%26ho%3Dhttps%3A//i.ytimg.com%26s%3D813%26h%3D01d1b559bfb4e90ac5375d58b83e6ad0c3f852f6ece32b6721d7b088ba9ef947%26size%3D980x%26c%3D1616300525%22%7D" expand=1]YouTube
[rebelmouse-proxy-image https://media.rbl.ms/image?u=/sites/default/files/imagecache/scale_crop_768_433/2017/02/screen_shot_2017-02-24_at_2.jpg&ho=http://cdn4.thr.com&s=400&h=69dcb45a81e4553b2583e1267c41fa8d977bd16a15c56669d31fc7b110f5b3ff&size=980x&c=534535909 photo_credit="" caption="Hollywood Reporter" pin_description="" image-library="0" crop_info="%7B%22image%22%3A%20%22https%3A//media.rbl.ms/image%3Fu%3D/sites/default/files/imagecache/scale_crop_768_433/2017/02/screen_shot_2017-02-24_at_2.jpg%26ho%3Dhttp%3A//cdn4.thr.com%26s%3D400%26h%3D69dcb45a81e4553b2583e1267c41fa8d977bd16a15c56669d31fc7b110f5b3ff%26size%3D980x%26c%3D534535909%22%7D" expand=1]Hollywood Reporter