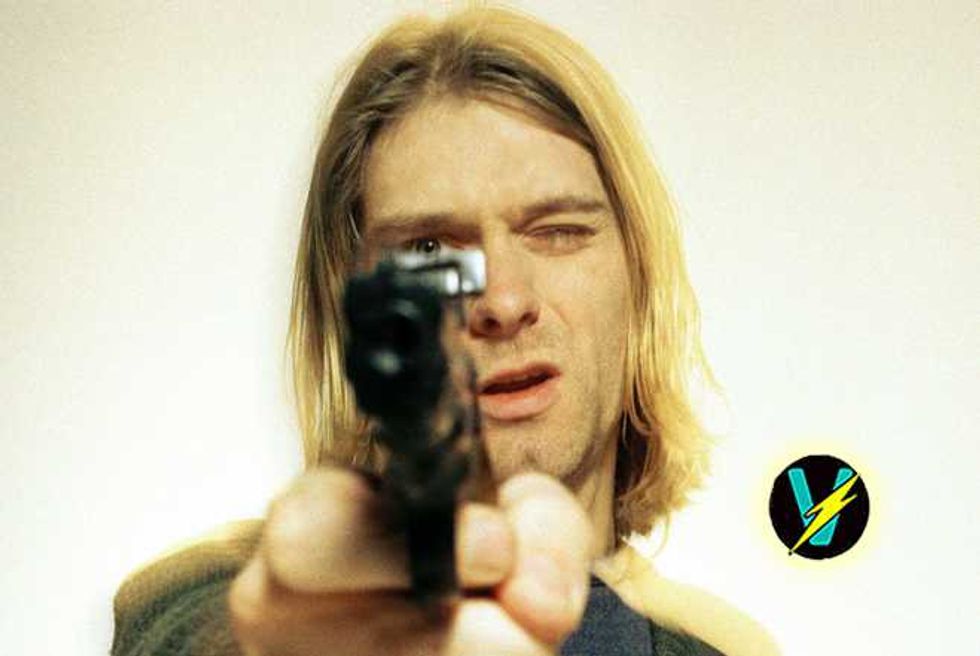 A new Kurt Cobain documentary has sparked fresh debate over how the Nirvana singer actually died.
As Popdust previously reported, Cobain was found dead from a gunshot wound to the head at his home in Seattle on August 8 1994—the coroner ruled the death was self inflicted, and a suicide note was reportedly found nearby.
Just prior to his death, Cobain had checked out of rehab and his then-wife, Courtney Love had reported him as being suicidal.
Despite the ruling, and the evidence, however, conspiracy theories swirled, with many refusing to believe the 27-year-old had taken his own life, and some pointing the finger of blame at Love herself.
Soaked In Bleach takes the conspiracy a step further, laying down a meticulously researched case to argue that Love was involved in some way with Cobain's death—something she has always vehemently denied.
Not surprisingly, the notoriously litigious Love is spitting mad at the documentary findings and has fired off a slew of cease and desist notices against theaters showing the movie, insisting the film's claims "cannot have any credibility."
Meanwhile, Seattle's former police chief, Norm Stamper, would seemingly beg to differ, admitting on camera during the documentary that if he was in the same position today then he would reopen the investigation into Cobain's death.
"We should in fact have taken steps to study patterns involved in the behavior of key individuals who had a motive to see Kurt Cobain dead," Stamper says. "If in fact Kurt Cobain was murdered, as opposed to having committed suicide, and it was possible to learn that, shame on us for not doing that. That was in fact our responsibility."
"It's about right and wrong. It's about honor. It's about ethics," he continues. "If we didn't get it right the first time, we damn well better get it right the second time, and I would tell you right now if I were the Chief of Police, I would reopen this investigation."