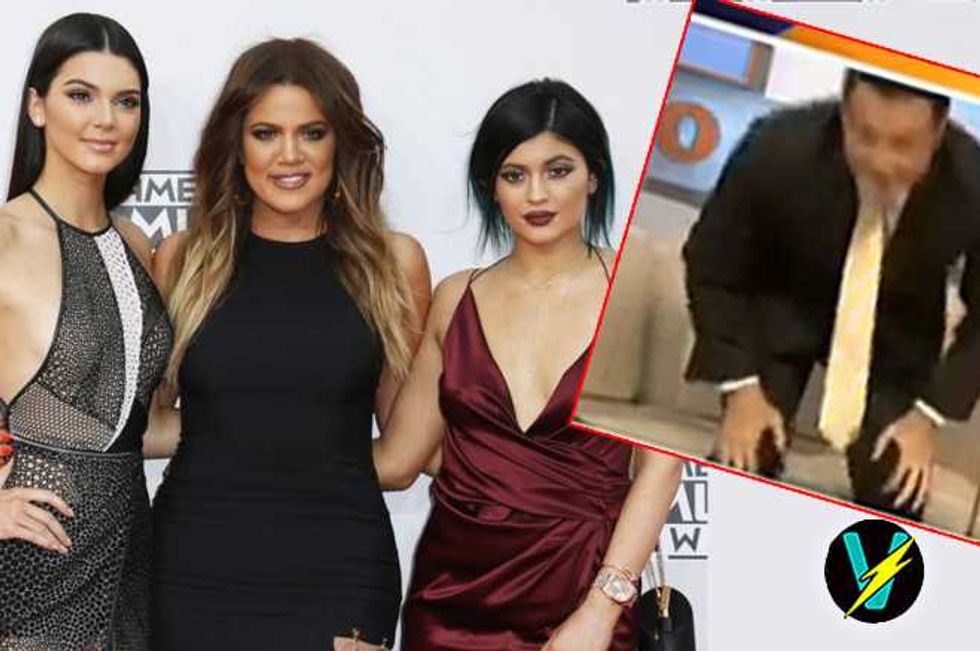 Florida  Fox 35 news anchor John Brown let his true feelings about the Kardashian Klan shine through last week when he walked off the set, refusing to talk about the First Family of Reality.
Breaking the golden rule of journalism that he is there to tell the story, not be the story, poor John just couldn't contain himself for a minute longer when a segment came on Good Day Orlando about Kylie Jenner's new pet rabbit who she has named Bruce.
Looking At 17-Year-Old Kylie Jenner's $2.7 Mil House Can Seriously Fuck Your Zen Up
Admittedly the story is so inane you couldn't make it up and Brown couldn't take it,  declaring to his co-anchor;
"I'm having a good Friday, so I refuse to talk about the Kardashians today.  You're on your own Amy.  I can't do it, I've had enough Kardashians, I can't take any more Kardashian stories on this show."
With that he walked off the set in a huff!  Presumably he had someone screaming in his ear, as he rejoined poor Amy Kaulfeldt and endured the minute and a half segment, whilst still ranting about the 'non story'.
Let's hope he wasn't on the presenting roster over the last couple of days then with all 'stories' on Kylie's 18th birthday celebrations.
Kylie Jenner's Big Old Fake Lips Have Gone Right To Her Head
After posting a series of revealing, sexy photos on Instagram, Kylie headed off to her party. We saw Momager Kris Jenner partying with ex-husband Caitlyn Jenner and Kylie was presented with an ironic cake fashioned into a huge pair of lips.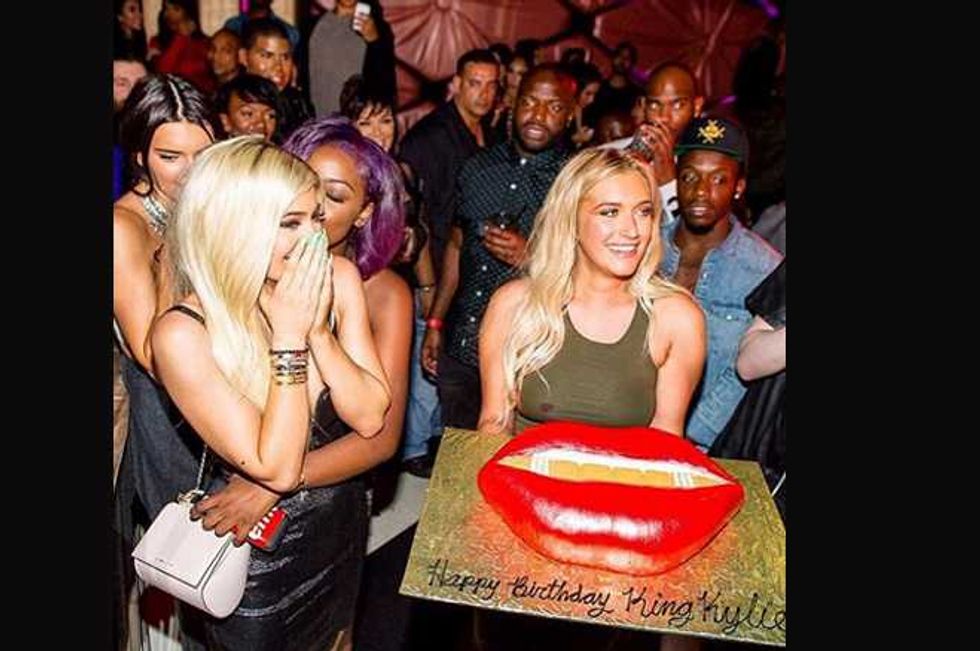 Kylie Jenner's big lipped birthday cake
Now she's legal, boyfriend Tyga didn't hold back, he himself posted a raunchy pic of his teen girlfriend on Instagram, suggesting that the significance of her age wasn't lost on him.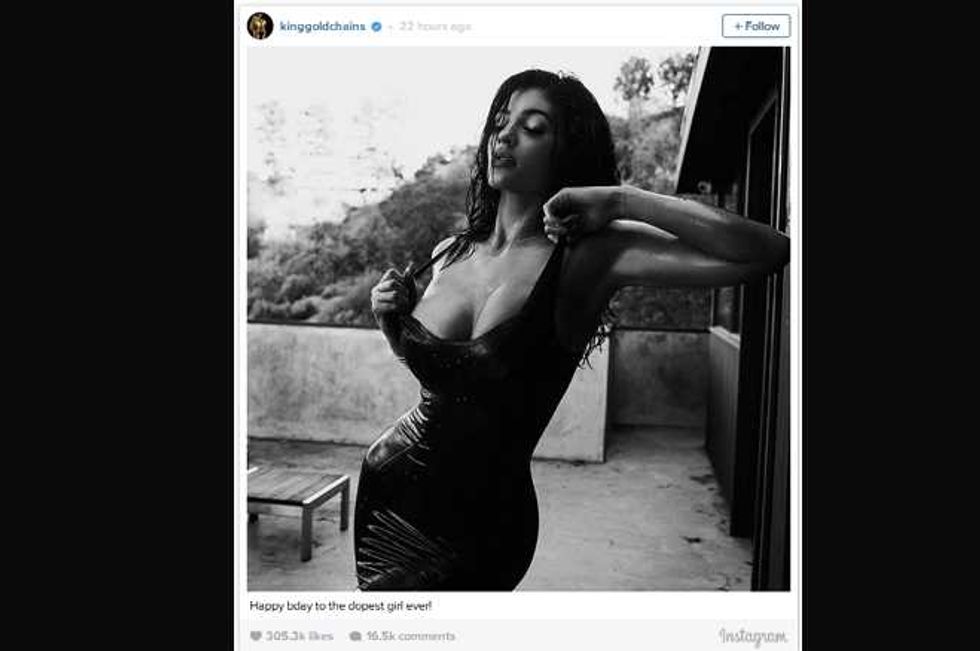 Tyga shows his pleasure over the fact that she's legal now.
He later presented her with a $320,000 white Ferrari 482 Italia, which is an ideal gift for a teenager.  Never one to flaunt her wealth, Kylie has posted a pic of the Ferrari on the tarmac at an airport, as she heads on board a private plane to jet off to the next leg of her birthday celebrations.
We can't understand why that would make anyone sufficiently sick to walk off their job.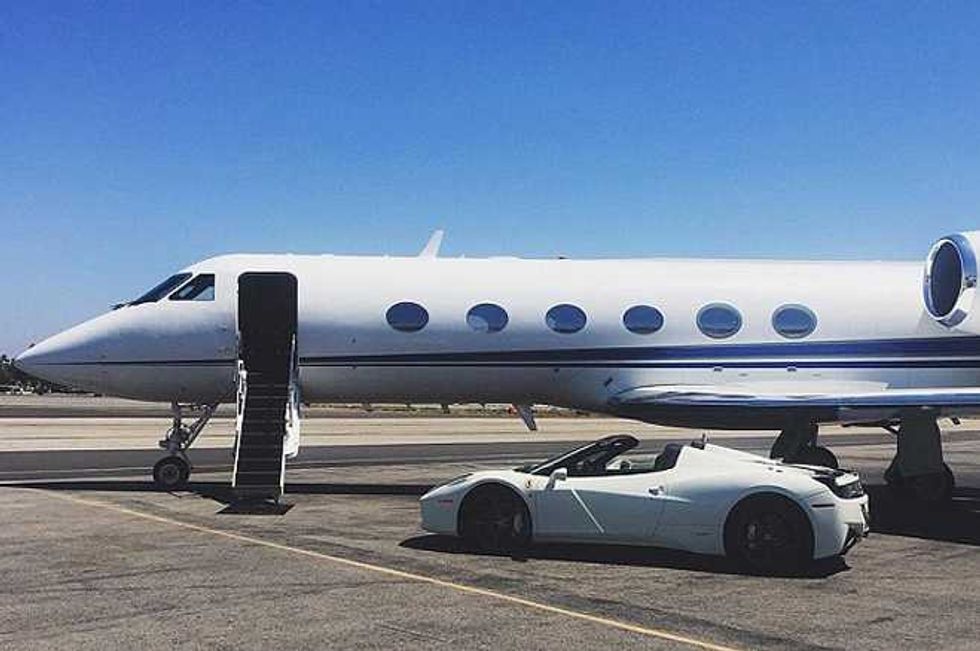 Doesn't every 18 year old have this?