MUSIC
The 28-year-old rapper topped the charts this week, beating out Chance The Rapper.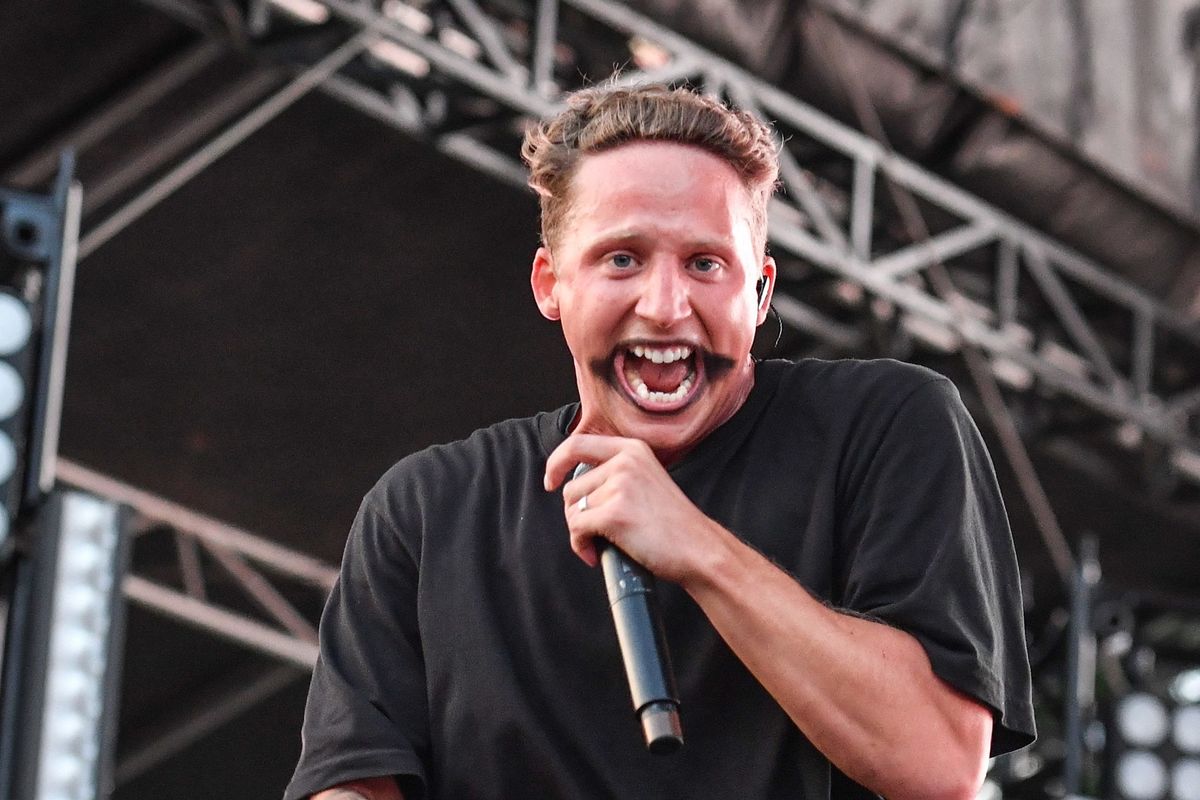 USA Today
To everyone's surprise, 28-year-old Christian rapper Nathan Feuerstein beat out Chance The Rapper this weekend to have the number one album in the country.
Known by his initials NF, the MC released The Search, his second #1 album and an intense collage of Feuerstein's personal turmoils and anxieties. He break downs everything, from depression to OCD and anxiety, in a way that is cathartic and elegant, and he presents an uncanny ability to go from frustrated to introspective in a single song. While Chance fans will be quick to hate on the white boy for beating out their favorite Chicagoan for this week's #1 album, closer inspection shows the achievement was well-earned.
NF has already garnered comparisons to Eminem, with each song on The Search packing in so much lyrical content that it could take months to fully dissect. The album is a steep 20 tracks, and it may be hard to hear the beautiful words being spoken through NF's quick-fire delivery. To help introduce you to NF, we've compiled some of our favorite lyrics from his new album in the hopes that you'll appreciate this number one album as more than a fluke.
"The Search"
From the album's jump, the listener is immediately pulled in by Feurstein's impeccable word play. Discussing the rapper's dealings with anxiety and self-loathing, he tackles all these dark topics in terms he hopes the listener will understand, thus discussing mental health in a frank way that rappers rarely do. The song itself is amazing, but the real talent begins to shine when Feuerstein starts really firing at you at the track's halfway mark.
"Got a taste of the fame, had to pump my stomach
Throw it back up like I don't want it
Wipe my face, clean off the vomit
OCD tryna push my buttons."
"I can be critical, never typical
Intricate with every syllable
I'm a criminal, intimate but never political, pretty visual
Even if you hate it, I'll make it feel like you're in it though."
"Leave Me Alone"
In another impressive show of lyrical prowess, NF takes us deeper into what his mental illnesses actually mean, and the result is chilling.
"Diagnosed with OCD, what does that mean?
Well, gather 'round. That means I obsessively obsess on things I think about.
That means I might take a normal thought and think it's so profound.
Ruminating, filled balloons are full of doubts,
Do the same things, if I don't, I'm overwhelmed
Thoughts are pacing, they go 'round and 'round and 'round
It's so draining, let's move onto something else."
"Hate Myself"
It's true that NF's discussion of depression can be a bit heavy-handed at times, but there are plenty of impressive bouts of braggadocio that help to break up the album's bleakness. It just so happens that NF communicates his best when he talks about his struggles, and we can't hate on that.
"I walk through the ashes of my passions.
Reminiscin' with the baggage in my casket.
Get lost in the questions I can't answer.
Can't stand who I am, but it don't matter.
We scream to be free but I stay captured.
Knee deep in defeat of my own actions."
No Excuses
This track comes at the perfect moment, right when NF's self-loathing borders on the melodramatic. He boosts us back up with a track solely dedicated to demonstrating his monstrosity on the mic.
"Yeah, here's a couple things that I'm confused with.
I just did a interview, the guy was pretty clueless.
You don't have to know the album names or all my music,
But at least try to find out who you in the room with.
Ayy, I like facts, I don't like assumin'.
Take a shot behind my back, I'ma catch the bullets.
Why the game lookin' at me like I'm just a tourist?
They should know I'm here to stay, this verse is gettin' borin.
Twisted mind of a lyricist, listen while I experiment.
Visualize, it's imperative, big surprises and scary tricks.
It is time, yes, we're here again, sit in silence, don't care for it,
Criticizin' my character isn't why, so beware of it."
"Nate"

NF takes a moment to discuss his upbringing, filled with trauma but also filled with passion and optimism. The rapper balances these vastly different themes with ease.
"But everything that breaks you down can also build your character,
'Cause people love to see you fail, just be aware of it.
Don't let nobody tell you who to be or write your narrative.
Look, we're all products of the things that we experience,
But there's a big difference between confidence and arrogance.
You hearin' this?"