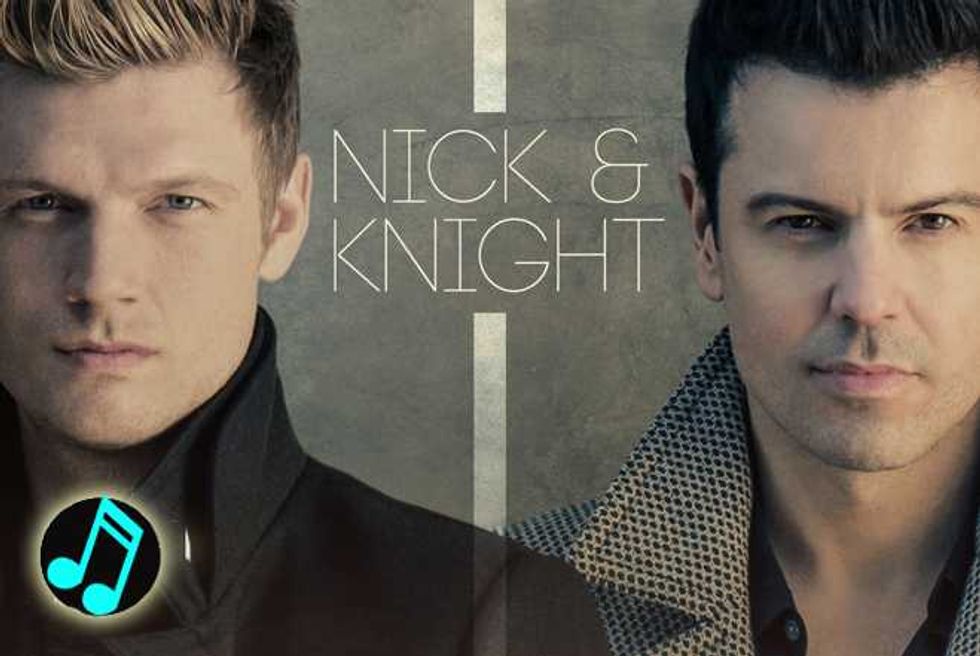 We had our doubts about the newly-formed duo of Nick Carter (of The Backstreet Boys) and Jordan Knight (of New Kids On The Block). But judging by their pop hook-laden new single "One More Time," it'll never be this good again. As the lead-in to their brand new album (Nick & Knight), out Tues. (Sept. 2), the song is a delicious pop escape. To promote the new record, the duo stopped by Good Morning America to perform.
Sound check! #GMANickAndKnight pic.twitter.com/sgmw8wJCWB

— Nick Carter (@nickcarter) September 2, 2014
"We performed a lot onstage together, and we seemed to have a chemistry," singer Knight tells reporter Robin Roberts of the decision to form a duo with Carter. "We both love doing music. At first, we just thought about doing a tour. He'd do solo music, and I'd do solo music. We kept talking about it and we said, 'it might be a treat for the fans and a twist to do a whole album together.'"
On the new album, Carter says, "It's fresh. You can dance to it. We think the fans are gonna love it."
This fall, Nick & Knight will head out on their first tour, launching at Nashville's Cannery Ballroom on Sept. 15. They will continue charting across the country well into the fall and ultimately wrap on Nov. 22.
Give it up for @nickandknight 'one more time' #GMANickAndKnight pic.twitter.com/Wjr4sMCkUZ

— Good Morning America (@GMA) September 2, 2014
In other news, Carter has a new reality show on VH1 to premiere Sept. 10 at 10/9c. "It's my life with my wife now," he shares, "and how difficult it is to be in a relationship with someone...like me," he laughs.
Grab the new Nick & Knight album on iTunes now!
The tour dates are as follows:
9/15 Cannery Ballroom - Nashville, TN
9/17 Mercury Ballroom - Louisville, KY
9/19 Bogart's - Cincinnati, OH
9/20 Murat Theatre - Indianapolis, IN
9/21 The Pageant - St. Louis, MO
9/23 Folly Theater - Kansas City, MO
9/24 Mill City Nights - Minneapolis, MN
9/26 House of Blues - Chicago, IL
9/28 Royal Oak Music Theatre - Detroit, MI
9/30 Agora Theater - Cleveland, OH
10/1 Byham Theatre - Pittsburgh, PA
10/3 Metropolis - Montreal, QC
10/4 Sound Academy - Toronto, ON
10/5 Sound Academy - Toronto, ON
10/8 Emerson Colonial - Boston, MA
10/10 Best Buy Theater - New York, NY
10/11 Trocadero - Philadelphia, PA
10/12 Trocadero - Philadelphia, PA
10/14 Center Stage - Atlanta, GA
10/15 Fillmore Charlotte - Charlotte, NC
10/17 SoundStage - Baltimore, MD
10/18 The National - Richmond, VA
10/19 Charleston Music Hall - Charleston, SC
10/21 Plaza Live - Orlando, FL
10/22 Revolution - Miami, FL
11/4 Civic Theatre - New Orleans, LA
11/5 House Of Blues - Dallas, TX
11/7 House Of Blues - Houston, TX
11/9 Orpheum – Phoenix, AZ
11/11 House Of Blues - San Diego, CA
11/13 House Of Blues - Las Vegas, NV
11/14 House Of Blues - West Hollywood, CA
11/15 House Of Blues - Anaheim, CA
11/18 The Regency - San Francisco, CA
11/20 Showbox SODO - Seattle, WA
11/21 - Vogue Theatre - Vancouver, BC
11/22 Flames Central – Calgary, AB
Find out more info and to purchase tickets here.
Stay tuned for updates. Feel free to follow @Popdust and JasonTheScott on Twitter!