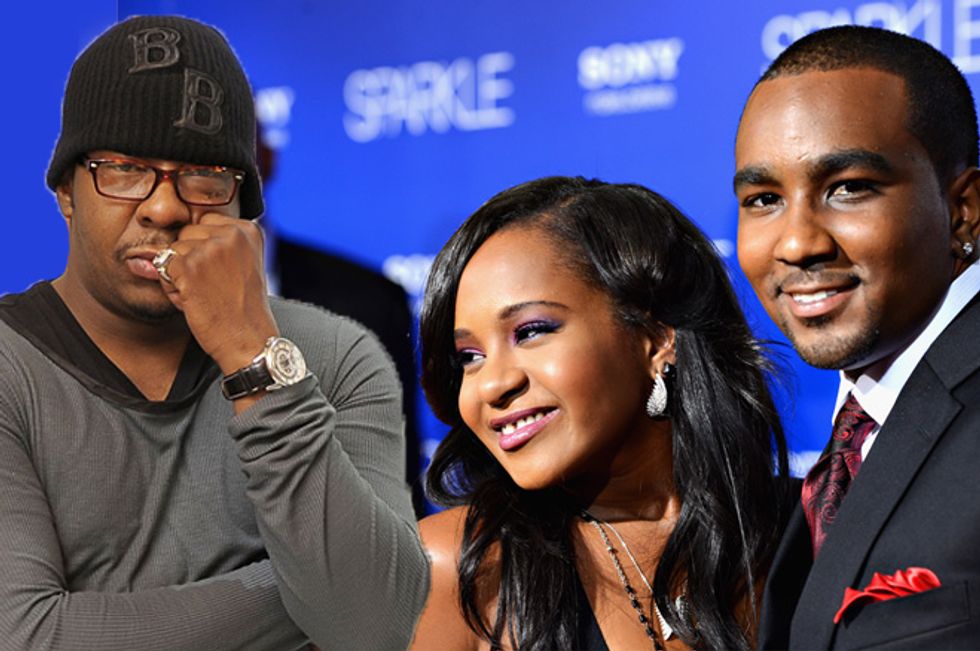 Bobbi Kristina Brown's boyfriend Nick Gordon is responding to Bobby Brown's earlier accusations of non-cooperation, saying it's not true and Bobby is being fake.
In a lengthy Twitter rant on Monday, Nick went off on Bobby and all the Browns, saying they just want to get their hands on Bobbi Kristina's legacy from Whitney Houston.
According to Nick, Bobby has been an absentee father and has only seen his daughter four times in the past five years.
Here are his tweets:
Crazy how all the Browns came to the hospital when this went down. I've been with her 24/7 watching over her and mom. Bobby left when it got heavy.

I've been to the hospital bet you didn't know that with Tyler Perry my baby's lawyer and a couple of AUNTs

With death threats from the Browns don't ever say I didn't try

I have to remain strong for me and @REALbkBrown

Bobby seen his daughter 4 times in the last 5 yrs

Now him and his family want Whitneys $$$ which belongs to Krissi or Cissy

I've talked to the cops no lawyer. If Roswell Detectives know how to do there job everything is cool. #don'tfabricate

Go check out the few pics he has with her. Check out Kris and I pics. Dude is a joke played out. He is here for publicity

Listen at the end of all this I took care of Whitney Houston and Kriss which was very hard on someone my age. They cried on my shoulders!!!!

CPR for 10-15min responding officer didn't take over until EMS came it's like re living my worst nightmare!!!!

I love @REALbkBrown we both share the same fate. You're going to wake up but I need it to be undalay.

I dont care as long as Krissi is ok. I wish I could trade places.

I don't want anything $$$ I'm tired of people dying on me going into coma.
Bobbi Kristina remains in a medically-induced coma, and Nick is still under criminal investigation.