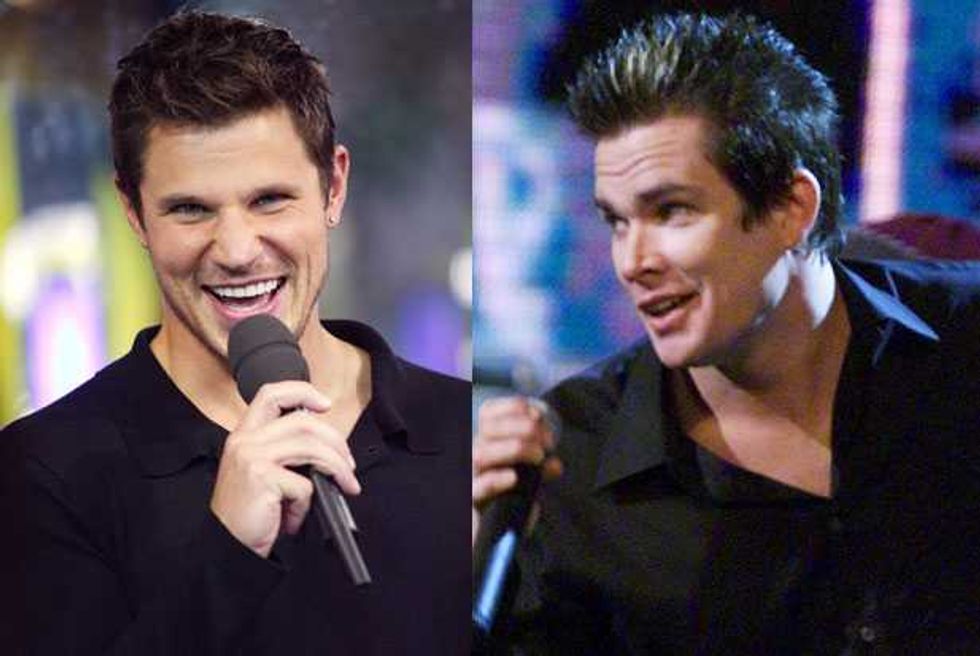 For all the great music of the '10s, it's no secret that we're currently devoid of synchronized dancing, sexy turtlenecks and guest spots from Supercat. Because this and those crippling bouts of '90s nostalgia keep us up at night, we've decided to revisit two very different pop stars of yore who now spend their days hosting cheesy singing competitions: Nick Lachey and Mark McGrath. Their music may be different (or at least, it was intended to be. Sugar Ray was once a metal band after all), but their careers have taken oddly similar paths since the days of TRL.
As the face of NBC's The Sing-Off, Lachey gets to stiffly and indirectly inspire a cappella hopefuls, while McGrath flexes his charm muscles in order to coax karaoke studs on the syndicated Don't Forget The Lyrics! A hosting gig may not be every performer's ultimate goal, but the similar destinations these two have arrived at beg for a closer look at their journeys, including old music videos, celebrity girlfriends and unfortunate hairstyles. And since feuds are all the rage, we've put them up against each other in a number of scientific categories, only to determine the differences between them–and a clear favorite—of our own.
1. FROSTED TIPS
The definitive hairstyle for slightly douchey musicians of the late '90s. (Spending an equal amount of time at the salon as a girlfriend was probably what led to the metrosexual movement.) McGrath's strands stand higher and shine brighter, giving him an almost skunk-like appearance (chalk it up to his Southern California roots), while Lachey's Ohioan blood makes his slightly chestnut locks seem as if he's simply been out on the farm all day.
Winner: McGrath
2. CELEBRITY GIRLFRIENDS
We all heard about Lachey's respectful and Christian courtship of younger pop starlet Jessica Simpson (and if you didn't, there was the eventual television show that was more than willing to catch you up). After romantic cameos in each other's videos and a public attempt at domesticity, Lachey moved on to former MTV VJ Vanessa Minnillo—keep it in the family!—hoping that the second time down the aisle is a charm. McGrath has been on and off with long-time girlfriend Carin Kingsland (the couple welcomed twins in 2009), but there was a time when he was just another notch on the belt of perpetual rock star groupie Carmen Electra. It's just a shame he didn't get a reality deal from it all.
Winner: Lachey
3. MUSCLE SHIRT VIDEOS
Before Chris Brown became synonymous with the literal definition of the term "wife-beater," men of the late '90s were flaunting their arm muscles in these barely there tank tops (usually in coordinating colors).
Both Lachey and McGrath have the tattoos necessary to give this look a little edge, but Lachey resembles more of the ex-high school football player reliving his glory days, rather than your local stoner-surfer who post-grads suddenly realize is totally sexy.
Winner: McGrath
4. GROUP SONG
Nick Lachey and his glorified back-up singers in 98 Degrees may chill on the Golden Gate Bridge in "Because Of You," while proving that sweaters can look cool on grown men, but the cheese factor in the chorus of their debut single ("You're my sunshine after the rain") is undeniably high.
Meanwhile thoughts like "All around the world statues crumble for me" are as good as you'd get from high school poetry class, and the summery, chilled out guitar riffs of "Fly" win us over ever time. Don't forget the cool contributions of Supercat. Plus, Sugar Ray is still touring!
Winner: McGrath
For bad reality shows, pretty bad singles and decent hosting abilities, click NEXT.
5. REALITY SHOW
Television has traveled to some seedy places of late, but can you imagine if Newlyweds never actually aired? MTV—and the world—could be a lot worse. The seminal reality program chronicling celebrity relationships depicted the quirkier (and dumber) sides of America's couple next door.
McGrath subjected himself to an onslaught of crazy from Meat Loaf, Gary Busey and The Donald on season four of The Celebrity Apprentice in 2011. We applaud him for his bravery, but that doesn't mean we'd like to sit through the mess twice. Meanwhile, "Chicken of the Sea" still resonates today. (Sadly.)
Winner: Lachey
6. SOLO MUSIC
When a public marriage leads to an even more public break-up, there should be a plethora of inspiration for a killer solo debut. "What's Left Of Me" may not have been the most successful track (or even more successful than any popular 98 Degrees song) but it certainly got noticed as the dust between Lachey and Simpson began to settle.
McGrath provided a brief guest verse on Shania Twain's "Party For Two," but we would much rather have heard him perform the male response to "Man I Feel Like A Woman."
Winner: Lachey
7. CURRENT GIG/HOSTING SKILLS
Lachey has the more prominent and cushy position with NBC's a cappella competition The Sing-Off, but that doesn't mean he deserves it. (McGrath's hair must just be too radical for basic cable.) Nick could use some lessons from the likes of Ryan Seacrest, if only to avoid looking like he's just arrived from a colonoscopy, but then again, he does get to perform among his contestants. Maybe this is just a temporary gig until that belabored solo career of his really takes off? That's what a few fans are hoping, anyway.
The Sugar Ray frontman clearly learned some lessons from Extra days and brings an affable likeability to his interaction with both contestants and the camera on the syndicated version of Don't Forget The Lyrics! That, or he's gotten spoiled by the laxity of cable networks
Winner: McGrath
Maybe they're not so similar after all? We've shared our picks for each category, but feel free to leave your own choices in the comments.