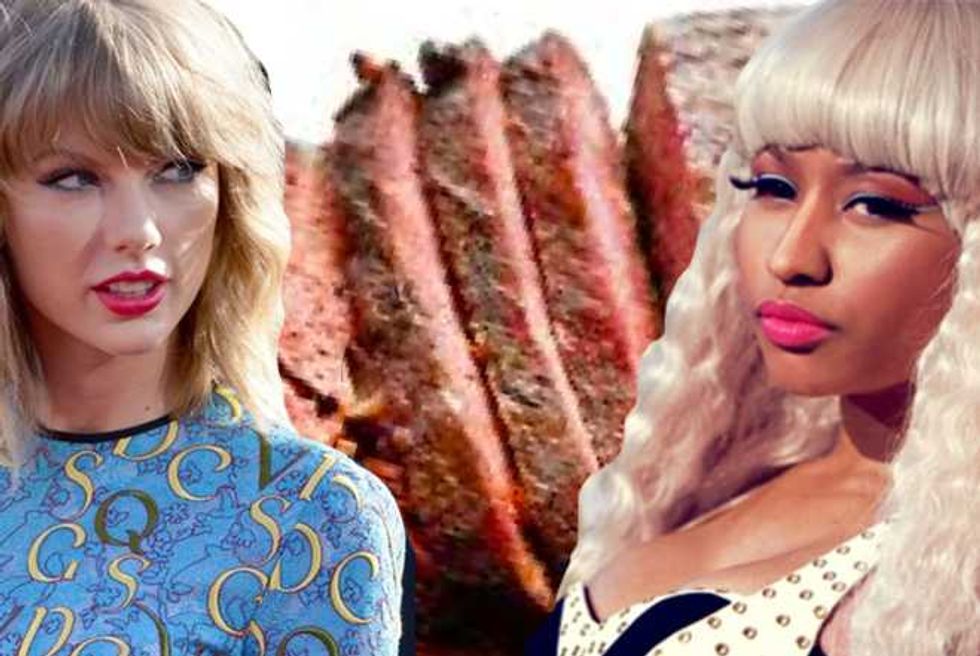 Nicki Minaj is pissed that she was snubbed by the VMAs for Anaconda—and she's calling out the music industry for their underlaying racism and body image double standards.
Minaj went OFF on Tuesday, with a flurry of tweets expressing her disappointment over her lack of nomination, despite the video having shattered the VEVO record for most views in 24 hours—19.6 million in case you're wondering.
Nicki Minaj Is Driving The Daily Mail Bonkers
Minaj was on a roll, popping out tweet after tweet, including:
If I was a different "kind" of artist, Anaconda would be nominated for best choreo and vid of the year as well.

Ellen did her own anaconda video and did the #choreo lol. Remember her doing that kick . Even mtv did a post on the choreo @MTV remember?

U couldn't go on social media w/o seeing ppl doing the cover art, choreo, outfits for Halloween...an impact like that & no VOTY nomination?

When the "other" girls drop a video that breaks records and impacts culture they get that nomination.
But, it was a later tweet that started shit kicking off:
If your video celebrates women with very slim bodies, you will be nominated for vid of the year
Taylor Swift, who definitely has a very slim body, and is the only other female artist nominated in the category—alongside Beyonce, who definitely doesn't have a "very slim" body, was quick to make it all about her—firing back on Twitter:
@NICKIMINAJ I've done nothing but love & support you. It's unlike you to pit women against each other. Maybe one of the men took your slot..
Oh hell no TayTay! Minaj was obviously pissed at the industry NOT the artist….but, well, you know Taylor Swift…. it's ALL about her.
Taylor Swift Has Reportedly Feuded With Just About Everyone You Can Think Of
Nicki refused to take the bait though, pointing out to Swift:
"Huh? U must not be reading my tweets. Didn't say a word about u. I love u just as much. But u should speak on this. @taylorswift13"
Minaj's fans rallied, attempting to school Swift in the realities of 2015 life… good luck with that guys…..
And, Nicki was quick to thank then for their support, tweeting:
I'm so glad u guys get to see how this stuff works. Taylor took her music off spotify and was applauded. We launched Tidal & were dragged.