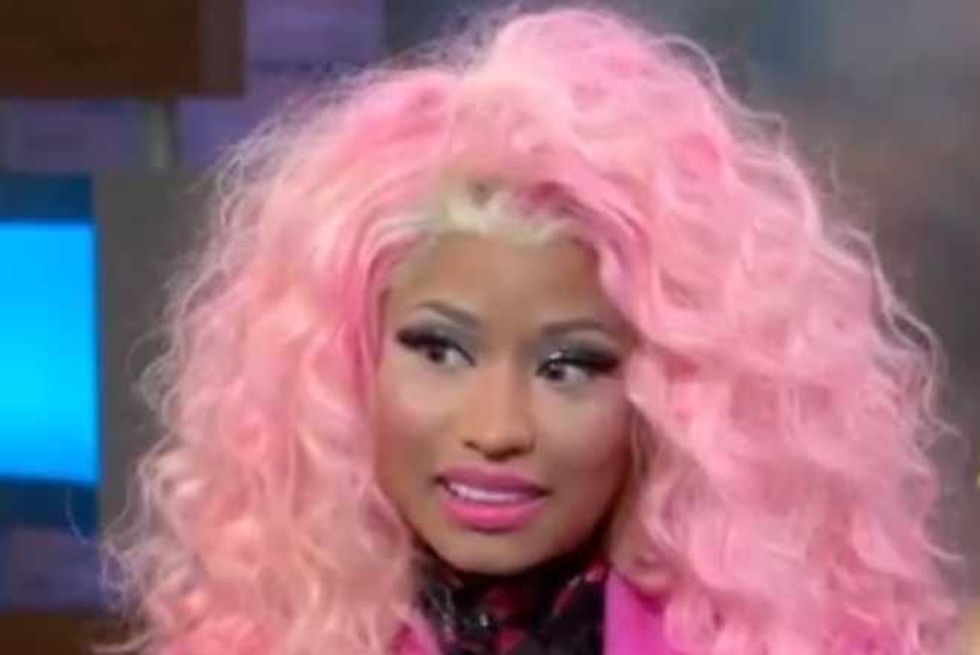 Nicki Minaj continued the press tour for her release of The Re-Up on Tuesday, making sure her chesticles were appropriately covered before another live television segment. The New York native headed to Times Square for a chat with the Good Morning America crew, facing questions unrelated to her new album—namely that squabble with fellow American Idol judge, Mariah Carey, and hooking up with Justin Bieber, professionally. "She's been one of my favorite artists of all time since I can remember, so it's weird that everything was blown up like that. It didn't make me happy at all," Nicki said of the response to the on camera fight with Carey that leaked earlier this fall.
The dispute led figures from every corner of pop culture to weigh in with their own death threats, and tested the patience of long-suffering Idol fans. Even if there are differences in their judging styles or frustration over who gets the bigger soda cup, Nicki was and always will be a Mimi fan. "She knows how much I adore her. Some of my best childhood memories from my mom are from Mariah's music. [Ed. note: Did Juliette Barnes let you use that line?] Like, I can't deny that and I can't take away what she's done in my life and just pop culture in general," she explained. "Sometimes when you are a passionate woman, y'know, it kind of ruffles other women's feathers, but I'm going to continue to be Nicki Minaj."
As for her and Bieber, it appears as if the weirdly subdued/underwhelmed side of Nicki seen at the American Music Awards ("I was a little bit, y'know, weirded out...") has carried over into the work week. With her own scheduled performance and two awards of her own, we understand if joining Justin Bieber for her "Beauty and a Beat" verse seemed annoying—particularly when many wanted him to just keep singing about his feelings via Timberlake covers—but we didn't expect her to actually convey that in her response! "That was interesting. I was surprised when they asked me to perform with him on the AMAs," she explained. Yes, but was the body roll your idea or his? Never forget.
"Of course I was like, 'Well, I can't turn that down,'" she continued. "I was like, 'It will be a good thing, I guess.'" You guess? This is just a friendly warning, Nicki: Prepare to face the wrath of angry Beliebers. They're much feistier than Mimi stans, with no weaves to pull.
Watch Nicki's full GMA interview below.
[Rap-Up]