Top Stories
7 Nicki Minaj lyrics that give me the strength to be a boss when I'm emotionally exhausted.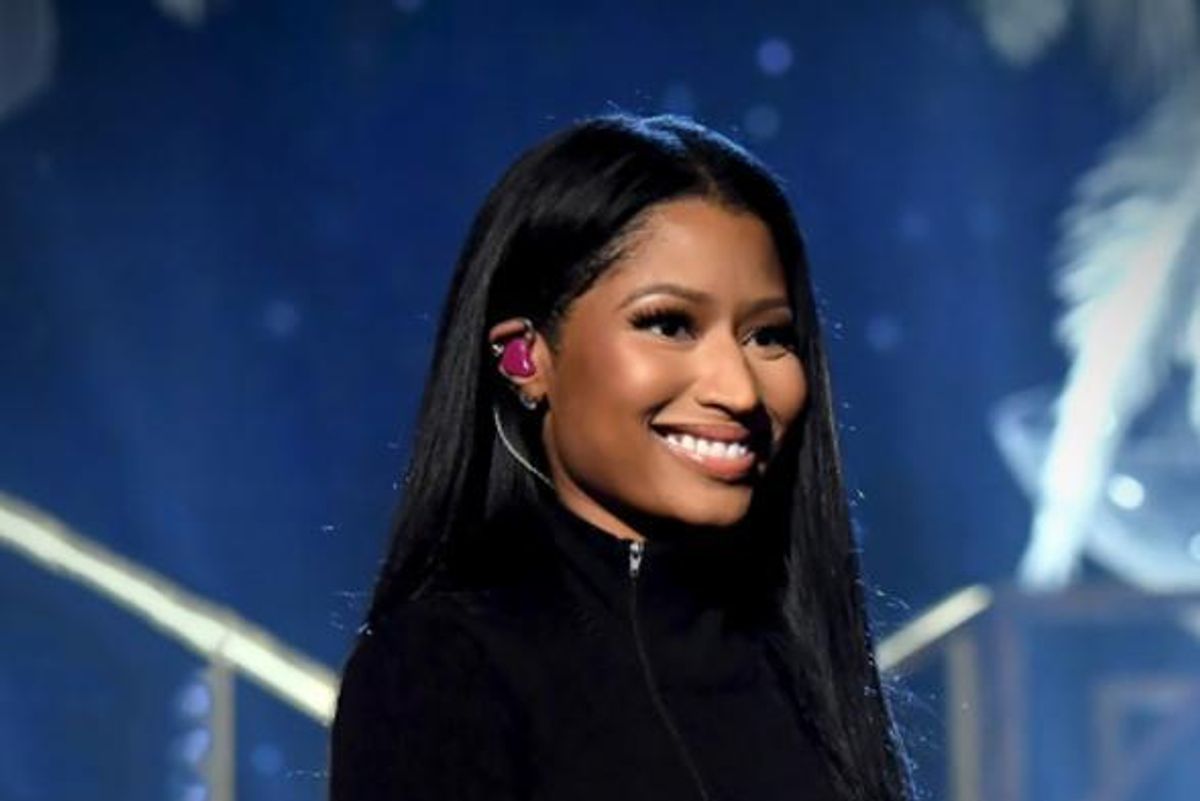 Jeff KravitzAMA 2016
"In this very moment I'm King. " Nicki is blasting through my headphones as I finish writing down next quarter's goals in the red leather bound journal that has 'dream' embroidered in gold. The southside Jamaica, Queens rapper turned brand has been one of my go to artists for nine years now when it is time to summon the beast in me. Like many now thirty year old women, I fell in love with her music in the early Nicki Harajuku Barbie, Nicki the Ninja, Nicki Lewinsky days. An era when I was barely twenty, exploring life, full of the belief that nothing in this world could block my happiness or success.
As I went through years of running a business, summers with my friends, dating men drama free, and defining myself as a woman, it was often a Nicki song in the background serving as the soundtrack. Didn't feel like going to the gym? "Go Hard" would be summoned from one of the many CDs I burned from a huge music collection as I drove to the gym. Y'all remember the big cloth portfolio with the zipper, filled with hundreds of mixed CDs named after events, peoples, and feelings. Needed a girlfriend anthem to set as my ringtone? No worries, the pop-like best friend anthem "Girlfriend" could be purchased for $1.99 and downloaded to my phone by, what at the time, was the most innovative site for music lovers next to Limewire.
There was not a situation that Nicki Minaj did not have a song for, and thus, there was not an occasion void of a perfect accompanying track. Indeed, the Trini born mogul was my soul sister in my head, and became the soul daughter to my mom, soul sister to my younger sister, and the soul granddaughter to my West Indian grandparents. We were all family. And then we grew up.
Around the time Nicki got signed, I returned to college to get a degree in business. After running my own business at a very young age, I was devoted to figuring out a plan that would place me on the road to a sustainable and fulfilling future, and Nicki was doing the same. Soon came passed tests, new jobs, and "Starships". Funny, when you are in the moment, time can feel so belabored. In reality, time doesn't cruelly slow down to teach you lessons or build character or whatever reason we give for not being in whatever desired state in that moment. No, while we offer these words of comfort to ourselves and others about lessons and tribulations being purposefully and exclusively ours, the world is spinning on its axis effortlessly, with or without our input.
The year was 2010, and I remember hopping into my car after class, mentally exhausted and queuing up "Dear Old Nicki" . While I did miss the Nicki who rode with me through my early twenties, the Nicki who understood being demanding, and confident, and unafraid to take risks, I realized what I missed even more was Old Brittiany, who did the same. Thus began what I refer to as the shakeup, the moment there were shifts in careers, relationships, personalities. Nicki and I had grown up and understood the business of business. Her music would continue to be the perfect cheerleader, cheering for me with the same tenacity whether I was winning by a landslide or down in the fourth quarter just as I would still be there to celebrate her and her growth as a woman, a creative, and a performer. To this day, Nicki has a win that will have my mom and I simultaneously texting, "that's my bish". And win she does.
"In this very moment I slayed Goliath with a sling". 2016 was a pivotal year for everyone. Tribulations and triumphs, the one thing we all have in common is that we made it through. Surviving or thriving, we are on the verge of entering a new year, happily finding comfort in that proverbial clean slate, that universal reset button. I, too, have been reflecting, though I started a little early. After the greater part of forcibly surviving the first three quarters of 2016, I was determined to place myself in the greatest setup for 2017 in the fourth. And just as she had been there before, it was cocky, free-spirited, Nicki who provided the motivating soundtrack.
Tonight, at 10 p.m., Nicki is airing her PinkPrint tour on BET. Shot in Brooklyn, the MC will have what is believed to be her best show to date. Amid relationship rumors, alleged bubbling Rap Beef with another hot FemCee, and other things, Nicki is still winning, and rising. "Black Barbies", the Minaj remix to duo Rae Sremmurd's "Black Beatles" broke Billboard's top 100 last week, making her second to only Aretha as top females with Billboard 100 singles. Her fans are begging for another album. In a male dominated industry, Nicki continues to be her own boss, shape her own future, and navigate through her losses, all while under the eyes of millions, some, undoubtedly, wanting her to fail. Take a look at the Nicki lyrics that remind us it's ok to be a beauty, and a beast.
When you Are "Feeling Yourself"
Ain't gotta rely on top 40, I am a Rap legend
Just go ask the Kings of Rap, who is the Queen and things of that
Nature?
Remember to "Go Hard"
"And I know that no matter what, in the end, it's not going to be about my talent
You know, its not going to be about connections
It's not gonna be about my looks
It's gonna be about, who wants it the most"
Get Your money, Honey
And I'm all up all up all up in the bank with the funny face
And if I'm fake I ain't notice cause my money ain't
Things get hard. People get Flaky. "Fly"
I hear their criticism loud and clear
That is how I know that the time is near
So we become alive in a time of fear
And I ain't got no mfing time to spare
Cry my eyes out for days upon days
Such a heavy burden placed upon me
But when you go hard your nay's become yay's
Yankee Stadium with Jay-Z and Kanye
We are in this together.
Cause every time a door opens, for me that means you just got a better opportunity, to do you.
Go off and "Go Hard", again.
If you could, you would get rid of me
Eff you goning to do when a b--- try to go hard?
But I won't let you get to me
You should already figure imma go hard

Come to win, no matter what.
Put it on everything that I will retire with the ring,
And I will retire with the crown, yes!
No I'm not lucky I'm blessed, yes!
Clap for the heavyweight champ, me!

Brittiany Cierra can be found quoting Nicki at least five times a week on Instagram and twitter.