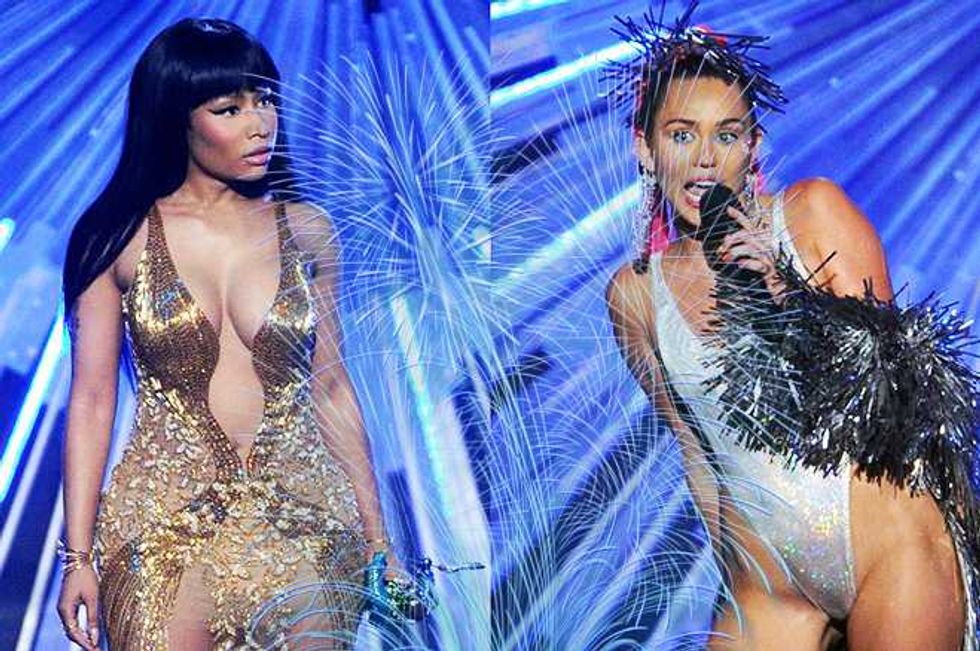 Nicki Minaj did not hold back when explaining her beef with Miley Cyrus to a New York Times journalist, accusing Cyrus of dabbling in black culture without respecting it.
Nicki was already annoyed by Miley butting in to a twitter spat between Nicki and Taylor Swift about black female artists being shortchanged by the MTV Video Music Awards back in August. While Niki and Swift ended up bonding over the misunderstanding, Miley chose to comment about it to the NYT. There, Miley criticized Nicki of being impolite in speaking about racism in the music industry.
Miley Cyrus Gets Her Drag On—Goes Totally Naked For V Magazine
Nicki now reveals what set her off at the VMA's.
I saw [Cyrus] just looking at me, with her face screwed up, and I thought, 'What the!'
We know what happened next: Nicky called Miley a bitch.
Nicky elaborates on the feelings that brought her to that moment.
The fact that you feel upset about me speaking on something that affects black women makes me feel like you have some big balls. You're in videos with black men, and you're bringing out black women on your stages, but you don't want to know how black women feel about something that's so important?

Come on, you can't want the good without the bad. If you want to enjoy our culture and our lifestyle, bond with us, dance with us, have fun with us, twerk with us, rap with us, then you should also want to know what affects us, what is bothering us, what we feel is unfair to us. You shouldn't not want to know that.
Miley was criticized from all quarters when she performed at the VMA's in a state of apparent undress and mocked sex with her black dancers. Articles and essays sprung up everywhere, denouncing Cyrus for trying to be 'rachet' (i.e., ghetto) among other offenses.
But it's been a while since Miley has been read the riot act on this behavior.
Since  then, Miley has changed the conversation to her gender fluidity, her love interests, her pot smoking and her insistent nudity. She has kept the controversy gong without offending anybody personally.
But Nicki Minaj hasn't forgotten and isn't likely to, until Cyrus responds to her points about cultural appropriation.
And it isn't because she enjoys drama, as she responded to that suggestion by the NYT journalist:
That's disrespectful. Why would a grown-ass woman thrive off drama?