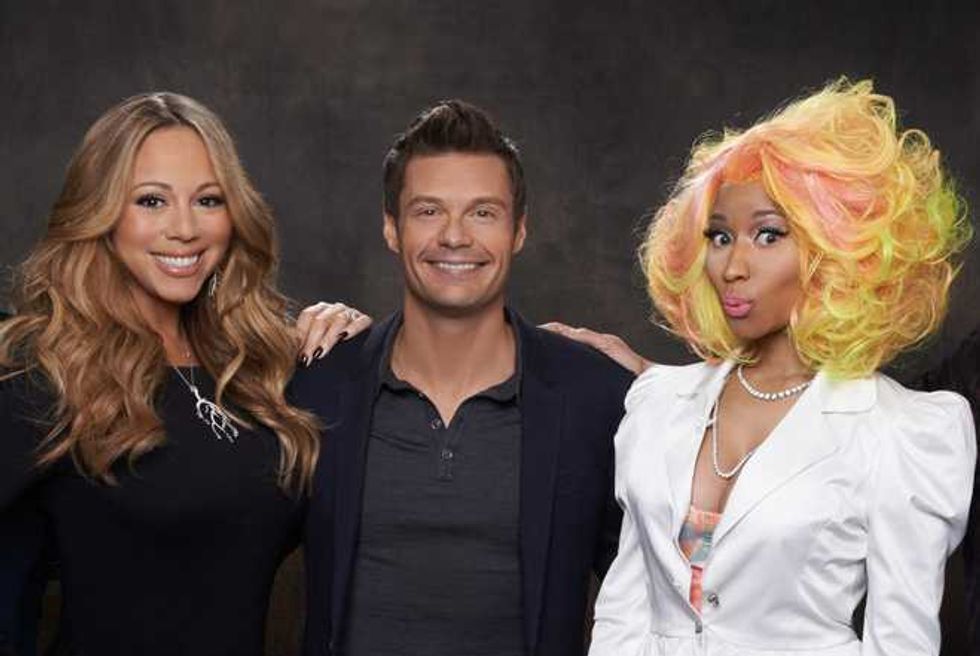 Well, now we don't know what to think. Initially, it certainly seemed like Nicki Minaj and Mariah Carey were doing some feuding on the set of American Idol's upcoming 12th season, yelling at each other and throwing sales statistics and maybe threatening to knock each other out. Then, Billboard reported a source saying that it was all an act, that Nicki and Mimi knew exactly what they were doing and were merely playing the divas to drive up hype and eventually ratings. But then, Nicki unleashed a barrage of tweets on the topic, which culminated with this seeming call-out:
I guess it hurts 2 have the producers tell u to ur face that nicki is the best judge we've had since simon. Awww, poor u. Keep them lies cmn

— Nicki Minaj (@NICKIMINAJ) October 4, 2012
Tried to keep quiet but let's go!!!!

— Nicki Minaj (@NICKIMINAJ) October 4, 2012
I thought we resolved it yesterday but I see u want ur pity party to continue. So I'm bout to po dot tea.

— Nicki Minaj (@NICKIMINAJ) October 4, 2012
Well. Even if those aren't explicitly directed at Mariah Carey—and it certainly seems to us like it is—it's at the very least a bit of a dig at the other Idol judges by putting herself on a plane above them. Also, did the producers really say that? C'mon anonymous sources, help us out.