Now THIS Alanis Morissette is what you call irony....
Nicki Minaj managed to suffer a nip slip Wednesday night, during an interview about past nip slips….quite an impressive achievement—Popdust has video.
The 32-year-old was appearing on Watch What Happens Live when a caller rang and enquired about what was the most embarrassing of her past wardrobe malfunctions—the GMA nip slip, or the VMAs dress debacle.
"Definitely the nip slip, because the dress malfunction didn't show anything," Minaj said as her cleavage got the best of her once again, allowing for another nip slip snafu.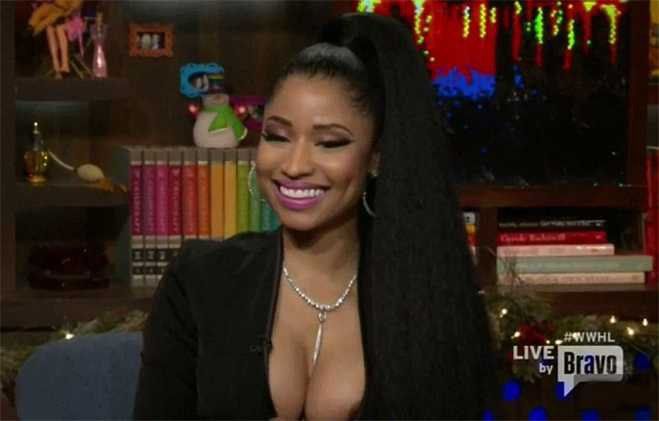 Gloriously oblivious to the all new boob bearing blunder that was playing out, Minaj went on to tell Andy Cohen what was going through her mind during her now infamous seam splitting VMAs performance with Ariana Grande and Jessie J.

"Panic. I was so panicked. At the VMAs? I was very panicked," she said. "I contemplated on not going out at all. Then I was like, I'd let Jessie and Ari down. And you know, I wouldn't want to do that to them, and ruin their moment. I was just, I felt like I wanted to crawl under a freaking rock."
Meanwhile, WWHL viewers were all too aware of Minaj's new wardrobe malfunction, tweeting up a storm.
"@NICKIMINAJ is talking about a nip slip while CURRENTLY having a nip slip. @BravoWWHL, help her!" One of many missives noted.
You can watch Nicki's new wardrobe malfunction in the video below—see her most outrageous, sexy, nude photos in the gallery underneath—and check out other stars' nip slips here