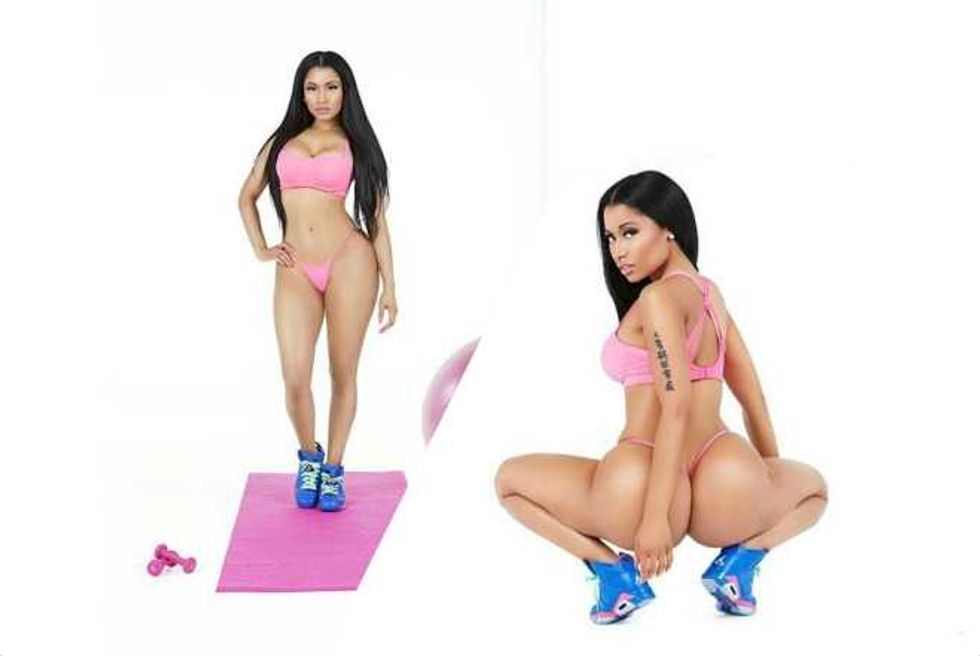 Because it's the year of nostalgia, even Nicki Minaj can't stay away. On her new single "Anaconda," the rap goddess samples "Baby Got Back"—yes, that iconic 1992 smash brought to you by Sir Mix-A-Lot. Lifted from his Mack Daddy set, the one-hit wonder relishes in big booty, something Minaj knows plenty about. Come on, even her "Anaconda" single cover art is nothing but her backside.
Ahead of its Aug. 4 iTunes release, Minaj's latest—a remix-styled jam inspired by the lyric  "my anaconda don't want none, unless you got buns, hon"—drips slowly onto the web. It's an incredibly poor-quality leak but it's just enough to soak in her raunchy message. "Yea, he love this fat ass," she laughs, following a throwback segment from the Mix-A-Lot piece. "This one is for my bitches with a fat ass in the f***ing in the club."
Minaj also makes a vague reference to Ice Cube and his hit "It Was A Good Day." She breaks down: "This dude named Michael, used to ride motorcycles, d*** bigger than the tower. I ain't talkin' bout Eiffels, real country ass n****, let me play with his rifle. P***y put his ass to sleep, now he callin' me Nyquil."
NSFW, but like we needed to tell you that.
Listen:
Stay tuned updates. Feel free to follow @Popdust and JasonTheScott on Twitter!