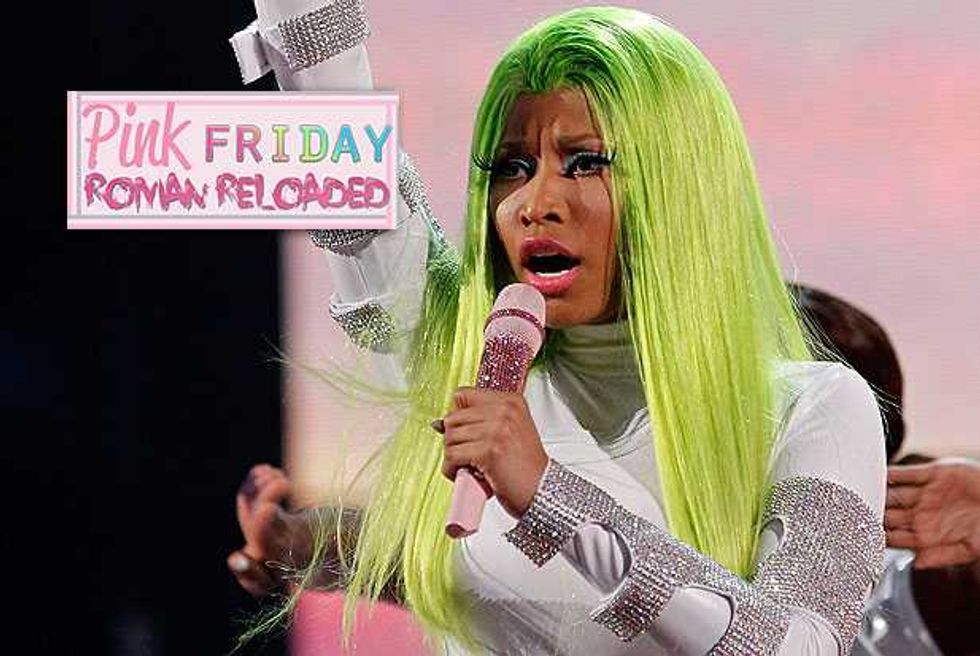 Track 19: "Stupid Hoe"
Sounds Like: Nicki Minaj's brain exploding.
Pros: Well, if you made it through the last ten tracks on this album and were wondering why, whyyyyy Nicki had progressively gone so anonymously top...this is the make-up song. There's enough accents, shit-talking, odd pronunciations and general Nickimania on "Stupid Hoe" for about seven Roman albums—so much so that it's almost hard to think while listening to. The beat, helmed by female producer T. Dunham, is just as nutty, with bells, squeaks, whistles, sirens whoops, and an absolutely unsustainable level of handclaps and thudding 808 beats.
Is all this a good thing? Well, probably it's a matter of taste, but if you first fell in love with Nicki based on her kitchen-sink approach to vocals and her "All these bitches is my sons!" personality, this is pretty much that uncut shit right here. Top 40 ambitions be damned—this is Nicki Minaj at her absolute Nicki Minajjiest. If that's your thing, too, then this should be one of the most mind-blowingly awesome songs you'll hear all year in 2012.
Cons: But if not, well...Norah Jones has a new album coming out in a month or so.
Roman Rating: 10/10. We'd like to go even higher, but we have too much respect for math.
WTF? Moment: The fact that the last lyric on this album is an a capella Nicki proclaiming "I AM THE FEMALE WEEZY!!" apropos of absolutely nothing is pretty hilarious.
Hashtag Alert: "Hey yo, baby bop, fuck you and your EP / Who's gassin' this hoe? BP?"
Previous Reviews: "Roman Holiday," "Come On A Cone," "I Am Your Leader," "Beez in the Trap," "HOV Lane," "Roman Reloaded," "Champion," "Right By My Side," "Sex in the Lounge," "Starships," "Pound the Alarm," "Whip It," "Automatic," "Beautiful Sinner," "Marilyn Monroe," "Fire Burns," "Gun Shot"
POPDUST SAYS: