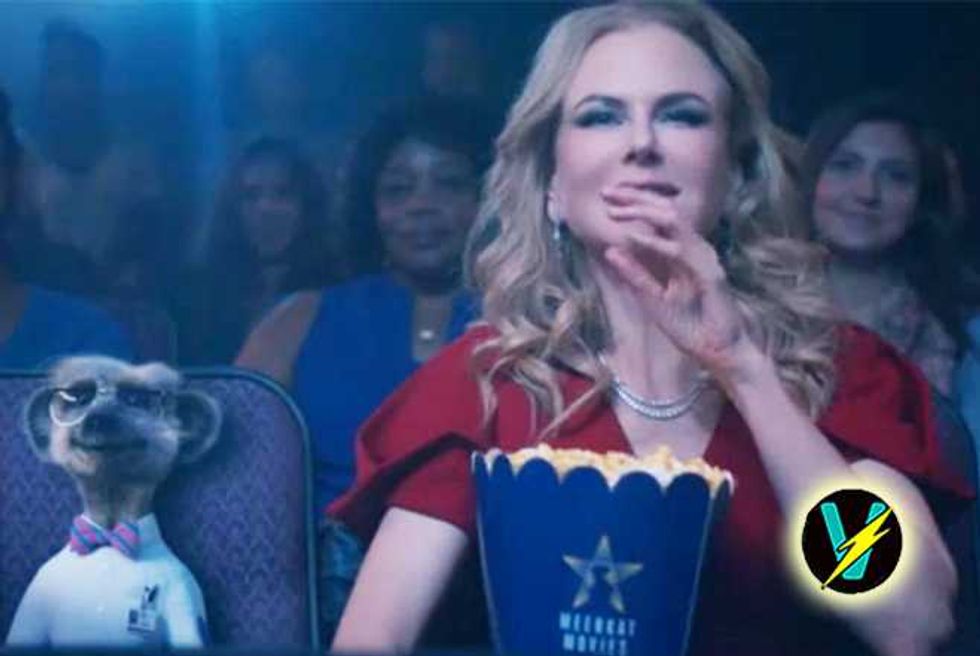 nicole kidman insurance ads meerkats
Nicole Kidman, continues to go from strength to strength in her glittering Hollywood career.
The Oscar winning Ozzie is one of the most respected actresses of her generation, having starred in a slew of critically acclaimed movies, such as, Moulin Rouge, The Hours, The Paperboy, Dogville, Rabbit Hole…. the list is endless.
Hype Energy Kim Kardashian Ad Is Gloriously Mind Boggling And Bizarre
However, the 48-year-old is now taking her career to all new, great, dizzying heights, flexing her artistic muscles, and displaying her stellar acting skills to maximum degree—by shilling insurance services, with a bunch of meerkat puppets, in a series of TV ads in the U.K.
Seriously?!!
Did she step in last minute, when Meryl Streep became unavailable, due to a prior incontinence ad campaign commitment?!!
Sprite Cans Will Feature Rap Lyrics, Because Money
Kidman's no stranger to whoring herself out cashing in on her fame in return for a few quick advertising dollars—but at least the campaigns she's done in the past, for high-end fashion houses and perfumes, have allowed her to maintain a modicum of dignity—well, up until the controversy earlier this year over her becoming the ridiculously Botoxed face of United Arab Emirates airline, Etihad Airways.
But, in some kind of real life Benjamin Button actress scenario, Kidman appears to be traveling rapidly backwards in her career, ditching the hottest and most talented A-list leading actors of the day, in favor of starring alongside meerkat puppets, Aleksandr and Sergei, in a series of TV ads for Meerkat Movies, a new cinema tickets rewards scheme from CompareTheMarket.com.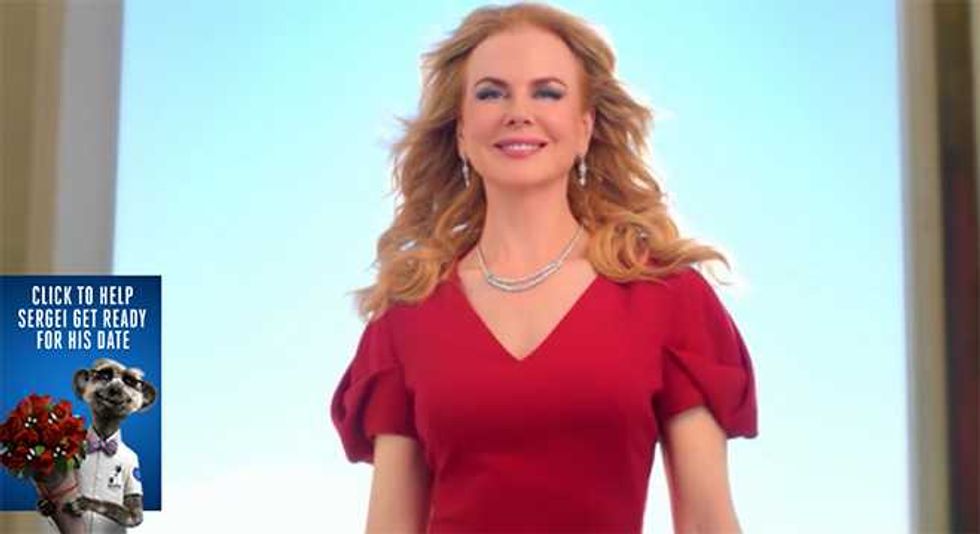 Lindsay Lohan Is Now Selling Car Insurance (We Know! Hilarious, Right?!!)
The UK based online insurance comparison company is, not surprisingly, thrilled at landing a leading lady of Kidman's caliber for their stupid ads—at last, someone who can carry the role with the degree of nuance and gravitas it deserves!
But, WTFF is going on in Kidman's mind? What the hell is HER motive? Is she seriously that money hungry and greedy that she's willing to sell herself down the ad river like this? Is cosmetic surgery really THAT expensive these days?!!
Calvin Klein Gave Justin Bieber A Penis Enlargement, See Pre-Photoshop Pics
Well, in true pathological liar actress style, Kidman makes no mention of what has to be the shit ton of money she's being paid as being the motivator, instead, she asserts she's doing it all for the kids—that is the two kids she has with Keith Urban, daughters Faith, and Sunday Rose—not the other two kids she never seems to see or bother with anymore these days, Connor and Isabella, who she adopted with now ex-husband, Tom Cruise.
Kidman talked about her selfless acting choice during an interview with Britain's Daily Mail:
Having done Paddington so recently, I have a penchant for furry creatures right now. Because I have a four-year-old and a seven-year-old, I see a lot of things through their eyes. And that's lovely, to be looking at the world in a different way.

They've got no interest in [the play I'm currently starring in], but huge interest in the meerkats right now."
Aw! What a mommy mench she is!
Beyonce's Unretouched L'Oreal Photos Leaked!
Kidman takes over the meerkat puppet co-starring ad campaign reigns from Arnold Schwarzenegger, who, as we all know by now, will do pretty much anything for a fast buck.
The nanny-impregnating Republican took a hop over the pond to become the face of CompareTheMarket.com, after he had successfully managed to drive the great state of California to bankruptcy during his two terms as Governor from 2003 to 2011.
Bic South Africa Apologizes For Hideously Sexist WomensDay Ad
For more entertainment, world, music and pop culture updates and news, follow Max Page on Twitter