Humor
Zarathustra walks a lonely road.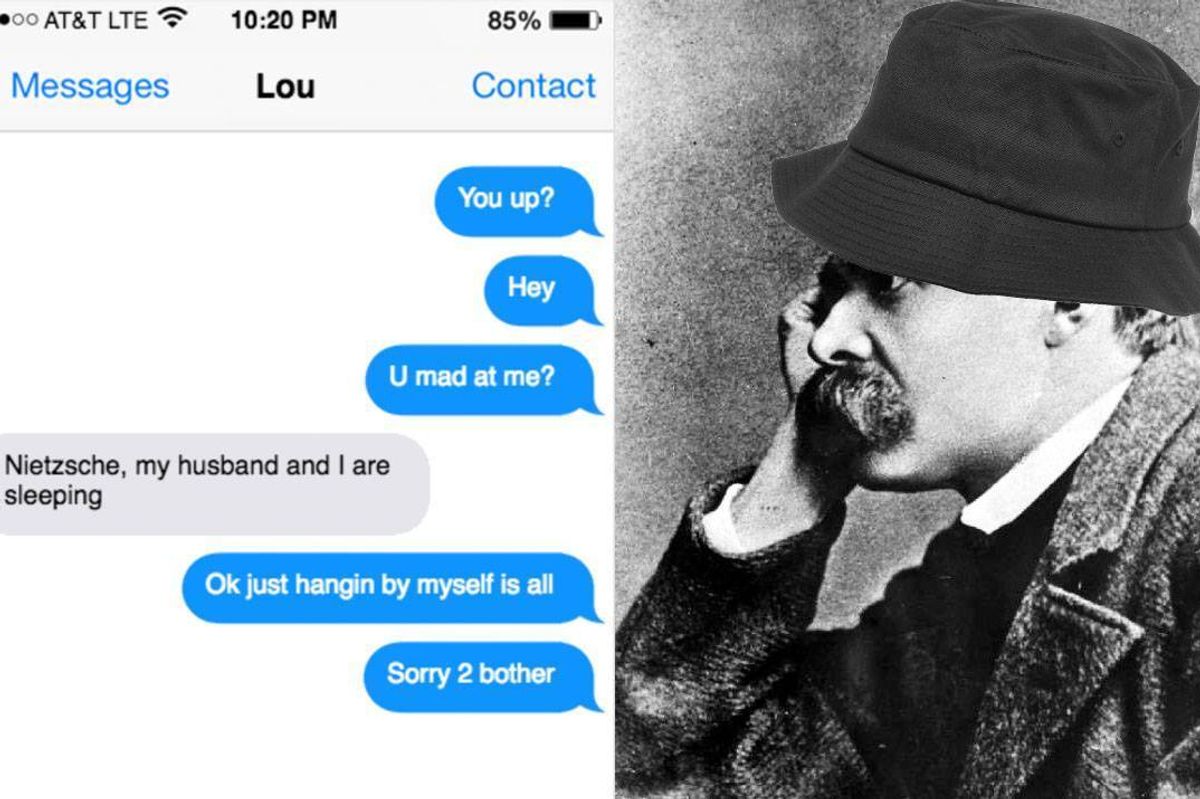 By Jonathan Keshishoglou
The sadboy, as is only fitting, gets far less attention than his cousin, the softboy. He's more benign but also more helpless; less manipulative, more, well, sad. While Drake has become both the sadboy and softboy poster boy here in the year of 2016, the archetypes are far older than their terminological labels. Today in Famous Sadboys of History, I present to you the 19th century German philosopher Friedrich Nietzsche.
Born in 1844 in Röcken, Prussia (which later became part of Germany upon its unification in 1871), Nietzsche grew up to write such influential philosophical works as The Birth of Tragedy, Thus Spoke Zarathustra, and On the Genealogy of Morality, all of which are still studied by scholars and sadboys today (did anyone make it through school without some smug teen boy telling you that "God is dead?"). If his works sound dark and strange, it's because they sort of are, but not nearly as dark or as strange as his life. Consider now the Case of Nietzsche.
Too Emo for Any Nation
For reasons mostly unknown, Nietzsche really, really didn't want to be considered German, despite being born in the German kingdom of Prussia. He spoke adamantly in the latter years of his life about how he was, despite a complete lack of evidence, entirely Polish by ethnicity. Which, ok, sure. It's not known if Nietzsche had any Polish ancestry or not, but his motivation for this claim seems to be more motivated by a disdain for Germany than any real affinity for Poland. In fact, in 1869 he relinquished his Prussian citizenship by choice and remained willfully stateless until his death.
"Best Friends" Means You Get What You Deserve
[rebelmouse-proxy-image https://media.rbl.ms/image?u=%2Fwikipedia%2Fcommons%2F7%2F7f%2FNietzsche1861.jpg&ho=https%3A%2F%2Fupload.wikimedia.org&s=327&h=7123bc93eecaee1965228b6b97a3e0c973b95ae195b4026dfe4cd65cbfb3778f&size=980x&c=1702661151 image-library="0" pin_description="" photo_credit="" expand="1" caption="Portrait of the philosopher as a young sadboy."]Portrait of the philosopher as a young sadboy.
Like any modern sadboy, Ol' Freddy Nietzsche had his share of contentious friendships. While in secondary school, he befriended the poet Ernst Ortlepp, only for Ortlepp to be found dead in a ditch a few weeks after their meeting, likely as a result of Ortlepp's documented alcoholism. In their short friendship, however, Ortlepp introduced Nietzsche to the music of Richard Wagner, with whom Nietzsche would go on to have an epic bromance-turned-sour. In The Birth of Tragedy, early in his writing career, Nietzsche praised Wagner as basically the savior of Western culture, but in 1888 he dropped the 19th-century equivalent of a diss track: an essay called The Case of Wagner savagely criticizing Wagner's creative and personal trajectory. Not unrelated: Nietzsche may have had a thing for Wagner's wife, Cosima. But he also thinks she corrupted him with her antisemitism, which Nietzsche had no tolerance for, so to hell with them both. How very Brand New/Taking Back Sunday.
Unlucky (and Unconventional) in Love
[rebelmouse-proxy-image https://media.rbl.ms/image?u=%2F2013%2F04%2Fsalome_ree_nietzsche.jpg&ho=https%3A%2F%2Fflutuante.files.wordpress.com&s=569&h=37162fc9ea7e33522f39df79e428b6b54c93afa22cd06cf8bd959090ea32ad08&size=980x&c=338452610 image-library="0" pin_description="" photo_credit="" expand="1" caption="Friedrich (right) art-directed this photograph Jules Bonnet himself, whip and all. Kinky."]Friedrich (right) art-directed this photograph Jules Bonnet himself, whip and all. Kinky.
Poor guy never married, but he definitely had some interesting trysts. For a time, he lived in a sort of intellectual commune with Lou Salomé and Paul Rée, which he described as "kind of a monastery for free spirits." Uh huh. It's widely speculated that the three were in a sort of polyamorous relationship (it isn't entirely improbable that he was bisexual, seeing as some historians firmly believe Nietzsche had other relationships with men throughout his life). He proposed to Salomé three times but she rebuffed him each time, and eventually she and Rée decided they just wanted to be together. Like, without Nietzsche. Awk :/
He Loves Horses, and He's Freefallin'
In 1889, Nietzsche had a very public mental breakdown wherein he saw a horse being beaten by its owner and ran across the town square in Turin, throwing his arms around the poor horse's neck to stop the beating. But hey, you say "mental breakdown," I say "basic human empathy."
In all seriousness though, it was a breakdown of massive proportions. After days of writing erratic, disturbed letters (which were, incidentally, very angry about the widespread antisemitism of the time; evidence that social injustice really can affect your mental health), Nietzsche's friends and family determined that he was in dire mental straits and remained under the care of his mother and sister for the last 11 years of his life. The original diagnosis was long-untreated syphilis, but medical historians have proposed it could have been any number of other afflictions, from bipolar disorder to a brain tumour.
No One Understands Him
In his final infirm years and after his death, Nietzsche's sister Elisabeth managed his publications, editing and printing his unfinished manuscripts. However, unlike her brother, Elisabeth was a tried and true German Nationalist and antisemite, and she took great liberties in her edits, so her editions are generally regarded as ingenuine to her brother's legacy. Additionally, and perhaps in part due to Elisabeth's work, a number of Nietzsche's concepts and terms were later appropriated by the Nazi party. For instance, Nietzsche's concept of the "Übermensch" (loosely translates to "superman" or "overman") was an ideal form for an individual to aspire to; one who has freed himself from the artificial moralities and constructs taught by society and is free to form his own ideas and values. German nationalism took the word and used it to refer to their concept of a white Aryan master race. Nietzsche, who once said that all anti-semites should be shot, would have been rolling in his grave.
Also, everyone calls him a nihilist. He wasn't. He was an existentialist. They're really different. Get it right.
A sadboy in life and in legacy, Nietzsche still made incredible contributions to the studies of philosophy, history, literature, and the arts. It's hard to say if he'd be proud, though; not because he didn't think he was a genius (all of these old male philosophers did), but just because he was so damn moody.