MUSIC
ON LOCATION | Rodney and Duhon talk about their roots and their new album "Rise and Fall"
Modern synth-pop inspired by sci-fi cinematic landscapes.
THE INTERVIEW
On a Thursday night, I went down to Berlin, a club in the East Village right on Second Ave. I got off the F train and as I was going over to meet the band, I passed Double Down Saloon. It is one of the last real punk-rock bars that keep it real. I had recently had more than a few drinks there, as you can buy one and get the second beverage free.
When I got to Berlin, I went downstairs to the darkly lit venue. It felt like a speak easy, with a brick ceiling and unisex bathrooms. It was also rather loud, so when I met Rodney and Brandon, we decided to go somewhere else to do the interview. I asked them, "Have you ever been to Double Downs?" They said they hadn't, so I told them the bar is a New York City institution. When we go in, there is horror-porn on old tube TV's mounted to the ceiling, covered in what looks like wax. They have a drink special of all the nasty leftovers and they affectionately call it "Ass Juice."
I took them to the back to snag a booth. We grabbed some drinks and got down to questions. It was a great location to have them really open up. I had set up a camera on top of a photo-booth pointed down at us, and recorded the conversation with my iPhone.
They were very easy to talk to and their style resonated with my 90's music taste. We shared a similar aesthetic and love for science fiction. They admitted to being a fan of Philip K. Dick. As a I am also a musician, I found myself identifying with their creative process. I had a lot of fun talking with them about their previous experiences in New York and their tragic situation in which they met. Needless to say they made something positively chill music. Watch the interview above that has some live clips of their performance, as well as our rich conversation.
THE SHOW
www.magneticmag.com
They had an intricate set up with many wires and electronics, connecting to the live drummer. He wore headphones to stay on the beat. Very cool to watch how they did that. When their set began, it was all dark and there was only an arpeggio going. They came out and only the keys were slowly swelling for a couple minutes before the drums came in like an explosion. It was upbeat and danceable, and I couldn't get over the fact it looked like I was watching Morrissey on stage. Then the light show started flashing a strobe light at climactic moments. It was a fun show that sent me home in a chill.
THE BAND
Night Drive is a dreamy groove that makes me feel like I'm in a different world. Going for a drive at night, what kind of music would you want to listen to? The vibe of the music is all about capturing what the experience of a night drive might be. Night Drive co-founders, Rodney Connell and Brandon Duhon met after a young woman they were both unknowingly dating was killed in a car crash. The tragic event bonded the two, and shortly afterwards they began a musical collaboration.

They create modern synth-pop that explores the darker currents of abstract emotion, stemming from their interest in science fiction. Infectious melodies wrapped in thoughtful lyrics with pulsing dance beats unveil a stylish, energetic sound that has been featured in film, tv and radio around the world. They have been touring with international bands such as CHVRCHES, Austra, Yacht, Robert DeLong, Miami Horror and The Psychedelic Furs. The duo has quickly garnered a reputation for having an exciting live show.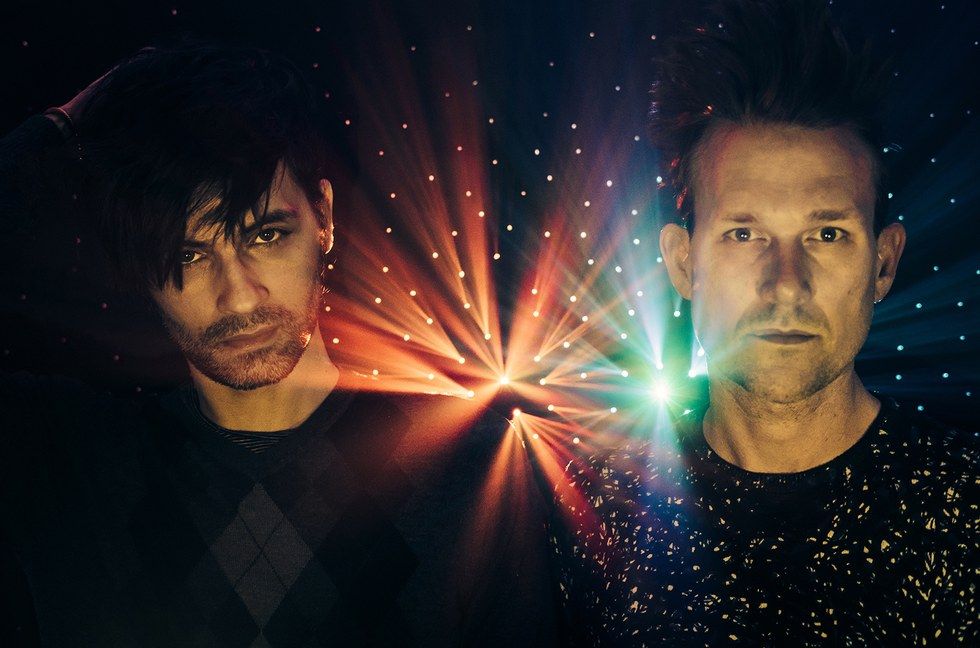 www.billboard.com
When the Austin/Houston based duo aren't listening to Sherlock Holmes radio programs from the 1930s or researching Ancient Egyptian artifacts, they're creating gorgeously textured electronica. If you like 80's new wave and 90's synth pop bands, like Depeche Mode "Enjoy the Silence" and The Smiths' "Panic", you're going to love the new music from Night Drive. The new album is called "Rise and Fall" and will be coming out June 16th on Roll Call Records! Watch the new video for the 1st single 'Rise and Fall' over at Paper Magazine.
Night Drive's sonic aesthetic is a total trip - the songs on the record are sprawling and hazy, with layered synths that are drenched in a noir aesthetic. Reminds me of something like if New Order were to collaborate with John Carpenter on a sci-fi soundtrack. The Stranger Things soundtrack definitely comes to mind. Check out the groovy re-mixo Classixx did of their track, "Rise and Fall" that premiered on Billboard.