Nik Richie and Dan Bilzerian have faced-off in an EPIC battle of the Douchebags!
The two certifiable professional Douches went AT IT Thursday, trading blows on Twitter (where else?!!)—ultimately resulting in one of them having their account suspended.
So, which Douche scored the ultimate in teenage girl-style awe-inspiring, social media revenge? Hmmm… who do YOU think?
In one corner, Richie—the ever-controversial, never miss-a-chance for self-promotion, misogynistic founder of stomach churning, frat boy's slut shaming portal of choice, TheDirty.
In the other, Bilzerian—the unapologetic, champagne guzzling, gun toting, utterly despicable scumbag, self-professed "Instagram Playboy" who hit the headlines earlier this year after throwing some poor chick off of the roof of his house, resulting in her breaking her foot.
Now, choosing a side between Richie and Bilzerian kind of feels akin to deciding if you would rather have one of your eyes gauged out with a rusty screwdriver by Janice Dickinson—OR, have your right leg chewed off by one of Courtney Stodden's dogs, after it's just been diagnosed with rabies.
It's really a case of swings and roundabouts—and we don't feel able to make that call. So, here's how it all went down—you decide for yourselves whether you are #TeamRichie, #TeamBalzerian, or, #TeamFuckThemBoth....
All Hell broke loose after Bilzerian posted a screen grab of what he claimed to be a text message from Richie—trying to arrange a sit-down with him. He accompanied the screen grab with this tweet, "Just when I think Nick Richie can't be more of a loser, I get a text from him saying his site wants to work with me"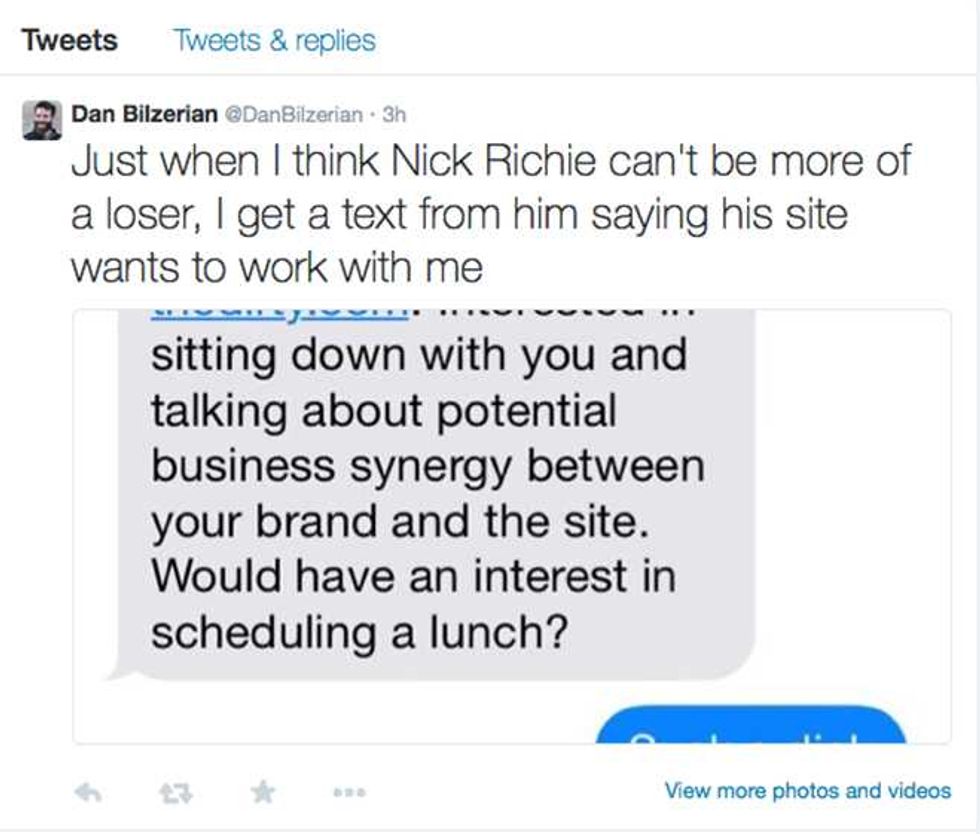 Side-note: Given the fact Richie has been non-stop SLAMMING Bilzerian—whom he dubbed, "Fake Equis"—on TheDirty for absolutely years now, this would seem like a very strange (and highly dubious) turn of events indeed.
And, yep, sure enough! Richie immediately fired back with a firm denial, along with a correction of Bilzerian's sloppy spelling, an accusation of desperation—and, the pièce de résistance, Dan's cellphone digits.
Uh oh—School boy error Nik!
That move unwittingly placed Bilzerian firmly in pole position, providing him with the necessary ammo to lodge a formal complaint with Twitter, demanding they cut-off Richie's account—not surprisingly, they complied, and at time of posting, Nik Richie is Twitter persona non-grata.

Now, if there is one way you are guaranteed to PISS off Richie, it's by forcibly gagging his goddamn motor-mouth. However, that Nik is one hell of a resourceful dude, and given the fact he has a website that is—inexplicably—read by millions upon millions of people a day—somehow, we truly feel that, like a Douchebag-Phoenix, he will rise from the ashes and valiantly fight on.
Until then, lets all enjoy a little, glorious, wonderful, Richie-free Twitter time.