The dreaded man-bun shows no sign of going away, except at Brigham Young University's Idaho campus, where male top-knots are no longer allowed in the classroom.
According to the school newspaper, those who sport man-buns will face disciplinary action, as the 'do is a violation of the Honor Code, which states that men's hair should be
'clean and neat, avoiding extreme styles of colors and trimmed above the collar leaving the ear uncovered.'
So we are forever in debt to the hair-police at Brigham Young, but the man-bun scourge is far from over. Not at all. Brace yourselves.
In a new annual report from Google, 2015 is the first year that there has been more interest in man's hair than in women's on the search engine. 'It's like waking a sleeping giant,' says the CEO of the trend research agency ESP Trendlab.
A sleeping giant with a man-bun.
The man-bun has has been one of the most popular hairstyle searches over the last year. Questions like how to grow a man bun and how to tie a man bun are most common.
Here, behold the apocalyptic graph below, and blame Leo, Jared and Harry Styles for this carnage.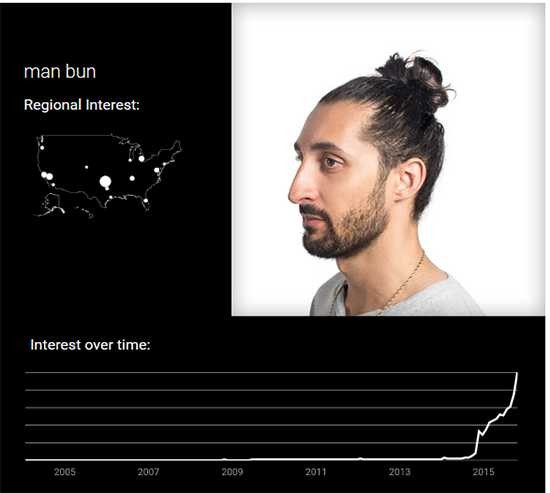 Do we need to start walking around with scissors, ladies? Or should we just wear blindfolds?
Hipster parents are getting into the act by imposing man-buns on their toddlers and posting the results to Instagram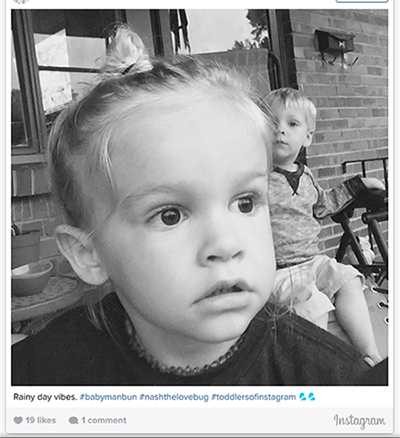 Waaaaa! Hello, Child Protective Services???
All we can do is suffer in silence until this trend passes, or maybe try emitting a high-pitched scream each time you encounter a man-bun.
Or, how about withholding sex from man-bun perps? If they can tear themselves away from the mirror.