MUSIC
Tight alt-rock from Atlanta's animals of the night, aka Nocturnal Animals.
Courtesy Nocturnal Animals
Atlanta, Georgia's alt-rock band Nocturnal Animals recently dropped a new EP, Writing On The Walls.
Prior to reinventing themselves as Nocturnal Animals, the band was known as Rude! The new handle exudes an aura of visceral magnetism missing from its predecessor, as well as signifying the band's alt-rock sound made up of low-slung heft with hints of pop.
Popdust sat down with front man Mason Jones to find out how he got his start in music and where Nocturnal Animals is headed.
Nocturnal Animals - Margot youtu.be
How would you describe yourself?

I'd have to say I'm very passionate, driven, energetic, and I love long walks on the beach. But not too long. Swipe right, please.
What is the most trouble you've ever gotten into?
I have to bring it back to Kindergarten. Once upon a time, a kid in my class was being mean to others. So, I went up and punched him. The end. I remember my mom's comment of that situation. She said to the principal. "Well, whatcha gonna do?" Then left.
What's your favorite song to belt out in the car or the shower?
"Never Gonna Give You Up" by Rick Astley. Easy.
Who is your favorite musical artist?
That is probably the toughest question out there. So, Rick Astley.
How did you get started in music? What's the back story there?
I got started in music by participating in musical theater. It's always been a love of mine and the second I was on that stage for the first time, back when I was oh so very young, I knew I loved performing. Which eventually got me obsessed with the live aspect and writing my own songs to accompany.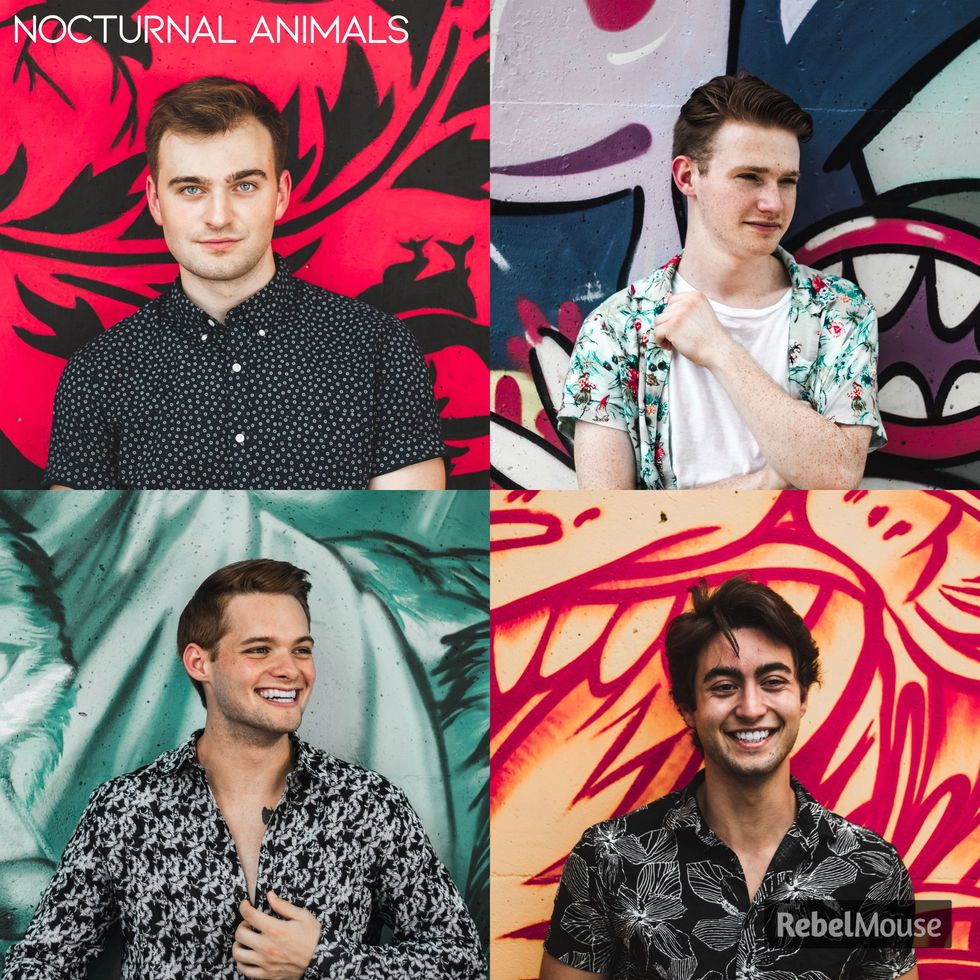 Nocturnal AnimalsCourtesy Nocturnal Animals
What musicians influenced you the most?

Angus Young was the first to get me into guitar, but then Billie Joe Armstrong of Green Day and Brendon Urie of Panic! At The Disco inspired me in the performing/singing side of music.
How, if at all, do your musical influences shape and impact your music?
I found influence from them in the way I write, for sure. I write for the live performance. When writing a part, I visualize how it would translate live. I've learned that their style comes out of my writing without me knowing, as well.
What kind of guitar do you play? And why?
Currently, I'm starting with my 2003 Gibson SG Standard in the classic dark cherry finish. I've always loved how the early 2000's played and sounded. I float between that and a couple of Fenders (Telecasters). I do miss playing a Suhr as well as a Duesenberg. You can't really go wrong with either.
What brand of drums and cymbals does your drummer play?
Derrick plays a custom Mapex kit live, but also rocks a DW acrylic kit as well. All Sabian cymbals.
You're based in Atlanta, Georgia. What the music scene like in Atlanta?
If you love tribute bands, we got em! Atlanta is known for some really amazing venues as well.
Has the band's sound evolved since Dark Lit Places? If so, how?
We are definitely on the hunt for our "sound." I feel like the new record really points out an energetic side to us but also shows how diverse we can be. Our sound can definitely cater to many genre lovers.
What' the story behind the name, Nocturnal Animals?
We were brainstorming for about two weeks. Then one day I received a text from a past band member that said, "Nocturnal Animals." I replied with a quick "yes" and so we were born. Then we found out it was a movie title. We love Jake Gyllenhaal so I'm dedicating this whole band to him.
You recently released your new EP, Writing On The Walls. What's the story behind the title of the EP?
Dark Lit Places was a lyric in one of the songs so we wanted to continue the thread of that style. Writing On The Walls is one of the last said lyrics of the EP on the song titled "The Haunting."
Your music has been described as alt-rock. How would you describe your sound?
I would describe it as alt-rock with a pop flair. Some say we have an identity crisis.
My favorite track on Writing On The Walls is probably "Dirty Eyes." What was the inspiration for this song?
Yes! Glad to hear that one is a favorite. Well, it's basically a part 2 to the song "Margot." It was inspired by the topic of that song.
What's next for Nocturnal Animals musically?
We can't wait to bring out even more new music soon. I feel as if we are finally finding our footing. The next you hear from us will be our best. We will not put out anything that has no sense of growth. We want to improve.
Will you be doing any touring?
That is the goal, and the dream. See you soon!
Randy Radic is a Left Coast author and writer. Author of numerous true crime books written under the pen-name of John Lee Brook. Former music contributor at Huff Post.
POP⚡DUST | Read More...
RISING STAR | Dangermaker Drops 'Run' LP October 5
PREMIERE | Terry Emm Drops 'Sophia'
RISING STAR | Alberta Drops Buff New Single, 'Jay Walk'n'
Related Articles Around the Web