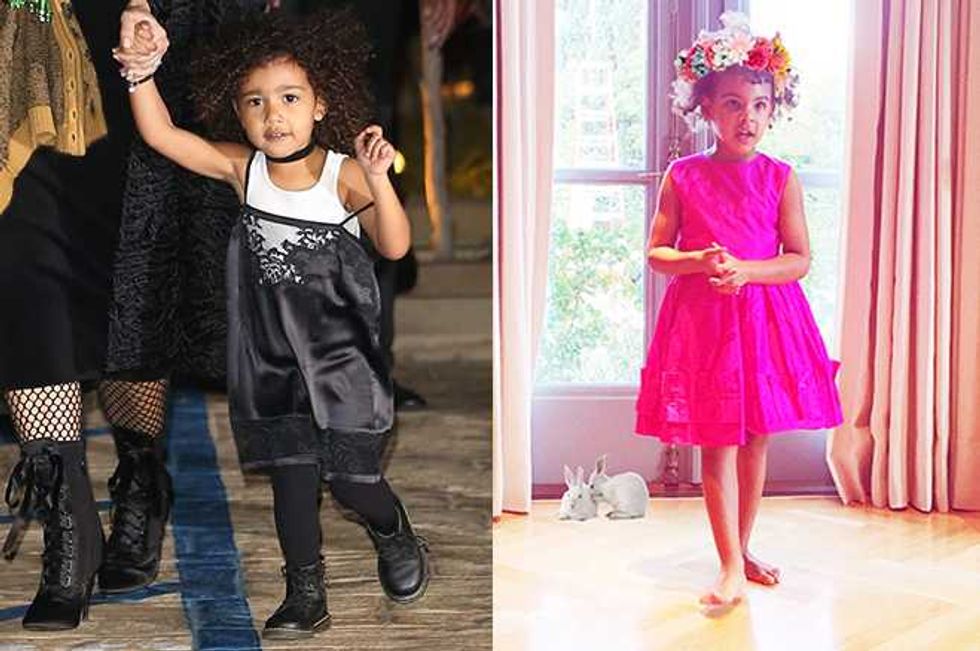 north west blue ivy cutest celeb toddler
In the last few days, North West and Blue Ivy Carter have been engaged in a fierce smackdown for the title of Cutest Celebrity Toddler and they've taken off the gloves, so to speak.
North West attended a family dinner party for her uncle Rob Kardashian, and dazzled the paps with her halo of gorgeous curls.
North West Inspires Balmain To Launch Children's Collection
She was obviously reluctant to leave the cameras behind as she gestured with regal authority worthy of an Empress.
Faceless blobs
north west blue ivy cutest celeb toddler
Parents Kim Kardashian and Kanye West were faceless blobs in the glow of their adorable daughter, whose personality eclipses all who surround her.
This kid is a superstar and bona-fide mini-It-Girl, who knows how to carry off Dr Martens paired with a party dress and leopard print cardigan.
North West Still Killing it In Diamonds And Fur
Bow down to her.
Natural girl
north west blue ivy cutest celeb toddler
Blue Ivy, on the other hand, is more of a natural girl, who doesn't dress for attention but rather shares her mommy's who-gives-a-shit sense of style.
She likes pink and isn't afraid of looking like a J C Penney catalogue model.
For a family Easter-themed party, Blue Ivy rocked a classic pink frock with a crown of fresh flowers.
Tina Knowles Tells Off The Paparazzi For Photographing Blue Ivy—Watch Now!
Not one for accessories, she eschewed footwear and jewelry.
However, in another picture with Aunt Solange, Blue Ivy donned some age-appropriate bunny ears.
Down to earth
north west blue ivy cutest celeb toddler
Perhaps Blue Ivy's mommy is taking pains to see that her daughter remains down to earth, shunning extravagant fashion for her daughter with Jay Z. Maybe Bey thinks it unseemly to flaunt the family wealth via their kid's wardrobe.
Or maybe Beyonce refuses to be upstaged by her child.
Woman Sues Beyonce And Jay-Z—You Were Never Really Pregnant, Blue Ivy Is Mine!
Who knows?
I think Blue Ivy Carter needs to up her game if she wants to compete with Nori. It's time to put her (bare) foot down with her mommy and demand some designer shit to wear, at least for public appearances.
Who's the real star
north west blue ivy cutest celeb toddler
In her Formation video, Bey wears some fantastic pieces by Gucci and Givenchy. She features Blue Ivy in several scenes but makes sure we know who the real star is.
Woman Starts Petition Demanding Beyonce And Jay Z  'Properly Care' For Blue Ivy's Hair
I'm sorry, but it's a cruel world out there, even for toddlers.
So until we see Blue Ivy making more of an effort, the title remains with North West, Cutest Celebrity Toddler of 2016.
Vote in our poll below to make your voice heard!