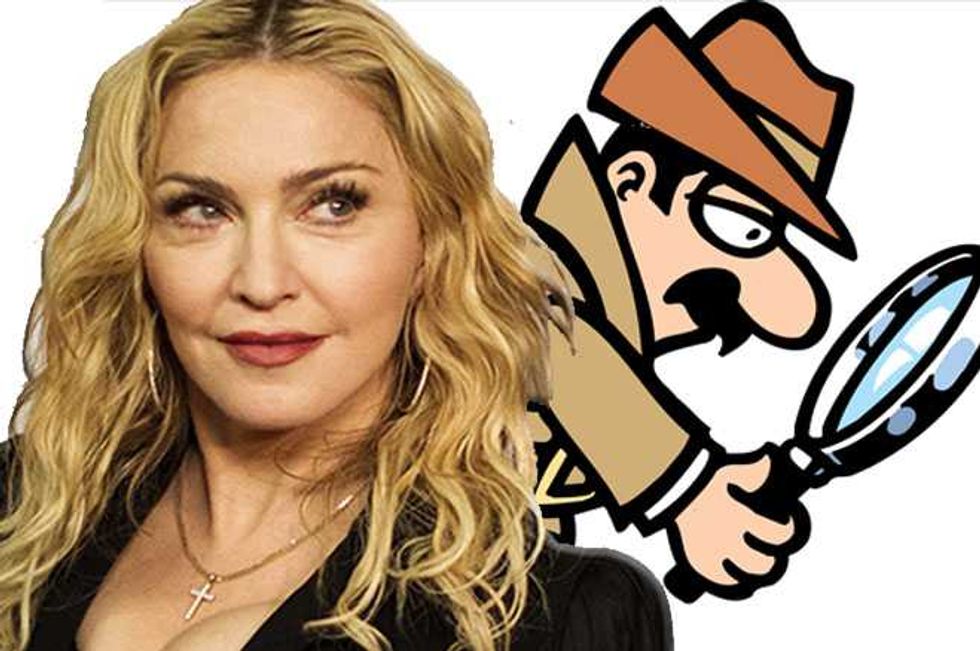 Madonna Hires PI
As previously reported by Popdust, Madonna is in the middle of a nasty, public custody battle with her ex-husband, Guy Ritchie over their 15 year old son Rocco.
TMZ are reporting that she has now hired a private investigator to keep an eye on the lad while he is staying with his father in London.
Madonna Indecently Assaults Woman On Stage—Because, Madonna
She is apparently extremely concerned over the film director's parenting skills and the site says that multiple sources (presumably all employed by Madge) have told them;
"Madonna believes Guy has set no rules for Rocco and he's living dangerously....not enrolled in school, hanging out in the parks, smoking and essentially doing anything he wants."
Madonna Performs David Bowie Tribute—Look Away, Rocco!
Rocco is chilled and relaxed.
This comes on the back of pictures surfacing over the weekend of Rocco hanging with friends "sharing a suspicious looking cigarette" (the tabloid/legal way to say joint).  The Sun newspaper had all the details—explaining that the "cigarette" was rolled up using Golden Virginia tobacco and licorice style paper before being passed around.  They even had an eye witness (clearly the pap who took the pics) quote;
"It gave off a pretty pungent smell.  It looked very much like cannabis, though I suppose it could have just been normal tobacco.  At one point it looked like they were burning resin into the cigarette."
Rocco Ritchie Wishes Madonna Would Be Less Rebel More Mom
This incident isn't going to help Ritchie's case in the custody battle.  Rocco wants to live with his Dad permanently because he's just had enough of his strict, controlling mother, he very publicly quit her tour in December and has refused to go home ever since.  This episode plays into Madonna's hands so well the more cynical among us could almost think her PI followed the kid, reported to Madge that there was a pot party at the skate park prompting her to call a trusted pap to hot foot it down there to snap the photos!
Point to Madge
Yay! Madonna now has photos proving what a terrible father Guy Ritchie is, that  he is such a lax parent he would allow his teenage son to use DRUGS!  A source (again for that read Madonna's PR) told People;
"This is exactly what Madonna has been afraid of.  Rocco still isn't back in school—and now this.  He is just a rebellious teenager, but he needs guidance and direction from his father."
Make sure you don't fall off that high horse Madge.
CRINGE!  Madonna Eats Drake's Face On Stage At Coachella—Watch His Hilarious Reaction!
The warring parents were due to have a custody hearing in court in NYC last week, but the hearing was moved to March because of her touring schedule, meaning Rocco will stay in London with his Dad until them.  This tells us everything we need to know about Madonna.  I mean seriously?  You think your kid is being poorly looked after, you think he's out of control and living dangerously but you would rather he stayed where he was for a bit longer than cancel a couple of tour dates? WTF?
Madonna has been fully engaged in a damage-limitation-social-media-PR campaign lately, with lots of pics of her happy children.  Last month she posted a throwback picture of her with all the children with the caption;
"It's possible to be an entertainer and a good mother!!! Too bad we don't live in a society where many encourage strong independent working moms! The next great Frontier!"
Madonna Is Very Difficult, Says Armani About Capegate
Of course it's possible for working moms to be great moms but FYI Madge, the only person saying dragging your kids round the world on tour doesn't work, is your son.
Madonna Hires PI
Madonna Hires PI
Madonna Hires PI